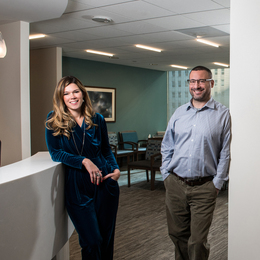 Special Delivery
Now with an office in Philadelphia, Shady Grove Fertility applies innovative technology, pioneering research, and patient-first care to helping families realize the dream of parenthood.
When a couple or individual decides to have a child, it's meant to be a joyful occasion. For some, however, the journey to parenthood can be daunting—and, in select cases, a seemingly unachievable task. Thankfully, the reproductive-medicine experts of Shady Grove Fertility have devoted their lives to making the impossible possible, proving that miracles can happen.
With multiple offices throughout the Greater Philadelphia Area, Shady Grove Fertility helps clients navigate this complex terrain with a singular goal in mind: starting or adding to a family. Through the combination of cutting-edge technology and highly trained physicians and support staff, Shady Grove Fertility has delivered more than 50,000 babies throughout its nearly 30-year history. In fact, more than 10 babies are born every day thanks to the practice's efforts. Some of these pregnancies come by way of simpler, low-tech procedures, while others require the most sensitive and highly advanced fertility treatments available.
A newly opened office in Center City Philadelphia joins several other Shady Grove Fertility offices in the area—namely, Chesterbrook, Warrington, Reading, Lancaster, and Mechanicsburg. In addition to Pennsylvania, Shady Grove Fertility maintains offices in four other states—Maryland, Virginia, Georgia, and Florida—and the District of Columbia, each staffed by a team of reproductive endocrinologists, reproductive urologists, and other specialists, who readily share their resources and expertise with other members of the Shady Grove Fertility family.
"There is power in using more brains to help all of our patients," explains Caleb Kallen, M.D., Ph.D., who practices at Shady Grove Fertility's Philadelphia and Chesterbrook locations. "Anything we can do to improve patient access, as well as the patient experience, is a priority for our program."
Brianna Schumacher, M.D., is the newest member of the Shady Grove Fertility practice in Pennsylvania. After graduating from the Medical College of Wisconsin in Milwaukee, she completed a fellowship in reproductive endocrinology and infertility at the University of North Carolina in Chapel Hill. She says her passion for medicine goes back several generations, starting with her great-great grandfather.
Dr. Schumacher's area of practice reflects her desire to help others start families of their own, as well as her love for her own three children—ages four, two and a half, and eight months. Like many of her patients, Dr. Schumacher had been thinking about the family of her dreams ever since she was a child, so she can understand the crushing despair someone must feel to have those dreams denied.
"Over the years, I have seen friends and family members who haven't been able to conceive children, and were also unable to adopt, and I've seen how hard that experience was on them," she explains. "Whether someone may be striving to have their first child or trying to have a second or third to expand their family, I want to do everything that I possibly can to help people become parents."
She joined Shady Grove Fertility because "the doctors always put the patients first," she says. When she came to the practice, she immediately noticed the team-like environment rooted in respect, for each other and for the client. She also appreciated the fact that Shady Grove Fertility has earned its reputation as a leader in clinical research and a pioneer in innovative technology.
For example, fertility doctors used to transfer two or more embryos at a time to increase the likelihood of conception. Now, through technology such as eSET (elective single embryo transfer), Shady Grove Fertility doctors can transfer one carefully chosen embryo to increase the chances of conception while reducing the likelihood of a multiple, high-risk pregnancy. Even if clients face significant obstacles such as poor egg quality, Dr. Schumacher wants them to also be aware of all viable options, including using one's own eggs, donor eggs, or donor sperm, as well as a gestational carrier, should the need arise.
"Patients come to us stressed out, anxious, vulnerable, and feeling hopeless and devastated, but we are consistently able to offer solutions that continually improve over time," she says. "Even as a reproductive medicine fellow, I did not want to leave before my patients became pregnant and delivered their babies. One patient texted me recently that she delivered a healthy baby boy, and it made me so happy to be able to help them become a family."
Compassionate Care
Like all of the physicians at Shady Grove Fertility, Dr. Kallen has impressive credentials. He earned his medical degree, as well as his doctorate, from the University of Pennsylvania, and he completed his residency training in obstetrics and gynecology at the Hospital of the University of Pennsylvania in Philadelphia. He also completed subspecialty training in reproductive endocrinology and infertility at Yale University in New Haven, Conn.
Dr. Kallen is proud of the work that he and his colleagues have done, and he is excited about Shady Grove Fertility's continued expansion. The new Center City location has enabled the practice to serve more patients who live or work in the city, providing easier access to the growing demand for effective fertility care.
"Since we function as an integrated practice, our multiple locations in the Philadelphia metro area enable day-to-day flexibility for patients undergoing fertility treatments," he says. "Our team of physicians, nurses, and embryologists work seamlessly to provide world-class and compassionate care for our patients. Every decision we make is based on safety, ethical principles, and success for the patients."
In fact, Shady Grove Fertility essentially guarantees a refund through its signature Shared Risk 100% Refund Guarantee Program if not successful. Simply put, if the IVF or donor egg treatment leads to a pregnancy that produces a baby (via up to six fresh cycles and any frozen embryo transfer cycles that result from those fresh cycles), Shady Grove Fertility has done its job. In the unlikely event the couple does not conceive or chooses to withdraw from the program, Shady Grove Fertility provides a full refund. The odds are most definitely in the patients' favor, as more than 86 percent of the practice's shared-risk participants—more than 16,000 and counting—take home a baby.
Dr. Kallen says the rewards of helping clients realize the dream of becoming parents are manifold, and in some ways difficult for him to describe.
"Overcoming fear and frustration can be challenging in the practice of reproductive medicine, but that's part of what we're here to do," he says. "By far the most gratifying aspect of our work is the joy and appreciation that comes from helping individuals and couples achieve their family-building aspirations. It makes every day a special experience."
Shady Grove Fertility
1515 Market Street, Suite 1030
Philadelphia, Pa.
(610) 667-1070
ShadyGroveFertility.com
Photography by Jeff Anderson
Published (and copyrighted) in Suburban Life Magazine, November 2018.
.
.
.