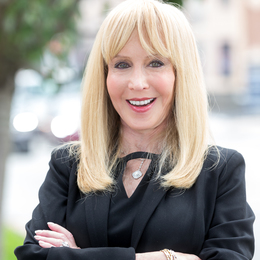 Always Moving Forward
Family law attorney Sheryl R. Rentz uses fearlessness, preparation, and compassion to help clients find resolution to difficult matters.
To be a good attorney, one must be a master of negotiation and persuasion. To a great attorney, one must also have heart. Family law attorney Sheryl R. Rentz has all of the above. Moreover, she adds hard-earned education and distinctive experience to that formula, meaning each of her clients gains a devoted advocate who is well prepared to fight for the best resolution possible.
Rentz has more than 25 years of experience in the legal field, but the law has been a lifelong passion. Even so, it was not her first area of study. Much in the same way she helps her clients work toward new beginnings, Rentz is no stranger to putting in the difficult work required to recreate oneself.
Prior to becoming an attorney, she was an M.B.A. who worked in marketing for the likes of Western Electric and AT&T/Bell Laboratories. While she enjoyed the work, she felt the pull of a different calling. Eventually, the desire to use her considerable skills as tools for justice proved too strong. She then undertook the difficult task of balancing two responsibilities simultaneously: performing the duties required of her marketing career; and taking night courses at Temple University's James E. Beasley School of Law.
By mustering all of her perseverance, tenacity, and know-how, she achieved her goal in 1991. Upon earning her Juris Doctor, she branched out on her own to help those in need find the resolution they deserve. Today, through her Ardmore-based practice The Law Offices of Sheryl R. Rentz, she applies much of the savvy she developed in business to her legal career. For example, she says the skills of understanding and analyzing people has been invaluable.
"You really have to read into some people," she says. "You have to find out who they are and whether you believe them or not. I try to keep clients focused on real issues—what's going on. I ask my clients questions and have them talk about their issues. Once they start getting answers to their questions, it's easier to get off that emotional roller coaster."
Another vital takeaway from her business days is an unfailing commitment to service. She believes she has a responsibility to her clients—to answer their emails and their calls, to take the initiative to address their concerns directly—around the clock.
"Today, everyone expects instant responses," she says. "It used to be that if you were in the courtroom, people would call the office and leave a message. Now, part of what you have to do is always be available. Many times I'll take calls while I'm out to dinner with my husband. I'll spend half a meal pacing the parking lot, talking to clients."
Rentz's fearlessness has served her well in both of her careers. This applies particularly to her time in the courtroom, which she says is an almost daily occurrence. Preparation and forethought are key ingredients in a confident courtroom demeanor.
"When I walk into courtroom," she says, "I'm prepared."
Such preparation takes time, of course, but Rentz is not one to shy away from devoting whatever resources are necessary to represent the best interests of a client.
Devoted to Helping
Family law is not an easy career to dedicate one's life to; Rentz is the first person to admit that. Cases are often marked by emotional (and sometimes physical) trauma, crises, intensity and weightiness. It's for these very reasons, however, that Rentz feels so devoted to helping.
"I'm here to give people second, third, even fourth chances," she says. "Some people have had many marriages. But people change; sometimes, they want different things, and they meet new people. So helping them is what I do."
Rentz's reputation for defending clients' rights extends to individuals of all ages and backgrounds. When a case involves children, Rentz says she always strives for fairness and the best interests of the family as a whole. Unless a case involves extenuating circumstances such as abuse or addiction, Rentz wants to help children spend time with both parents "in a healthy way."
Rentz's commitment to children extends beyond her own practice. She participates in child advocacy work in Montgomery County and has worked extensively in the past with Court Appointed Special Advocates, or CASA, a group dedicated to providing young people with representation in legal matters. Rentz says she particularly enjoys this work because of the special meaning such representation has to a child.
"Usually I'm representing a mom or dad, but in these times I'm representing a child," she says. "I try to figure out what's going on with the child. Some cases go on for years. One girl I worked with for seven, eight years. She's in college now. These children become part of you—part of your family."
While Rentz is personally invested in every case she takes on, she acknowledges that she would not be nearly as effective without the significant contributions of her team. Vital team members include a paralegal, Linda, with whom she's worked for more than 23 years. "She's one of my closest confidants," Rentz shares. "Her son, I love and adore. We're family."
Also integral to the team is Carlye Rose, Rentz's pup. While she cannot type 60 words per minute, this faithful office hand offers comfort, support, and boundless love.
"I like being in the courtroom, and I like preparing cases and helping people to move on," she says. "Even if it is just getting a family settled, organized, and into a scheduled routine, you feel like you're helping, and that's all I've ever wanted to do in this career."
The Law Offices of Sheryl R. Rentz
326 W. Lancaster Ave., Suite 100
Ardmore, Pa.
(866) 247-7508
(610) 645-0100
SRRentzLaw.com
Photography by Nina Lea Photography
Published (and copyrighted) in Suburban Life Magazine, November 2018.
.
.
.