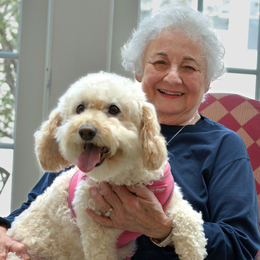 Life Goes On
Kendal-affiliated communities in the Greater Philadelphia Area, older adults discover multiple pathways to continue leading a purposeful, enriching life.
"Together, transforming the experience of aging": It's a catchy turn of phrase that speaks to the mission of The Kendal Corp. Much more than a slogan, it's a way of life at each of the Kendal-affiliated communities that provide independent living, assisted living, memory support, skilled nursing, and rehabilitation care to older adults in eight states, including those in southeast Pennsylvania.
In other words, all phases of life offer opportunities to grow, to enjoy new experiences, and to share one's gifts, according to Colleen Mallon, chief marketing officer of The Kendal Corp., which is based in Kennett Square.
"Our values are alive and well at all of our Kendal communities," she says. "These values—things such as lifelong learning, inclusion, equality, and sustainability—are leading every conversation we have. We don't just have these values as plaques on a wall; we talk about them constantly and they influence the decisions we make to support our affiliates, all of which are independently owned and operated."
Mallon sees these values come to life daily at Kendal communities, each of which has its own independent board of directors and its own distinctive personality. Chandler Hall in Newtown, for example, has provided a model for other Kendal communities to follow through its innovative adult daycare and hospice programs. Likewise, Barclay Friends in West Chester has become widely recognized for its elaborate outdoor gardens and distinctive horticultural therapy program, both of which serve to enrich residents' lives.
"This company was founded on Quaker principles, and our residents and staff live those principles every day," Mallon says. "When people move out of their homes and into one of our communities, we hear that they are surprised by how they were welcomed with open arms. That's intentional; we know how difficult it can be making a move to a new place in one's older years, so many affiliates mhave resident committees who make sure that when someone new comes in, they feel as though they belong to a community."
Fully Engaged
Regardless of the community or the level of care an individual requires, Kendal affiliates strive to make each resident to feel as if she or he has purpose and can make a difference.
"This [effort] ties into our values of equality, integrity, and openness," Mallon adds. "We believe residents should have a voice and know what's going on in the community and have a say in the community. We have residents who are involved in board committees and other forms of service, because they have a voice and want to be heard."
At Chandler Hall, individuals have multiple living options, no matter where they may be on the continuum of care, from independent living to personal care (including memory care) to skilled nursing. The community also offers short-term rehabilitation so individuals can recover from surgery, illness, or accident and then return home. Regardless of where on the Chandler Hall campus they call home, a resident will discover a host of outlets to enjoy a fully engaged life.
"We offer opportunities to improve the lives of every individual moving to Chandler Hall," says Jeanene A. Riegel-Palmer, director of sales and marketing for Chandler Hall. "We look at the entire wellness of the individual—spiritual, emotional, physical, cognitive—and offer opportunities to enhance their lives. We believe in engaging each part of the individual, and that includes getting their families to participate in different events and activities."
In fact, the community has a "life enrichment coordinator" whose job is devoted solely to developing individualized enrichment plans for residents. In the case of one resident, a 90-year-old veteran of World War II who enjoys cooking, Riegel-Palmer says his enrichment plan includes the opportunity to work with an on-site chef to cook meals for small groups and residents of Chandler Hall's Manor Houses.
It's an exciting time at Chandler Hall, according to Riegel-Palmer. In addition to celebrating 45 years as a foundation of the greater Newtown area, Chandler Hall recently won six "Best of Bucks" awards. More developments are underway; for example, the community's Hicks Residence for memory-care residents will be fully secured by year's end.
Sharing Gifts
At Barclay Friends, meanwhile, residents in need of long-term nursing care and post-acute rehabilitation discover a community unlike any other—especially considering Barclay Friends' rebuilding efforts. Like Chandler Hall, Barclay Friends is an award-winning community, having recently been named "Best Rehab in Chester County." Barclay Friends is known for its compassionate staff, as well as a program designed to engage residents through horticulture, both indoors and on the grounds of several outdoor gardens.
"Essentially, we're trying to improve people's lives through gardening," says Cheryl Bjornson, a horticultural therapist at Barclay Friends. "Just spending time outside and being around nature, hearing the wind blowing through the trees, that kind of stimulation can have a significant effect on someone. The taste of a cherry tomato grown from one of our gardens or getting to pet our therapy rabbit, Marshmallow, can make someone's day, and it can spark conversation to engage the mind. Toward the end stage of life, that's the kind of experience that can enrich someone's life, much more than sitting in a room looking at a television."
Horticultural therapy will be a thriving program in the lives of those residents who will be moving into Barclay Friends' Memory Care and Personal Care in the near future. Each wing of Barclay Friends has a patio with its own devoted garden, including personal touches such as birdbaths and birdfeeders to attract local wildlife. There's also an enclosed garden—"an endless garden," as Bjornson calls it, in the shape of a figure eight, complete with a pond and a waterfall—specifically for memory-care residents.
As part of her responsibilities, Bjornson works with residents to plant seeds and grow vegetables in wheelchair-accessible planting beds. In fact, one of the gardens provides sustenance to the Chester County Food Bank; last year, residents helped grow and harvest more than 475 pounds of fresh vegetables for the philanthropic organization. Likewise, many of the flowers and herbs grown on site are used in a weekly flower-arranging program led by Bjornson.
"Part of what we're doing is trying to let people have a sense of life, and letting them know they are valuable," she says. "Some of the arrangements our residents make are simply beautiful. This sort of experience makes life go on for them. When family members come in and visit, they see the effect it has. They'll say, 'Mom seems really happy.'"
Although each Kendal community is unique in its own way, each community benefits from being part of "the Kendal family," as Mallon puts it. One example: The Kendal Corp. is currently in the midst of launching the Kendal Better Ways program, through which board members, residents, and other community members can collaborate and communicate with one another, sharing their ideas to improve life from one campus to the next.
"It's just another way that we're trying to make residents feel engaged and express their voice," she adds. "Every person who comes here has a unique gift, and we want to give them as many ways as possible to share that gift with others."
Barclay Friends
700 N. Franklin Street
West Chester, Pa.
(610) 696-5211
BF.Kendal.org
Chandler Hall
99 Barclay Street
Newtown, Pa.
(215) 497-0905
CH.Kendal.org
Photograph courtesy of Kendal Corp.
Published (and copyrighted) in Suburban Life Magazine, November 2018.
.
.
.