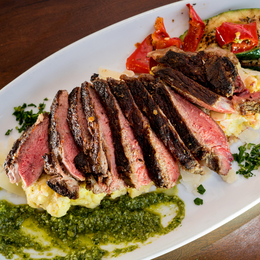 Dynamic Duo
At Tapas on York, Tina Kelly and Chef Ernie Pio combine forces to create some of the most inventive dishes in Bucks County.
When one hears the word tapas, small plates may come to mind. But at Tapas on York in Jamison, owner Tina Kelly and Chef Ernie Pio put their own twist on traditional tapas.
"We serve breakfast, lunch, and dinner, and not your typical tapas," Kelly says. "People associate tapas with small plates, but we serve American-style tapas so the portions are larger."
Having been serving residents of Bucks County for four years and counting, Tapas on York provides American regional cuisine with a Southwestern influence, including mouthwatering items such as Cajun-crab mushroom caps and Southwest calamari with lime and cilantro jalapeno butter. Customers love Kelly and Pio's style, not to mention the unique plates coming out of their kitchen, with everything made from scratch.
"Everything we serve is homemade, all of our sauces, dressings, soups—everything," Kelly says. "The love comes through the food; people taste the difference."
Creative items are on the breakfast menu as well, including their No. 1 seller, the West Coast breakfast—scrambled eggs, fresh roasted tomato, goat cheese, avocado, and, to add a kick, chorizo sausage. "Breakfast has become increasingly popular on the weekends," Kelly says. "We're the go-to place."
Kelly and Pio are eager to debut new menu items in the coming months, such as crab grilled cheese, surf-and-turf risotto, the market garden salad and "Mom's meatballs." Of course, the new menu will include favorites such as Tapas on York's No. 1 seller, the roast-duck spring rolls.
Pio, a graduate of the Culinary Institute of America, is the brainchild behind many of these dishes. Kelly describes him as one of the most creative people she's ever met; he loves experimenting with food and taking his dishes to a whole new level.
"He has a way of creating food and doing something totally different," she says. "One of the specials he came up with recently was wasabi-bacon-wrapped mahi mahi. It was so popular and sold out most nights. He's a really creative and humble guy who's great to work with."
In addition to running the restaurant, they also offer catering for every kind of event—holiday parties, weddings, showers, and bar/bat mitzvahs, to name a few. Fourteen different food stations offer everything from seafood and ultimate tacos, to grilled cheese and New Orleans favorites such as jambalaya and gumbo.
"Most caterers will give you limited options and can only choose from chicken, steak and salmon," Kelly says. "That's not the way we do it."
On top of all these options, Kelly and Pio can cater to a client's needs and a specific theme, and will create a customized menu for an event.
"I recently catered a wedding where the woman was Polish and the husband was from Philadelphia, so we did a theme around Polish and Philly favorites," Kelly says. "We had a cheesesteak station for him, and a pierogi and kielbasa station for her.
"Ernie and I team up on the food and create menus specifically for that event and work with the customer on the details," she continues. "We try to plan every step of their party. Whether it's being held at the restaurant or offsite, we handle every step professionally and make sure it's filled with all the food they love. We make it about the customer."
Kelly says popular requests include roast-duck spring rolls with apricot dipping sauce, and mini crab cakes. "Another item we created is a mini cheeseburger pie," she adds. "It's a simple little pastry with cheeseburger filling. As simple as they are, they are so popular. We don't like to be boring, which is why we offer a wide variety."
Kelly and Pio's inventiveness is evident in their thoughtful and flavorful dishes. With Pio's creativity in the restaurant and Kelly's work ethic on the catering side, Tapas on York provides the perfect balance.
"Ernie and I have different styles, but we complement each other greatly," Kelly says. "We're both really proud of our restaurant. At the end of the day, we look at each other and work hard to get where we are. Seeing customers who have become friends and support us, it means everything."
Tapas on York
2244 York Road
Jamison, Pa.
(267) 483-8235
TapasOnYork.com
Photography by Jody Robinson

Published (and copyrighted) in Suburban Life Magazine, November 2018.
.
.
.