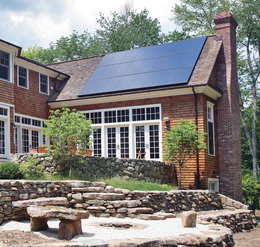 Seeing the Light
A new Aztec Solar program trims customers' energy costs with ease and assurance
Energy conservationists tend to summon a number of glowing adjectives when describing the advantages of solar power: renewable, non-polluting, maintenance-free and, of course, cost-effective. To hear Stuart O'Neal tell the story, a new lease-based program now available to homes and small businesses in southeast Pennsylvania has made solar power not only more affordable but also more convenient than ever before.
O'Neal's employer, Wayne-based Aztec Solar Power, has devised a remarkable method for delivering the benefits of solar energy without customers having to spend thousands of dollars on installations, equipment and upkeep. Essentially, Aztec Solar now enables a customer to lease a roof-mounted 10-kilowatt solar-power system—enough to supply the energy needs of a 2,500-square-foot building—capable of reducing monthly electrical-energy costs by 50 percent to 60 percent every year for the next two decades.
"It's a 20-year lease, and what we're doing is stabilizing volatile, variable energy costs over that time," says O'Neal, Aztec Solar Power's finance director. "The cost of the customer's energy lease payment would be in the range of $85 to $100 per month, depending on the size of the home or building. If we use that 'magic number' of $85, and multiply it times 240 months, that's $20,400, which is well under the $55,000 to $60,000 it would cost to purchase the same system outright.
"I think we have to make the assumption that [traditional] energy costs will be going up," he continues. "With solar power, you avoid any increases in taxes, delivery costs and the raw costs of energy, because the sun's always going to be there. … We're already knocking out at least half of your monthly energy costs, and with that $85-per-month number, what we're doing is stabilizing energy costs over the next 20 years."
How to Get There
O'Neal notes that each customer must qualify for the 20-year lease program. First, the qualifying customer must have stable employment. Second, he must have a credit score of 700 or better, which, statistically, accounts for 52 percent of the U.S. population. And third, the customer must own the home upon which he wishes to install the panels, although there are no minimum requirements in terms of home equity.
Prospective customers would pay a one-time-only application fee of $50. Beyond that, however, there are no capital expenditures beyond their monthly bills for solar-energy consumption, which are significantly reduced compared to those for electricity purchased from traditional utility companies.
Beyond the qualification process, there is only one other requirement to install a solar electric system: All panels must face south on a rooftop or other open area. Shade trees cause shadows, which reduce the effectiveness of the system. Similar lease-based programs have already sprouted in other states, with remarkable results. Aztec Solar intends to start installing leased systems in the second quarter of 2011, in homes in Pennsylvania, New Jersey, Delaware and Maryland.
O'Neal expects as many as 2,000 area homes to qualify in the "first wave" of the lease program, dictated primarily by the supply chain and manpower. Each installation, he says, would take approximately four days once materials are on site. Another convenience designed to make the installation as painless as possible: Aztec Solar handles all of the permitting, so customers need not worry about wrangling with the township over construction approvals.
"Of course, this is no barebones system," O'Neal promises. "It's a full-blown deal with a monitoring system in the house so you can see what the panels are doing, how they are saving you money. The [equipment manufacturers] will supply a 25-year warranty, which is longer than a customer would need it because it's a 20-year lease. Also, Aztec Solar provides a five-year, bumper-to-bumper warranty as well."
Growth Ahead
More than ever before American consumers and business owners are embracing solar energy, which currently accounts for less than one-tenth of 1 percent of the electricity generated in the United States. In recent years, federal and state grants intended to stimulate the economy and reduce the country's dependence on foreign energy have boosted solar energy's attractiveness to homeowners, businesses and nonprofit organizations alike. In fact, solar power's contribution could grow to as much as 10 percent of the nation's power by 2025, according to a report by research firm Clean Edge and the nonprofit group Co-op America.
"It's true that the bulk of the population doesn't yet understand solar energy, and most people think it's some sort of energy 'shell game,' " says O'Neal. "But the process has been around for 34 years, and the investments and improvements we've seen from both the private sector and the government mean that it's just gotten better.
"We're doing everything we can to get the cost to the client as affordable as possible," he continues. "But with our emphasis on 'green,' we try to be a total energy service. We also do energy surveys and explain to our customers whatever they can do for their windows and installation so they can make their homes more energy-efficient."
Aztec Solar Power
701 Lee Road, Suite 200, Wayne
877-SUN-6066, AztecSolarPower.com