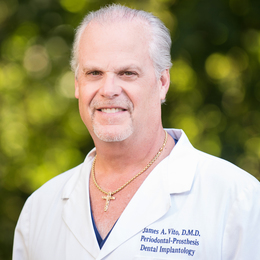 Smile for Life
In the hands of an experienced specialist such as Dr. James Vito, dental implants can have a dramatic effect on a patient's smile, as well as their overall quality of life.
Dental health professionals have a number of life-altering treatments and procedures in their repertoires. In the expert opinion of James A. Vito, D.M.D., few treatments have the potential to affect a patient's quality of life more than dental implants.
"We're born with two sets of teeth, and through dental implants we can effectively provide a third," says Dr. Vito, a Wayne-based specialist who is board certified in implant dentistry by both the International Congress of Oral Implantologists (ICOI) and the American Board of Oral Implantology/Implant Dentistry (ABOI/ID), and certified as a master in implant prosthodontics through the ICOI. "When done properly, a dental implant is a seamless transition from an empty space to a tooth-filled space—or, in severe cases, utilizing multiple implants to replace a few to all of your natural teeth."
The key to that last sentence, he says, is "when done properly." Because of its durability and effectiveness, the dental implant has become an increasingly popular treatment option for replacing failing or absent teeth. In fact, dental implants have become so commonplace that many general dentists now offer the most complex and involved dental implant procedure—of replacing all of an individual's missing teeth—in as little as one day.
Dr. Vito's advice: Proceed carefully when choosing a professional to perform any dental implant procedure, because he says there's a huge disparity between having implant procedures done by a board-certified implantologist and having them done by a general dentist who gained his or her familiarity with the procedure by way of a weekend course.
We spoke with Dr. Vito about the benefits and challenges associated with dental implants. During that conversation, he also shared his perspective on how a patient's life can change for the better as a result of having the implant performed by a professional who has undergone specialty training designed to provide the most predictable outcomes.
Q&A
What are some of the benefits of dental implants?
Three in particular come to mind. First, it's a more conservative treatment compared with some of the other options to replace a missing tooth. The options for single tooth replacement are a bridge or a dental implant. With a dental implant, just the area of the missing tooth is addressed with a dental implant and dental implant restoration. With a bridge, the teeth adjacent to the space must be irreversibly damaged to fill the missing space; the adjacent teeth must serve as support for the construction of a bridge to replace one missing tooth. Second, when done correctly, a dental implant and the accompanying restoration is virtually indistinguishable from the adjacent natural teeth. Third, an implant can provide many more years of service than a bridge. Honestly, if a dental implant is done properly and placed in the right bony housing, it could last 30 years or more.
I see some dentists offering quick and easy implants, but I imagine the words "quick and easy" do not apply to every case.
That's correct. Getting predictable, natural-looking results with dental implants requires a lot of planning, preparation, and artistry. Because dental implants are an expensive treatment to replace missing teeth, researching the doctor who's going to perform this complex procedure becomes critical. Usually, specialists are more qualified: periodontists, oral surgeons, prosthodontists—those who have a surgical background. Patients should research the qualifications of their doctor and see if they have gone through the credentialing of some of the governing boards, such as the American Academy of Implant Dentistry, the ABOI/ID, and the ICOI. The people who specialize have made an investment of time to improve and increase their level of knowledge and understanding of dental implants, and undergo the arduous task of board-certification examinations, which consist of written exams and oral defense in front of a board of their peers to ensure that the successful candidate is knowledgeable and has the ability to handle any situation, from the simple to the most complex.
Patients should not lose sight of the fact that this is a very sophisticated treatment, and the clinician needs to have the training, skill set, and knowledge to deal with any problems that may develop. Unlike teeth that can be easily moved if they are not in the right position, dental implants, which become fused to the bone, are not. If a dental implant is placed in the wrong position, it will result in a less than ideal aesthetic outcome and a shortened life span. When done correctly, dental implants and their corresponding restorations meet or exceed a patient's expectations. When done poorly, patients experience a less than ideal aesthetic outcome which can then become very costly to resolve.
What are some of the biggest challenges associated with dental implants?
Honestly, it's largely a matter of expectations. Patients naturally want their dental implant treatment done as quickly, cheaply, and simply as possible, but they have little to no appreciation for the complexity of what they're asking the clinician to do. Because dental implant therapy is very commonplace, there are some offices that are perfectly willing to offer this treatment to anyone, no matter who the candidate is or what their situation may be. The ideal dental implant patient is the exception and not the rule. Many patients who are missing teeth either through dental disease or trauma are also missing bone or soft tissue or both. These are important parameters that must be evaluated and possibly repaired prior to any implant treatment is to be performed.
I'm reminded of the quote, "Failing to plan is planning to fail." By creating an ideal foundation by building the appropriate level of bone, soft tissue or both when warranted will then result in ideal implant placement and, consequently, an ideal aesthetic result that will provide many years of predictable longevity.
A patient has to be willing to understand the uniqueness of their dental issue and to have patience, realizing that doing it correctly may involve some additional procedures prior to dental implant placement. Not all patients are created equal, so you can't apply the same treatment plan to all patients. Patients need to appreciate that any dental treatment—and especially dental implants—is custom tailored for each individual's specific needs in order to provide a predictable and long-term result. Unfortunately, when patients get an unsatisfactory result, that's when they end up in my office—seeking improvement to a less than ideal result.
Let's assume dental implant treatment has been done correctly. How does someone's life change after dental implants?
One never appreciates their smile until it is gone, which is why restoring a patient's ability to smile is so empowering. A beautiful smile reflects youth, health, and confidence. Being able to have properly functioning teeth has been shown to improve one's overall health. Having a smile that once was only a dream but is now a reality creates a sense of confidence. Oftentimes these patients feel that their smile has held them back either professionally, personally, or both. A new beautiful, healthy, and functional smile for many patients is a life-changing event, and being able to provide this therapy for my patients is very gratifying for me as a clinician. When patients achieve this new confidence and improvement in self-esteem, they then start paying more attention to their hair, makeup, and wardrobe. It is interesting for me to see that when a patient is no longer embarrassed by their smile, everything else in their life changes for them, too.
James A. Vito, D.M.D.
523 E. Lancaster Ave.
Wayne, PA 19087
(610) 971-2590
www.JamesVito.com
Photography by Jeff Anderson
Published (and copyrighted) in Suburban Life Magazine, November 2018.
.
.
.