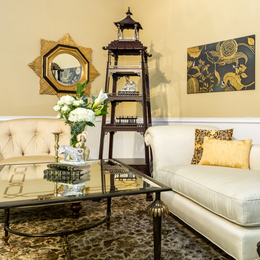 The Stenella Experience
Stenella Interiors helps clients furnish their homes with style and ease.
"Wow!" That's the typical reaction of people who walk through the doors of Stenella Interiors in Lansdale, or its sister location in Perkasie, Stenella Antiques. The goal of the staff at each location is to help prospective clients make informed decisions about furnishing their homes, easily and confidently.
Even though most prospective customers tend to peruse Stenella's inventory online prior to visiting one of its two stores, they still tend to find unexpected treasures within. Each location boasts a vast inventory of handcrafted furniture from the likes of essential American manufacturers such as Baker, Councill, D.R. Dimes, Eldred Wheeler, Henkel Harris, Henredon, Karges, Kindel, Kittinger, and Stickley. But that's just the tip of the iceberg, according to Charles Dobbs, Stenella's head of visual merchandising.
We spoke with Dobbs about "the Stenella experience," how current trends influence the kinds of merchandise in Stenella's inventory (spoiler alert: they don't, really), and his best advice for customers who are on the hunt for that perfect signature piece—or pieces—of furniture to accent the home.
Ask the Pro
Charles Dobbs, Stenella Interiors
When people visit Stenella Interiors, what can they expect from the experience?
The store itself is merchandised with classic furniture of extremely high quality. Because of the way the furniture is displayed, and the atmosphere we have created in the store, it all feels extremely casual and friendly. While we're helping people find high-quality furniture from some of the top manufacturers in the United States, we want the Stenella experience to be unstuffy and uncomplicated.
We have a lot of different styles of furniture here. The brands we carry might be known for classic furniture, but it's not all formal, and it's not all 18th century. We also have a range of contemporary furniture for someone who might be looking for something more trendy or casual. The one common thread that connects everything we sell is the quality and craftsmanship.
Are there certain trends that influence the kinds of merchandise you carry?
We have such a following for classic furniture that current trends almost don't matter. By the same token, a lot of fashion-forward designers are moving back to classic furniture, with the application being different than it once was. Although most people are coming here with the idea to purchase something classic, each client is applying the use of classic furniture in a different way: Some are looking for a few pieces to round out an eclectic environment that also includes contemporary textiles and furnishings; and others are looking to add to an existing collection of traditional furniture. Some people need advice on how to use these items with a fresher, more youthful application, and others need someone who can give them guidance on which traditional furniture can best add a different layer or tone to a more classic environment. Everyone is different, and that's where the challenge and the enjoyment come in for me. I'm here to offer people sage advice for proportion, style, and value.
What factors should a client consider prior to making a purchase?
Our online presence is extremely helpful to local and out-of-state shoppers, because it gives them an upfront idea of what's available, and it also provides an idea of what to expect in terms of price point. As fine as all of our furniture is, there are some incredible bargains to be had for someone who likes a great deal. The other thing to remember is that we have a lot of different styles; it's not just rows and rows of mahogany breakfronts. We also offer upholstery, lamps, artwork, mirrors—you name it. Our Lansdale location is set up differently than our Perkasie location, whereas Perkasie has a bit of a warehouse feel, and Lansdale is a good foil to that, offering more of a showroom experience.
What other advice can you share for people who are looking to improve their homes with the kinds of merchandise and services you offer?
It's always a great idea to look through our online presence to get a general idea of what we carry, but we're always getting in new arrivals. The greatest value of shopping at Stenella is that we have a staff that knows so much about furniture and manufacturers. Come in and engage one of our salespeople, tell them what your room looks like and what your goals are, and give them the opportunity to offer the benefit of their experience.
For the most part, we promote American-made furniture from upper-echelon manufacturers, but in many cases we're offering the best merchandise from around the world at the best possible price. Maybe it's closed-out furniture or something pre-owned or something that we've been able to purchase from a manufacturer at a particularly good price. If you want a brand new table, we can offer that at a competitive price, too. That's the model that Jim Stenella has been able to create, and that's what makes us so unique.
Stenella Interiors
800 W. 2nd Street
Lansdale, Pa.
(267) 222-8926
StenellaInteriors.com
Photography by Nina Lea Photography; flowers by Perkasie Florist
Published (and copyrighted) in Suburban Life Magazine, November 2018.
.
.
.