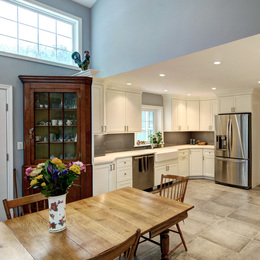 No Place Like Home
For new builds and home remodels, Gehman Design Remodeling aims to exceed clients' expectations.
"We are very happy with our kitchen remodel and new build. Our project was a difficult one, at best, because it entailed a complete demolition of the central portion of the home. The workmanship exhibited by Gehman Design Remodeling was excellent. The men were always pleasant, on time, and easy to work with. Thank you especially to Elijah for your willingness to always listen and make last-minute adjustments to the project design. We highly recommend Gehman Design Remodeling to anyone interested in a new build or remodel. Our puppy loved them, too!"
—Laura K., a Gehman Design Remodeling client
Decades of Experience
Led by president and co-founder Dennis Gehman, Gehman Design Remodeling specializes in what some would consider "challenging" design-build projects, particularly kitchens and bathrooms. Gehman has spent the past 40 years embracing the notion that no job is too ambitious or too difficult. From the artistic aspects of the initial design to the technical aspects of the building process, the company aims to deliver on—if not exceed—each client's expectations.
Award-winning Craftsmanship
Clients rave about the firm's craftsmanship, quality, and attention to detail, and they're not the only ones. The National Association of the Remodeling Industry, also known as NARI, has graced the firm with multiple "CotY" (Contractor of the Year) Awards for its stunning kitchen and bath remodels.
Delivering Results
Each remodeling project or new build typically begins with a fact-finding mission, whereby one of the firm's Remodeling Consultants sits down with the homeowner and asks questions so they can gain a thorough understanding of the homeowner's vision. From there, the project becomes a collaborative effort with one goal in mind: to create something the homeowner will love.
Gehman Design Remodeling
355 Main Street
Harleysville, Pa.
(215) 513-0300
GehmanRemodeling.com
PA Contractor Registration: PA0297
Photography courtesy of Gehman Design Remodeling
Published (and copyrighted) in Suburban Life Magazine, November 2018.
.
.
.