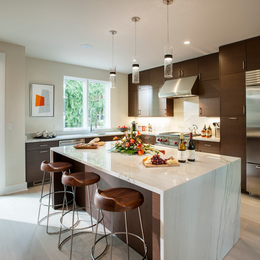 Precious Stone
From the initial contact to the final installation, Colonial Marble & Granite provides an experience clients are happy to recommend.
"I first met Colonial Marble at a home show seven or eight years ago. I shared some of my [design] ideas, and they took it the rest of the way. I wound up hiring them to complete projects in the living room, the fireplace, the study/computer room, the kitchen, the master bathroom, the basement, the master patio—there's almost nowhere in the house they haven't touched.
"The kitchen has become one of my favorite rooms in the house. Colonial did the kitchen floor, the backsplash, and these amazing double-laminated countertops that really pop. But if there's one room in the house I have to show people, it's the master bath. We have this gorgeous floor-to-ceiling standup shower, with different types of granite and stone throughout. I find myself taking longer showers now because of how great it looks. I also spend a lot more time in the kitchen; every Monday we pick up our fruits and vegetables from our local farm share, so I'm in there preparing dinner—and I'm happy to do it because it's the kind of kitchen I've always wanted.
"Everything about my experience with Colonial was positive, from the initial contact to going through the plant to check out the inventory, to the people that did the installation, to the quality of the work. That's why, from Day One, I've been recommending them to just about anyone I know."
—Ray L., a longtime Colonial Marble & Granite customer based in Newtown, Bucks County
Set in Stone
Colonial Marble & Granite carries more than 6,000 slabs of granite, marble, onyx, quartz, and quartzite, in 600 different colors. So whether a homeowner wants a new countertop for the kitchen, bathroom, or outdoor entertainment area, the company offers a copious amount of stone options—plus, tile to complement existing countertops and much more—to add style and substance to any part of the home.
Expert Design and Installation
By visiting one of Colonial's showrooms/design centers located throughout the Greater Philadelphia Area, customers receive access to expert design advice to help them turn their dreams into reality. At each location, Colonial can walk prospective clients through their projects' design and installation, offering guidance and inspiration along the way.
All-in-one Resource
Besides a wide variety of world-class stone and complementary products, Colonial has expanded into other service lines, such as generators, windows and doors, and "smart home" services. In other words, the company aims to serve as an all-encompassing resource for homeowners, with 100 percent customer satisfaction as its goal.
For more information, visit ColonialMarble.net.
Photography courtesy of Colonial Marble

Published (and copyrighted) in Suburban Life Magazine, November 2018.
.
.
.