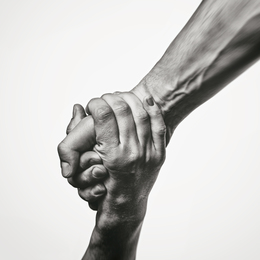 What It Means to Be Strong
A light guides the way through "a dark night of the soul."
As a general rule, I do not cry during interviews. I broke that rule about a month ago, during a conversation with Barb Smith. In my defense, it wasn't a formal interview; Barb had called me to tell me about her family, and I couldn't help my reaction.
The conversation with Barb took me back to a time about 10 years ago, during the lowest point in my life, when I just so happened to meet a gentleman named Fred Pirkle. Through a professional acquaintance, Fred contracted me to help him flesh out a book he wanted to write. Learning from him—a successful businessman and visionary inventor, as well as someone who had suffered losses of his own—helped me recover from my own "dark night of the soul."
Fred and I lost touch for several years but reconnected in 2012, when I learned that his health had taken a turn: amyotrophic lateral sclerosis, or ALS—a particularly cruel disease with no cure. I got to meet with Fred once again, a formal interview this time, for a story I would write for this magazine. The disease had made him completely immobile by then, unable to move, eat, or breathe on his own. Even so, I was astounded by his desire to keep fighting, to keep inventing, to keep putting his incredible mind to use. Fred died before that story went to press.
Barb Smith has her own ties to ALS. Her son, Jay, was diagnosed with the disease in 2014. Like Fred, Jay has an incredibly inventive mind, with a fire in his belly to match. Listening to Barb talk about her son reminded me of Fred, and our conversation affected me more than I had expected it to—hence the unexpected tears.
You can read Jay's story in our 2018 "Men of the Year" feature, among the stories of several other remarkable leaders who just so happen to be men. I hope his story affects you, too.