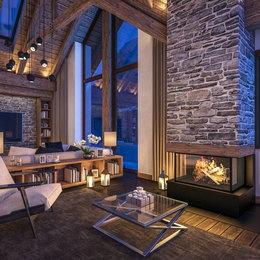 Inside Job
Winter is the season of nesting and hibernation, but it's also the perfect time to transform your home with a re-envisioned interior.
If summer is the season for staying in motion and exploring the outdoors, then winter is its mirror—a season for quiet reflection, nesting, and making the most of the time we spend indoors.
Once the winter holidays ground to a halt, homeowners throughout the Greater Philadelphia Area are likely to stow away the decorations and consider the interiors of their homes with fresh eyes. Chances are that most will see something—maybe more than one thing—that they either don't like or think they could make better. Considering the still booming economy, now may be the perfect time to act by investing in, say, an expansive new great room, or a newly imagined game room, or perhaps a fresh take on another room of the house where most homeowners do a fair amount of entertaining: the kitchen.
No matter the need, home improvement professionals throughout the Greater Philadelphia Area can help you bring your imagination to life and reshape your home into a place where you not only want to spend more time but also welcome in others to share the joys of entertaining, dining, and fine conversation.
Scroll through this issue to meet a few professionals who can help you get started.