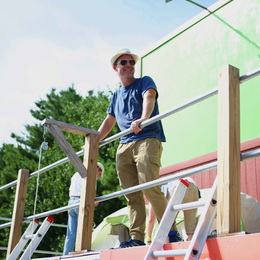 The Real Deal
When it comes to making movies, authenticity is vital to local filmmaker Zeke Zelker.
If some of the places seen on screen in the forthcoming film Billboard look familiar, that's because Zeke Zelker shot every frame somewhere in the Lehigh Valley. In fact, Zelker, who was born and raised near Allentown, wanted the entire production—not just the filming—to contain nothing but Keystone State DNA.
"I came back to the Lehigh Valley 20 years ago to make films," says Zelker, who wrote, directed, and produced Billboard. "We shot the entire film here, and everything about the film was finished in the state of Pennsylvania. I literally made it a point to do it all here."
Billboard revolves around a struggling radio station, WTYT 960. To save the station from financial ruin, the new owner creates a contest in which four individuals agree to live on a catwalk in front of a billboard; the winnings for the last contestant standing, so to speak, include a check for $960,000. As one might suspect, things don't go exactly as planned.
In advance of the film's national release in April, Zelker hosted screenings of the film throughout the Greater Philadelphia Area in November and early December. Starring a cast that includes indie film icons Heather Matarazzo, Eric Roberts, and John Robinson, Billboard is much more than a film; through his production company, iDreamMachine, Zelker also created a complementary 27-episode web series to tell more of the story, as well as a virtual radio station modeled after the one in the film.
"The movie is not even out yet," he says, "and it has already taken on a life of its own."
We spoke with Zelker about why he wanted to make the film, his connection to controversial filmmaker John Waters, and what it means to be "fiercely independent."
Q&A
Why did you want to make Billboard?
I remember this crazy radio contest [similar to the one seen in the film] from the early '80s, when I was 11 or 12 years old, and I remember thinking: What do these people do they when people are not watching? I was more intrigued by the station hosting the contest than I was by the contest itself. You take reality TV, and it's all a spectacle. But I thought: What would happen if we flipped the cameras around and watched the crew? It's about all the craziness happening behind the camera.
What do you think people will take away from the film?
It's about people who are trying to capitalize on an opportunity, but it's also about people who are just trying to survive. So it's about the human spirit—trying to succeed at all costs. It's a matter of how somebody, one lone wolf, can affect somebody's whole world. That idea translates into almost every aspect of life. For a business owner, you can have one [employee] who is having a bad day and treats a customer poorly, and that ups ends up having a much wider ripple. It shows that sometimes, now matter how good or smart you think you are, your success is often in the hands of other people.
Why was it important for you to produce film in and around Lehigh Valley?
I didn't catch the film bug until a little later in life. I ended up going to grad school to study film at Syracuse, refinancing my Jeep Wrangler to take a run at my dream. I had a background in economics and finance, and I wanted to do my part to build up the area. … I grew up here, and I lived in an area outside of Allentown for quite a while. I worked at Dorney Park as a kid, and I was actually in John Waters' Hairspray as one of the lead dancers in scenes that were filmed at Dorney Park. I remember [Dorney Park] as a playground, and the experience of spending so much time there affected how I create, and my perception of the world.
Tell me about the kinds of films you've made or want to make going forward.
I do produce other people's work, not just my own, but there is a sensibility I have, and I want anything I touch to do three things: stir emotion, evoke thought, and inspire ideas. The story has to be real; it has to be authentic, and it has to resonate with me. I'm also fiercely independent, so anything I do has to have an independent feel to it. With Billboard, for instance, we had a lot of recognizable people who are known in independent film world.