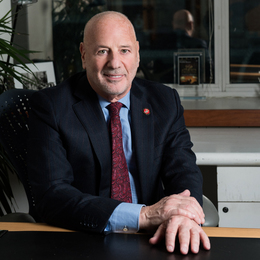 Fighting for Justice
Individuals who have had their civil rights violated turn to Mark B. Frost, a Philadelphia attorney blessed with the skill, drive, and passion needed to "level the playing field."
For Mark B. Frost, the road to becoming a defender of civil rights throughout the Greater Philadelphia Area started as an officer in the U.S. Marine Corps. Some of the most important takeaways from his time as a Marine prepared him for his calling as a civil rights attorney—namely, discipline, focus, and the drive to aggressively pursue his goals, regardless of the obstacles that stand in his way.
"I've always believed in the importance of civil rights," says Frost, a South Jersey native whose firm, Mark B. Frost & Associates, is based in Philadelphia. "I went to law school after my time in the Marines, and I had the opportunity to intern at the American Civil Liberties Union. While I was there, I was introduced to a case involving a social worker who was denied employment with the Ohio Youth Commission because he was blind, even though he had a master's degree. I wound up trying the case years later."
This case was the beginning of a career concentrating on civil rights and civil litigation. Along this journey, not only did Frost win a number of important cases at the trial level but also has been successful to argue and win a number of cases in the Third Circuit Court of Appeals and in the U.S. Supreme Court.
"Clearly, I am proudest of my representation of Jeff Heffernan," Frost says of his client, a Paterson police officer whose case went to the U.S. Supreme Court after nine years of litigation and appeals (Heffernan v. City of Paterson). The case began after Heffernan was punished after he picked up a campaign sign supporting a former police chief running for election against the incumbent mayor of Paterson, N.J. The kicker was that he was picking up the sign for his mother, not for himself.
"After picking up the sign for his mother while off-duty, Heffernan was demoted and placed on a walking beat as punishment," Frost says. "The Supreme Court ultimately held that when the government takes action against an employee to retaliate against him for his political activity, the First Amendment is violated even if the government was mistaken about the employee's actual behavior."
As a result of the Heffernan decision, Frost and his associate Ryan Lockman, are representing a law firm in Chambersburg, Pa., who were under contract with the school district of Chambersburg to be their solicitor; because the members of the firm supported candidates who were running against the existing school board, they were fired (Black & Davison, et. al. v. Chambersburg Area School District, et al). Frost and Lockman also represent nine plaintiffs in Elizabeth, N.J., who also were fired from their school board positions because they too supported candidates who were opposed to the existing school board (Dominguez, et al. v. Elizabeth Board of Education, et al).
One of Frost's most recent successes occurred in October, when he won an appellate victory for his client, a police chief in Stafford Township, N.J., who had been denied a promotion in retaliation for his union involvement. In the case, Mrazek v. Stafford, the Third Circuit upheld the denial of qualified immunity for the plaintiff, who had been seeking promotion to the rank of sergeant. After the court's ruling, the township agreed to retroactively promote the plaintiff, with back pay and raises, as well as paying the plaintiff's legal fees.
Nobles v. State of New Jersey is a prospective class action lawsuit filed by three inmates at the all-female Edna Mahan Correctional Facility in New Jersey. The suit seeks to remedy a widespread culture of sexual harassment by officers in the prison, and also alleges that prison and state DOC administrators were aware of this culture but did nothing to halt it. Multiple officers at the prison have already been convicted or pleaded guilty for sexual misconduct toward various prisoners.
Frost has earned his reputation as one of the Greater Philadelphia Area's most sought-after attorneys devoted to fighting for the civil rights of others. He has represented clients in cases pertaining to freedom of speech, gender and race discrimination, police misconduct, and prisoner rights, among other issues, with a great deal of success. So far, he has obtained millions of dollars in verdicts and settlements on behalf of his clients.
"I've been very fortunate to have been involved in this type of litigation," he says. "I get to help people who have been discriminated against and/or retaliated. I'm not only representing clients who have been wronged but also sending a message to employers and to the public that retaliation and/or discrimination will not be tolerated. However, the greatest satisfaction is the happiness of the client because of the impact in knowing that they have been vindicated."
Mark B. Frost & Associates
1515 Market Street, Suite 1300
Philadelphia, Pa.
(215) 351-3333
MFrostLaw.com
Photography by Jeff Anderson