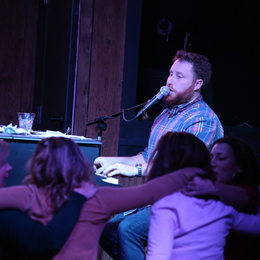 Nights to Remember
In 2019, celebration is the name of the game at Valley Forge Casino Resort.

With 2019 around the corner, Valley Forge Casino Resort in King of Prussia will be offering more opportunities than ever for visitors seeking a place to have fun and make memories—from ringing in the new year to playing the slots on the gaming floor.
The celebration will begin on the final day of 2018 with a New Year's Eve soiree unlike any other. For this 1950s-themed affair, VFCR invites guests to wear their vintage best to party in the newly remodeled Event Center. Attendees will dine on surf and turf before enjoying entertainment by the live band Prime Time, which will keep the dance floor packed from 8:30 p.m. until the champagne toast at the stroke of midnight. VFCR's Vice President of Marketing Gina Mancino says the champagne toast will be the highlight of "an intimate environment perfect for celebrating."
Meanwhile, at VFCR's underground bar, The Vault, revelers will enjoy a buffet of delectable "bar bites" (including fresh crudité, sliders, and assorted hot appetizers) from 8 p.m. to 10 p.m., as well as dueling pianos from 9 p.m. to 12:30 a.m. Gaming opportunities during the evening will also abound. "Guests can spin the New Year's Eve wheel for the chance to win up to $2,019," Mancino adds.
Between its two towers, VFCR will have 479 hotel rooms for overnight guests. Anyone who spends a Saturday night in the hotel will have the added bonus of brunching at one of the suburbs' hottest restaurants, Revolution Chop House, which is on VFCR grounds. "Revolution now features brunch on Sunday mornings from 9:30 a.m. to 2:30 p.m.," Mancino says. "We offer packages that include a hotel stay and brunch for two in the morning with a complimentary Bloody Mary or mimosa."
For those who intend to head home after any night enjoying the entertainment and dining at the resort, VFCR has an arrangement with Uber, so "everyone can have fun and be safe," Mancino says.
This is just the beginning of what is sure to be a dynamic new year at VFCR. On Jan. 19, for example, the songs of the Fab Four will come to the Philadelphia suburbs with an evening of music by Beatlemania NOW. On Feb. 9, VFCR will present Space Oddity, the Ultimate David Bowie Experience. Then, on March 10, world-renowned psychic medium Matthew Fraser will offers his uniquely sagacious insight, followed by The Legend of Johnny Cash, featuring Philip Bauer, on April 20.
With every visit, the VFCR experience will be enhanced by the ever-evolving casino floor, which no longer has an access fee as of Oct. 31, 2017. Gaming enthusiasts can take a seat at one of 850 of the hottest slot machines, or head to the tables for 45 of the world's most iconic table games such as blackjack, roulette, Pai gow poker, baccarat, and craps.
"We always have incentives available," Mancino says. "Our new members are rewarded with free play and more with our Valley Club card." The more frequent the visits, the greater the rewards. "The card helps when you're playing—slots or tables. You can earn points for food, beverage, and retail rewards."
Lovers can rejoice in these benefits too, as VFCR offers "elopement packages" for those seeking to celebrate love without the hassle and expense of an elaborate party. Couples can bundle prix fixe dinner at Revolution Chop House, a champagne toast, and a wedding cake, with overnight accommodations. A particularly beautiful feature of these packages: Each one includes a permit for a photo session in nearby Valley Forge National Historical Park.
As for what's on the horizon, VFCR has surprises galore in store.
"We are excited for sports betting, which was recently approved in Pennsylvania," Mancino says. "We hope to have this come online in the first quarter of 2019—in time for March Madness."
More than all of this, however, VFCR will continue to provide guests with a sense of "home away from home," Mancino says. "We treat everyone like family."
Valley Forge Casino Resort
1160 First Ave.
King of Prussia, Pa.
(610) 354-8118
VFCasino.com
Photography courtesy of Valley Forge Casino Resort