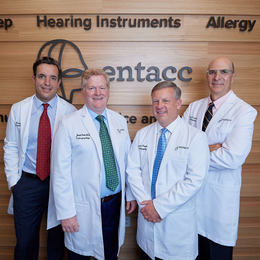 Easing Congestion
Ear, Nose and Throat Associates of Chester County's new walk-in clinic for advanced sinus care has patients breathing easier in more ways than one.
Winter is the equivalent of the proverbial double-edged sword. On one hand, the season brings joyful experiences in the form of precious time spent with family and friends during the winter holidays. On the other hand, the winter months often give rise to disruptive head colds, respiratory illnesses, and bouts of sinusitis.
When it comes to dealing with the facial pain, congestion, and other telltale symptoms of sinus infections, most people follow a conventional and somewhat circuitous path to relief. But residents living in or near Chester County now have a far more appealing alternative: a new walk-in clinic for advanced sinus care, offering near-immediate reprieve courtesy of the highly trained clinicians and staff of Ear, Nose and Throat Associates of Chester County.
Offering convenient weekday hours, including evenings, ENTACC's walk-in sinus clinic is staffed by at least one of the practice's four full-time otolaryngologists—namely, Alexander Keszeli, D.O.; Adam Mariotti, M.D.; Michael Picariello, M.D.; and Joseph Smith, M.D.
"When we opened this clinic, we wanted to take away some of the frustration patients may have felt by following the traditional way of taking care of sinus problems," says Dr. Picariello. "By limiting the number of steps people have to go through to attain the proper care and medication to solve the problem, we can provide greater value and a higher level patient satisfaction."
The walk-in clinic mirrors a broader medical trend nationwide. An increasing number of individuals now turn to an ever-growing number of urgent care centers for the treatment of non-life-threatening medical conditions. That's because urgent care centers, much like ENTACC's walk-in sinus clinic, offer a prized commodity: convenient access to high-quality medical care in a timely manner.
"Patients who have facial pain and headaches as a result of lingering sinus problems typically go to their primary care doctor first," Dr. Picariello adds. "The walk-in clinic at ENTACC offers patients an alternative by providing a direct route to specialized care. Through advanced diagnostics and an in-house CT scanner, our walk-in clinic enables us to get to the root cause of the patient's complaint and address it promptly, so we're eliminating several of those steps that can lead to the frustration."
Committed to Quality Care
The walk-in sinus clinic is emblematic of ENTACC's commitment to providing patient care of the highest quality. To ensure a positive experience, the practice has made a substantial investment in staff education and state-of-the-art technology. For example, the in-office CT scanner specifically designed to image the sinuses and base of the skull can expedite an accurate diagnosis. In other words, walk-in patients can receive a proper diagnosis and effective treatment in the same visit, all without an appointment.
The clinic treats conditions such as acute and chronic sinusitis, discomfort caused by sinus pressure, and nasal congestion. It can also provide relief for recurring allergies, which are known to be key contributors to sinus infections. For these individuals, ENTACC can provide allergy-directed immunotherapy, either in the form of traditional shots or needle-free sublingual (beneath the tongue) treatment.
"Really, we wanted a more streamlined way to address any sinus-related issues a patient may have," says Dr. Keszeli, adding that the walk-in clinic may one day expand to treat other ENT-related issues. "By providing both diagnosis and treatment more efficiently, the walk-in clinic helps our patients feel better faster."
For many sinus problems, antibiotics and other medications serve as the first line of defense. If conservative treatments fail, however, ENTACC can prescribe surgical interventions such as balloon sinuplasty. The in-office procedure essentially uses an inflated balloon to open up the patient's sinuses and reshape the drainage pathways to restore proper sinus function. Typically done under local anesthesia, Dr. Mariotti says the balloon sinuplasty is a much less invasive alternative to conventional sinus surgery.
"We understand how busy people's lives are, and the early reception we've gotten from patients who have come into the clinic suggests that it's definitely filling a need," Dr. Mariotti adds. "This practice has been around for 30 years, and ENT issues are our specific area of practice, as opposed to a primary care doctor or ER doctor. Our goal is to make ourselves as available as possible for our patients so we can treat them effectively and keep them feeling as healthy as possible."
Adding Value and Convenience
ENTACC treats patients for a wide range of ENT issues, ranging from ear infections and voice care, to thyroid disorders and sleep disorders, to gastroesophageal reflux disease and tumors of the head and neck. ENTACC also has a full audiology department to provide advanced testing and treatment for hearing loss, balance disorders, and tinnitus.
"The only constant in our model is change," says Dr. Picariello, adding that the practice recently consolidated its West Chester and Kennett Square offices into one state-of-the-art flagship facility in West Chester. "We're always looking for new ways to add value and convenience for our patients."
The walk-in clinic is a fine example. Although the clinic has been open for only a few months, it has made many patients breathe easier, both literally and figuratively.
"Patients are coming to us because they have a problem to be solved," Dr. Picariello says. "We have the ability to diagnose the patient, come up with an answer to their problem, and then offer a solution in a brief amount of time. It's been a very satisfying addition to the practice. We're saving society a lot of money as a result. We're also saving patients a lot of time, and that's the most valuable commodity there is."
Ear, Nose and Throat Associates of Chester County
(610) 363-2532
ENTACC.com
111 Arrandale Blvd.
Exton, Pa.
200 Willowbrook Lane, Suite 240
West Chester, Pa.
Photography courtesy of ENTACC