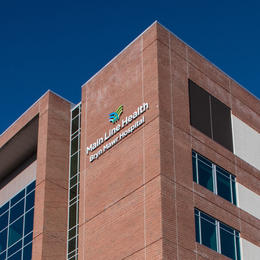 Building on History
With the completion of a new Patient Pavilion, Bryn Mawr Hospital will have a modernized campus reflective of its commitment to high-quality care.
Bryn Mawr Hospital has a 125-year history of providing exceptional patient care. The hospital has been lauded as one of the finest in the Greater Philadelphia Area—among the region's elite, in fact. Sterling reputation aside, the hospital has no intention of resting on its laurels.
In early 2019, Bryn Mawr Hospital will cut the ribbon on a new eight-story Patient Pavilion resulting from an ambitious "modernization" project. Upon doing so, patients and community members will discover a campus transformed, all designed to revolutionize the patient experience.
Brought about by an investment of more than $250 million, the project represents the largest-ever campus modernization project for Bryn Mawr Hospital, as well as the second-largest such project in Main Line Health's history. The new pavilion will include a new intensive care unit, two medical/surgical telemetry units, state-of-the-art operating rooms, and a 25-bed maternity unit, as well as a new labor and delivery unit and Level III neonatal intensive care unit.
Hospital administration, a team of key external advisers, and many clinical staff pored over every detail to address virtually every aspect of patient care, according to Andrea Gilbert, president of Bryn Mawr Hospital. For example, thoughtfully curated patient rooms were designed to provide more space, comfort, and privacy for patients and their families for the duration of their stay. Also, surgeons will have access to technologically advanced operating rooms, to support the sophisticated portfolio of surgical specialties at Bryn Mawr Hospital including: spine, orthopedics, urology, gynecology, oncology, and neurosurgery.
We spoke with Ms. Gilbert on the eve of the Patient Pavilion's completion to discuss the project's impact on the patient experience and the community as a whole, and how it will help Bryn Mawr Hospital build on its storied history.
Q&A
Once complete, what will the new Patient Pavilion mean to Bryn Mawr Hospital and its patients?
As you mentioned, we're a 125-year-old institution, so many of our facilities, though well maintained, are aging. We have completed a couple of sizable projects in the past decade, including our Emergency Department renovation and expansion in 2008 and our cardiac catheterization labs a year before that. But in the grand scheme of things, we had not done anything major with our facilities for many years.
We've essentially modernized most of the campus. The addition of the Patient Pavilion was a two-year construction project, but we have been planning and putting away the dollars needed to fund this project for over a decade. We also raised more than $32 million from grateful patients. Our goal was to position Bryn Mawr Hospital to meet the needs of future generations.
What will Bryn Mawr Hospital look like once the modernization project is complete?
The new Patient Pavilion is 256,418 square feet and a total of eight stories. Originally we were planning for five stories with the capability of adding floors above it, but we decided a year into the planning that we would add a state-of-the-art maternity facilities and a new Level III neonatal intensive care unit to this phase.
The project incorporates a number of major areas, including all new operating rooms for the hospital. The ORs are more than 600 square feet—each substantially larger than our current operating rooms. In their design and engineering, we incorporated specialized air-handling systems to each operating room to provide an ultra-clean environment, one critical factor in addressing infections. Each of these ORs has the advanced technology we use in minimally invasive spine, orthopedics, and neurosurgical surgery. Our patient and staff safety were featured first and foremost in their design.
We're also excited about the maternity facilities. We are expanding midwifery services, which are increasingly important among millennials; it's a more holistic, less invasive delivery plan and process. We have birthing suites and other amenities included in the unit.
Tell me about the planning that went into the pavilion's design.
Hundreds of people were involved—not only staff and a patient advisory group, but also the skilled architects, engineers, and designers who helped bring it to life. We wanted to create a facility that would improve the functionality and safety for our staff, be the most useful in terms of enhancing patient care, and be visually appealing for everyone involved.
We truly focused on the patient experience, knowing full well how important things like natural light and privacy and quiet and views of the outdoors can be in an inpatient setting. We also wanted to be able to separate patient flow from the public traffic as much as possible so we have dedicated patient elevators and corridors in certain areas. We will also have several concierge rooms for patients who want and will pay for larger rooms with more amenities.
The building is targeted at the Silver level of LEED (Leadership in Energy and Environmental Design) certification. It's an energy-sustainable accreditation that takes into account factors such as energy usage, waste removal, and recycling. In the selection of building materials, for example, we were mindful of buying product from within the region, if possible, to minimize energy costs of trucking it from longer distances. Most of the lighting is LED, so we will see some utility savings. We're excited about two green roofs in the new building; one of them is adjacent to the NICU, where infants and families often spend weeks to months at a time. When we open and occupy the building, we believe we will be the first Silver-certified LEED medical facility in this region.
How will the pavilion affect the surrounding community in terms of enhanced care and expanded services?
Our goal was to create a soothing, healing environment, so we think the impact on patient and staff will be significant. In patient rooms, we were very mindful of the design, everything from providing more natural light to having three distinct zones—a caregiver zone, a patient zone, and a family zone—in patient rooms. Also, rather than having one central caregiver station, we created multiple caregiver stations on each floor, which should contribute to more quiet and enable staff to stay very close to our patients.
For anyone who visits the hospital, we were mindful of how difficult it can be to find your way around a hospital campus. We have installed new signage throughout the campus to make it clearer and easier to navigate.
How soon will the Patient Pavilion be ready for the general public?
Our hope is to be fully occupied by early February. We have always prided ourselves on providing high-quality patient care, and I think that has been reflected in Bryn Mawr Hospital's inclusion in national rankings including U.S. News & World Report's list of the Best Hospitals in the region and IBM Watson Health's list of the top 100 hospitals in the country and CMS's five-star rating system. Now we finally have a facility that matches the quality of care for which we are known.
For more information, visit Mainlinehealth.org/pavilion.
Photography courtesy of Main Line Health