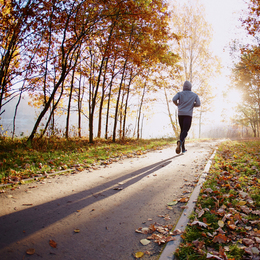 Never Alone
The Retreat at Sheppard Pratt helps individuals with severe depression and other serious mental and behavioral health issues find a path through the darkness.
Approximately three years ago, Ryan Pearson* felt as if he had reached the end of "a long, hard road," as he describes it.
The world around Pearson saw a promising young man with his whole life in front of him, but inner turmoil had led him down a lightless path. He was only in his mid-20s, yet the list of tribulations he'd been forced to endure included sexual assault, multiple emotional traumas and betrayals of trust, and extremely strained relationships with his parents.
"I was emotionally dead inside," he says.
His state of mind became so troubled that the people closest to him began to see him as a danger, both to himself and to others. Pharmacological interventions and other forms of conventional therapy had little to no effect. Ultimately his parents insisted on a "last-ditch option" to cure his interminable depression: a residential treatment program at The Retreat at Sheppard Pratt, in his hometown of Baltimore.
"I had tried to kill myself multiple times, I was highly aggressive, I was highly irritable, and I didn't trust anyone—not the easiest camper to deal with," recalls Pearson, who was 25 when he entered The Retreat. "Nothing else had worked, so I understood this was my last shot. If it didn't work, I decided I would kill myself and that would be that."
He was skeptical, given his past experiences with conventional treatment, but he quickly realized The Retreat would be different. There, he discovered a nurturing team of medical professionals devoted to helping him find a way out of the darkness and realize his potential for a fulfilling life.
"To my knowledge, they were the first people who decided to sit down and truly assess what had happened to me throughout my life," he says. "Their goal is to get people like me to live the best life you can."
Pearson's team included Marina Nikhinson, M.D., a psychiatrist at The Retreat.
"Ryan had gone to a prestigious high school, and on paper he had done quite well, but internally he had been struggling for a long time," Dr. Nikhinson says. "He ended up going to a small college and got lost in his own mind and in the aspirations he had created for himself. He then got dragged down further by a physical illness and had to take a medical leave of absence. When he came here, he was very lost—alone in every way—and it took him a long time to trust me."
Dr. Nikhinson and other members of the staff listened closely to Pearson's story. Only then did they work to determine the therapeutic options that would best help him come to terms with and overcome his condition, which had been diagnosed as extreme depression and post-traumatic stress disorder. His treatment program included transcranial magnetic stimulation (TMS) therapy and electroconvulsive therapy, or ECT, both of which are used in individuals with major depression that have not responded to other forms of treatment.
"Toward the end of his diagnostic period, I said to him, 'I think you can get better, but I think you need psychotherapy, and ultimately you need time,'" Dr. Nikhinson says. "I recommended he stay longer than the initial 20-day period, and he begrudgingly agreed to stay for four to six weeks. Over time, he started to make connections and figure himself out."
Some of his most significant steps forward came through experiential interventions he would not have discovered outside of The Retreat, such as kickboxing and rock climbing with Terry Marvel, a recreational therapist, and equine therapy. Pearson says he "didn't expect much" from equine therapy, but the interactions between horse and human had a profound effect on him.
"I didn't understand how a 1,500-pound animal would help me look at things differently, but then I saw how the horses mirror whatever is going on inside of you," he says. "During the darker stages of my recovery, the horses wanted nothing to do with me. Spending time with them has helped me to process things differently and to understand that what's going on inside me affects how I see the world."
He found movement therapy to be equally beneficial, specifically the T'ai Chi sessions led by instructor Robert Levine.
"When Bob and I work in T'ai Chi, we treat it as a martial art, and it helps me to channel any aggressive feelings I have in a constructive way," he says. "T'ai Chi is about responding, not reacting. It has taught me that if something happens around me, I don't have to react to the stimuli. Before, if someone said something I disagreed with, I would have yelled and screamed about it. Now I can say, 'OK, I see where you're coming from. Let me think about it and process it.' That never would have happened previously."
After he completed his treatment at The Retreat, Ryan then moved into Ruxton House, a transitional living space in a neighborhood not far from the Sheppard Pratt campus. Once he felt it was time to return home, he continued his relationship with Sheppard Pratt on an outpatient basis, to include regular psychotherapy sessions with Dr. Nikhinson, as well as T'ai Chi, experiential and equine therapy sessions.
Ryan's work with Marvel helped him focus on using physical activity to understand and express his emotions. "You would be surprised," says Pearson, "at how many problems can be reworked by simply punching a bag or climbing a wall."
"Emotional intimacy scared Ryan," says Dr. Nikhinson. "It took some time, but the relationships he formed with me, the recreational therapist, and his T'ai Chi instructor, as well as what he received through equine therapy, all created a foundation of trust. He went from trusting no one to forming these key therapeutic relationships. By doing so, he was able to see there are good people in the world, and if you open yourself up to them, you're not going to self-destruct."
Three years have passed since Pearson completed residential treatment at The Retreat, though he still participates in the outpatient program. Now 28, Pearson sees notable differences in key aspects of his life. He is working full time, maintains a high level of physical fitness, and feels competent in leading a productive life as an adult. Pearson has forged a healthier, more mature relationship with his family, recognizing that some things are best dealt with by accepting them and moving forward.
"I've gone down a long road, but I still have a long road to go," he says. "I realize that getting better is not about 'fixing' something; it's about teaching yourself to know your nature and learning how to live with the things that have happened, and dealing with them in a way that feels safe to you, without compromising who you are and where you are in your life.
"It's going to take time to get to where I'm going, but I'm in a positive place—and that's something I never would have said a few years ago."
The Retreat at Sheppard Pratt
6501 N. Charles Street
Baltimore, Md.
(410) 994-2356
Retreat.SheppardPratt.org
* Name changed to protect privacy