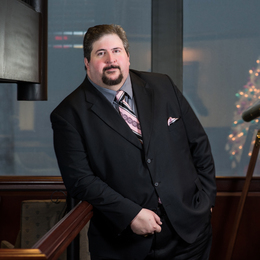 Leading the Way
As a financial advisor and family man, Rick Santella strives to provide informed guidance to uplift all of the important people in his life.
Rick Santella is devoted to leaving an indelible mark on the three areas of his life that he considers his greatest priorities—namely, his family, his community, and his clients.
As a Senior Vice President, Financial Advisor in Morgan Stanley's Philadelphia office, Santella is a financial advisor to his clients. Yet he sees his role as more than helping clients to accumulate and grow their wealth. As a longtime financial advisor, he can understand why some people might look at his job and think of it as being "just about the numbers," but he says it's more about the men and women who he considers it his privilege to serve.
Santella believes his caring attitude is why he is now advising the grandchildren of some of his original clients. Many of the families in his portfolio of clients have been coming to him for their financial planning needs for more than 20 years.
"When you see three generations of one family coming for my services, it makes me stop and think about how we have worked together to help them achieve their goals," Santella says. "It's great to see the big picture and makes me want to do even more to create a legacy that I want to have throughout my career."
Another key to understanding Santella is his involvement in philanthropic work. Besides supporting local organizations that are involved in helping youth groups, he also guest lectures at local colleges. Recently, for example, he spoke to one college's graduating class to help share his perspective on building a strong financial future. Many of those students now view Santella as something of a mentor. Some, he says, have been "following up with questions about how to approach the next few years of their lives, or telling me their success stories. I am pleased that I can help them get a new perspective on their careers and finances."
Santella is a devoted family man with three grown stepchildren and four dogs. He shares his passion for animals with his wife, Maria. The couple has also enjoyed being actively involved in local pet-therapy groups. He vividly recalls the happiness that he and his canine friends were able to spread at area hospitals and nursing homes.
As a Morgan Stanley Financial Advisor, Santella can offer wealth management advice, retirement planning, cash management, and lending solutions. Also, he can offer disability income insurance and long-term care insurance through Morgan Stanley's licensed insurance agency affiliates.
He shares one piece of advice with all of his clients, from blue-collar workers to multimillionaire executives: "Financial management is a marathon and not a race; everything that is happening now is not necessarily what's going to happen five years from now."
When it comes to implementing wealth-planning strategies, he describes his approach as "proactive, not reactive." He's also attuned to the fact that some of his clients are aggressive investors whereas others are more conservative. Regardless of a client's goals and risk tolerance, however, he says his guidance "always comes down to what is going to make each one of them sleep well at night." In other words, Santella wants to do everything in his power to have each client share the same sentiment: "Thank you for looking out for me and always being in my corner."
At the end of the day, Santella would like his legacy to be about vital life lessons that can uplift all of the important people in his life—family, clients, and the individuals he helps through his charitable pursuits—by teaching them how to best prepare for the future.
"In all areas of my life, I hope people look to me as a trusted advisor," he says. "I always want to help people get to the next level of their lives, whatever that might be for them. My goal is to help them each and every step of the way."
Rick Santella
Financial Advisor
Morgan Stanley
1650 Market Street, 42nd Floor
Philadelphia, Pa.
(215) 854-6018
www.morganstanleyfa.com/thetemplargroup
Photograph by Jeff Anderson
The investments listed may not be suitable for all investors. Morgan Stanley Smith Barney LLC recommends that investors independently evaluate particular investments, and encourages investors to seek the advice of a financial advisor. The appropriateness of a particular investment will depend upon an investor's individual circumstances and objectives.
Life insurance, disability income insurance, and long-term care insurance are offered through Morgan Stanley Smith Barney LLC's licensed insurance agency affiliates.
Morgan Stanley Smith Barney LLC is a registered Broker/Dealer, Member SIPC, and not a bank. Where appropriate, Morgan Stanley Smith Barney LLC has entered into arrangements with banks and other third parties to assist in offering certain banking related products and services.
Investment, insurance and annuity products offered through Morgan Stanley Smith Barney LLC are: NOT FDIC INSURED | MAY LOSE VALUE | NOT BANK GUARANTEED | NOT A BANK DEPOSIT | NOT INSURED BY ANY FEDERAL GOVERNMENT AGENCY
Rick Santella is a Financial Advisor in Morgan Stanley's Philadelphia office. Although Mr. Santella has compensated Suburban Life to have this advertisement featured in its publications, this is not a solicitation nor intended to provide individually tailored investment advice. The strategies and/or investments referenced may not be suitable for all investors. You should consult their tax advisor for matters involving taxation and tax planning and their attorney for matters involving trust and estate planning and other legal matters.
The views expressed herein are those of the author and may not necessarily reflect the views of Morgan Stanley Smith Barney LLC. Member SIPC.
CRC 2334072 12/18