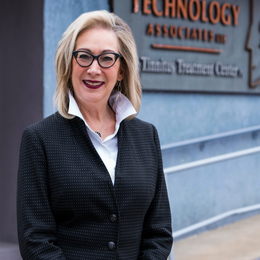 Sound Choice
For those struggling with hearing loss or those distressed by tinnitus, Dr. Gail Brenner provides specialized treatment designed to improve patients' quality of life.
Few conditions have a greater impact on an individual's life than the loss or diminishment of one's hearing.
Imagine. The ambient noise in a crowded restaurant prohibits a food lover from understanding the waiter's meaning as he recites the evening specials. A nature enthusiast visits a park to satisfy her craving for the poetry of birdsong or the trickle of a nearby stream, but hears only silence. A parent sits in the audience of a middle school auditorium, but fails to hear the lines spoken by a son or daughter during a holiday play. Worst of all, the tender words of a loved one lose their sharpness, or simply go unheard.
As the owner of Hearing Technology Associates LLC, with offices in Bala Cynwyd and Philadelphia, Gail B. Brenner, Au.D., has heard all of these aforementioned difficulties and frustrations, among many others. Over the course of her 35 years in practice, this board-certified audiologist has been helping these same individuals improve their hearing and, in turn, strengthen their connection to the world around them.
"Hearing loss is insidious and underestimated," says Dr. Brenner. "It is insidious because we do not realize the slow changes that occur in our auditory system over time; it could take up to seven years before one would be aware of their hearing loss and ready to pursue treatment. It is underestimated in terms of the impact it has on our lives and the lives of the people we love and come in contact with."
It is also a pervasive problem, according to data cited by the U.S. Department of Health and Human Services' National Institute on Deafness and Other Communication Disorders: Approximately 15 percent of American adults (37.5 million) ages 18 and over report some trouble hearing; and nearly 28.8 million U.S. adults could benefit from using hearing aids, though fewer than one in three adults with hearing loss ages 70 and older have ever used a hearing aid.
Hearing loss may not only impair one's social relationships and job performance but also contribute to serious health consequences. For example, recent research suggests a link between untreated hearing loss and an increased risk of developing cognitive decline and dementia. In other words, hearing loss is not something to be "disregarded as something insignificant," as Dr. Brenner says.
"Some people think hearing loss equates to aging, but that is a big misconception. People of all ages have hearing loss," she adds. "We live in a noisy world, so you almost cannot avoid it. Genetics play a huge role in hearing loss, too, so none of us are exempt."
Much like going to a trusted dentist or ophthalmologist to maintain the health of the teeth or eyes, respectively, one should also seek out a skilled audiologist such as Dr. Brenner to address the gift of hearing. Dr. Brenner can address virtually any hearing-related need, whether it is providing a hearing test as a baseline to measure year-to-year changes or prescribing and expertly fitting hearing aids.
Today's advanced digital hearing instruments have "come light-years" from the hearing aids of yesteryear and even those from just five years ago, according to Dr. Brenner, in terms of miniaturization, amplification, and fidelity. For example, some offer smartphone control and Bluetooth connectivity, enabling individuals to stream music, podcasts, and other content directly into the ear. That having been said, Dr. Brenner says a hearing device is only as effective as the audiologist who provides it, which is why it's so important to turn to a qualified specialist.
After receiving her undergraduate degree in speech and hearing science from the University of Maryland, she went on to earn her master's in audiology from Hofstra University. She later went on to receive her clinical doctorate in audiology from the University of Florida. Although she has been working in her field for 35 years, Dr. Brenner is currently celebrating 25 years in private practice. In that time, her education, expertise, and the welcoming experience she provides to each patient have helped her win multiple "Best Audiologist" honors from Main Line Media News since 2006.
Besides her audiology practice, Dr. Brenner established The Tinnitus & Sound Sensitivity Treatment Center of Philadelphia P.C. in 1993. This specialty practice treats patients whose lives are negatively affected by tinnitus, which is best described as the perception of intrusive ringing or other noise in the ears or head. Patients have come from as far away as upstate New York, Kansas, and South Carolina to receive Tinnitus Retraining Therapy from Dr. Brenner. She says this non-medical management protocol, which Dr. Pawel J. Jastreboff first published in the late 1980s, has been proven to alleviate the frustration and stress associated with tinnitus.
"This has been my life's work and my passion," she says. "Whether I am helping to restore someone's hearing or helping to make distressing tinnitus a non-issue for someone, there's no greater reward than having a positive effect on someone's life."
Hearing Technology Associates LLC
HearingTechnology.com
143 Bala Ave.
Bala Cynwyd, Pa.
(610) 747-1100
1015 Chestnut Street, Suite 300
Philadelphia, Pa.
Photography by Jody Robinson