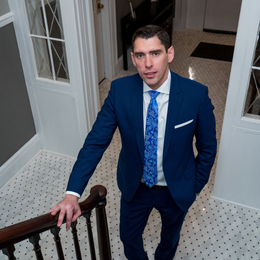 Driven
As the founder of The Law Offices of Michael Kuldiner P.C., Michael Kuldiner has earned his reputation as a tireless advocate for clients amid divorce and other challenging legal matters.
As Julius Caesar once asserted, "Experience is the teacher of all things." The learning, according to the legendary Roman statesman, comes from the doing. Only by actively and repeatedly participating in the moment does one gain the invaluable degree of knowledge required to improve one's craft. The truth of Caesar's maxim is reflected in the years of successful outcomes for clients of The Law Offices of Michael Kuldiner P.C.
"It stands to reason that gained experience allows you to maneuver the legal minefield better," says Kuldiner, who has been winning cases for clients for nearly 15 years. "I remember my first day in court right out of law school wasn't a proud moment. But I learned from that experience and once you try cases over and over, I gained invaluable knowledge and expertise on what it takes to succeed."
And success he has. He formed his full-service firm, The Law Offices of Michael Kuldiner P.C., to offer committed and hands-on legal services to clients in various areas related to family law and litigation. He assembled a team of highly capable attorneys who have more than 35 years of combined trial experience. Each of these individuals possesses a keen insight into the complexities of the divorce process and has dealt with many issues seen in high-profile and high-net-worth cases, business valuations, out-of-state custody proceedings, parental access, grandparents' visitation, post-divorce litigation, and prenuptial agreements.
In addition to their years of experience and reputation as being among the top law firms in the region, Kuldiner is cognizant of the emotional toll clients endure during life-altering events such as divorce or child-custody battles. Addressing that all-important aspect of a client's case is paramount to him and his staff.
"I spend 80 percent of my time with my client acting as a therapist rather than a lawyer," Kuldiner says. "I know I need to get involved with my client's thought process. How my clients are feeling, what they wish to accomplish, and the impact of these very sensitive situations are extremely important in providing them with the best counsel. Discussing the emotional side of what is occurring in addition to the legal issues provides me with insight on different options they have and my recommendations that best suits their individual situation. Litigation is not enjoyable and can often be acrimonious and we know we must take care of them."
From any of their four office locations in the Greater Philadelphia Area, the attorneys of The Law Offices of Michael Kuldiner, P.C., make themselves and their resources available to clients in order to achieve the optimal result. This includes specialists such as forensic accountants who are skilled at untangling complex financial issues, handwriting experts related to potentially fraudulent documents and psychologists specializing in family law cases relating to a variety of custody disputes.
"I'm committed to getting families through tough times," Kuldiner says. "We handle the complexities, take the burden from our clients' shoulders, and help them and their family members regain control of their lives and their estates."
After receiving a degree in business administration from Franklin & Marshall College, Kuldiner earned his Juris Doctor from New England Law, in Boston. He completed law school in only two and a half years, making him one of the youngest lawyers admitted to the bar in Pennsylvania. He also completed his certification in collaborative divorce. His education and experience have resulted in prestigious honors such as peer/client recognition as a "Super Lawyer," nomination to Bucks Happening's "Best Of" list, and inclusion on National Trial Lawyers' "Top 40 Under 40" list.
Kuldiner's involvement in Bucks, Montgomery, and Philadelphia counties extends beyond his law practice. He consistently donates to organizations such as The Children's Hospital of Philadelphia, A Woman's Place, Special Olympics, Susan G. Komen Race for the Cure, the local Society for the Prevention of Cruelty to Animals, and the Bucks County chapter of Wags Rescue and Referral, a nonprofit rescue which travels to various states in the South to retrieve abandoned or displaced dogs from shelters or the streets and re-home them in Pennsylvania.
Individuals who seek the representation of The Law Offices of Michael Kuldiner P.C. can be confident they are receiving incredibly dedicated, driven, compassionate, and successful legal counsel. This guarantee comes directly from its founder, Michael Kuldiner—and, of course, from experience.
The Law Offices of Michael Kuldiner P.C.
(215) 942-2100
PhillyEsquire.com
40 E. Court Street
Doylestown, Pa.
922 Bustleton Pike
Feasterville, Pa.
516 DeKalb Street
Norristown, Pa.
1500 JFK Boulevard
2 Penn Center, Suite 620 B
Philadelphia, Pa.
Photography by Jody Robinson