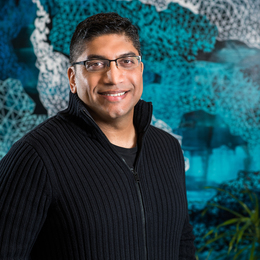 All Heart
Helping others is ingrained in the DNA of Dr. Tejjy Thomas, director of Center City Orthodontics.
Dr. Tejjy Thomas is an Ivy League-trained orthodontist, teacher, husband, father, and philanthropist.
Whether through his affiliation with Smiles Change Lives, a nationwide nonprofit; his donations of funds and free orthodontic care to Philadelphia-area schools; his Partners in Education program; or the planned 2019 launch of his personal foundation that will focus on assisting children suffering from cleft lip and/or palate, this much is clear: Dr. Thomas gets to the heart of the matter.
"Philanthropy is a big part of our practice," he says. "We have families coming in to see us who probably came in from other consultations where the treatment they needed was unaffordable or their case wasn't taken because it was just too complex. We feel it's important to take those cases. We are proud we have never turned anyone away that needs treatment."
For the past six years, Dr. Thomas has been donating his services to help children who need his skills, as well as his heart. These children, often from low-income families and beset with severe dental problems, rarely smile. Dr. Thomas can relate to the way they feel. As a teenager, he underwent orthodontic treatment and surgical orthodontics, also known as orthognathic surgery or corrective jaw surgery. The transformation was remarkable and, he emphasizes, improved his overall self-image almost beyond description.
"I tell my patients my orthodontic story and how my life changed," Dr. Thomas says. "I had self-confidence issues. The surgery changed my life. I never forgot that, and now I'm in a position to help change the lives of others."
The root of Dr. Thomas' giving nature comes from his parents, especially his father, a plastic surgeon in their native Oman. The senior Dr. Thomas has been involved with Operation Smile and philanthropy throughout his medical career, performing life-changing reconstructive surgeries for low-income patients suffering from facial deformities.
"My father always showed me that if you have a skill set and an ability to help people who need your help, you help them," Dr. Thomas recalls. "Use your practice as a vehicle for good."
He has, of course, and others have taken notice. Dr. Thomas was honored by Smiles Change Lives as the "Orthodontist of the Year" at the organization's 2017 national meeting, and has been honored with "Top Dentist" awards in Philadelphia over the last few years.
Through Center City Orthodontics, which has locations in Philadelphia and Cherry Hill, N.J., Dr. Thomas and his professionally trained staff offer customized and comprehensive orthodontic treatment to patients of all ages. His approach to treatment is rooted in his education and experience. He received his doctorate in dental medicine from the University of Pennsylvania, where he graduated with honors and currently serves as a clinical faculty member, for post-doctoral training in orthodontics and dentofacial orthopedics. He is a Fellow of the World Federation of Orthodontists and the President-Elect of the Pennsylvania Association of Orthodontists.
"Making a positive change in someone's life is a feeling that never gets old," Dr. Thomas says. "My team and I are blessed to be able to make a difference in people's lives the way my orthodontist made in mine."
Center City Orthodontics
centercityortho.com
1352 South Street, Suite C-3
Philadelphia, Pa.
(215) 800-1495
411 Marlton Pike East, No. 103
Cherry Hill, N.J.
(856) 429-9419
Photography by Jeff Anderson