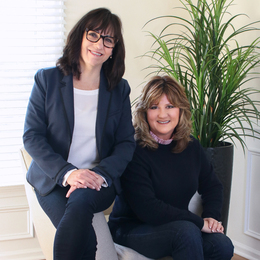 A Different Way to Navigate Divorce
My Divorce Solution offers "a better way" for clients to move through the divorce process and start a new chapter of life with clarity and confidence.
When a marriage unravels and once-loving spouses initiate divorce proceedings, their primary goal is to get to "the other side" as intact as possible, both financially and emotionally. In some cases, though, the traditional route to divorce can spawn some unwanted side effects, including lingering animosity, seemingly endless stress, and the crippling fear of an uncertain future.
In fact, many individuals who have gone through the process of divorcing a spouse describe it as one of the most painful and challenging periods they have ever had to endure—in some cases, even worse than the aftermath of losing a loved one. But it doesn't have to be that way, according to Karen Chellew and Catherine Shanahan, co-founders of My Divorce Solution, which has offices in Langhorne, Pa., and Hilton Head Island, S.C.
"There's a better way to get divorced," says Shanahan. "If you pay attention to the individuals involved and enable them to advocate for themselves and their children throughout the process, it benefits the family as a whole in the long run. When there are children involved, people don't realize that you'll always be a family, just a different kind of family. Having a world where you can be in the same room [with a former spouse] after the divorce is better for everyone."
Using their professional backgrounds and personal experiences as a roadmap, Chellew and Shanahan devised a comprehensive process, assisted by a sophisticated technology platform, built to inform and empower clients through all stages of a divorce. Their goal: to help clients move as seamlessly as possible through this major life transition and start a new chapter on firm footing.
Each of the company's founders has a unique skill set, and one fully complements the other. Chellew, a former paralegal, is the firm's legal liaison and QDRO (qualified domestic relations order) administrator. Also, she can help clients find the "right" attorney for them, among other members of the divorce team, such as financial planners, as well as other service providers such as Realtors and therapists. Shanahan, meanwhile, is a Certified Divorce Financial Analyst (CDFA), a trained mediator, and daily money manager. Her extensive experience in the financial industry has given her the knowledge to help clients plan for a secure post-divorce future, financially speaking.
"We still need attorneys, and we still need the court system, but it's a question of how much time, energy, and money people are spending there," Shanahan says. "We see ourselves as adding value to the process by helping people plan ahead and avoid some of the issues they're likely not going to anticipate."
The Path Forward
After a one-hour consultation designed to help clients gain a clearer understanding of the path forward, Chellew and Shanahan start a proprietary three-phase process. The first phase includes a pre-divorce plan that includes a financial analysis utilizing proprietary software, and outlines a proposed divorce strategy from beginning to end. In the second phase, the firm maps out the divorce process, customized to each individual, which includes all of the professionals on a client's divorce team, with access to supplemental resources for guidance and support. In the third and final phase, My Divorce Solution works with clients to develop post-divorce financial goals so they can move forward with clarity and confidence.
"A big part of what we do is providing the financial portrait which includes a portrait of their assets and potential support calculations, so people can get a realistic idea of their options for the future," says Shanahan. "They'll begin to understand things such as the difference between personal property and marital property, and they'll also get an understanding of what a potential support number might look like. After that, some people will say, 'OK, I can do this on my own,' and others will say, 'I didn't realize this is the price I had to pay.' Either way, the goal is to give them a clearer understanding."
Although sometimes litigation is necessary, My Divorce Solution's process aims to keep divorce proceedings as amicable as possible. The firm's principals encourage negotiated financial settlements whenever possible. Chellew suggests doing so can help to reduce hostility and keep divorcing spouses out of the courtroom, thereby increasing the possibility of civil interactions after the proverbial dust has settled.
"Essentially, we give people a playbook of what they can expect," she adds. "It's a source of comfort, reassurance, and reference, because there are so many things to forget and the learning curve is fairly steep. My job is to help clients stay engaged when things become gray, and to collect and organize all the documents they're going to need. As a legal liaison, I can help them find an attorney and offer a clear way to communicate so they can be effective with their time and their attorney's time."
Making a Difference
Chellew and Shanahan started My Divorce Solution in part because they wanted to help others avoid some of the pitfalls they once faced while in the midst of their respective experiences with divorce. Chellew recalls how lost and unmoored she felt, despite the fact that she was working for a highly respected law firm at the time.
"I remember being scared, not knowing what to do, thinking: Surely, my attorney will tell me exactly what to do," she says. "I didn't know how to get the financial documents I needed, and that's the biggest [legal] expense: collecting documentation from the other side. Theoretically, I had everything available to me because of where I worked, but I had no idea of how to go out and get it. I just woke up every day putting one foot in front of the other. What we're doing here can make a big difference, so other people don't feel as scared and unsure as I did."
Having gone through it themselves, both Chellew and Shanahan realize that people at the beginning of the divorce process don't know where to turn for information. As a result, they have created an online course available through the My Divorce Solution website. The "divorce prep course," as Shanahan calls it, includes an assortment of guidelines, terms, and worksheets that individuals can work through in the comfort of their own home.
No matter where a client may be on the divorce timeline—either just starting to question whether an unhappy marriage is salvageable, or months after the divorce decree—My Divorce Solution offers a continuum of resources through relationships with allied professionals. In fact, the firm was recently approved to provide CEUs (continuing education units) for mental health professionals. This year, the firm will be hosting its first full-day workshop to help therapists gain a clearer understanding of the emotional turmoil individuals experience when going through a divorce.
"We both love marriage, and we never come at this from a negative space," says Shanahan. "In some cases, people come to us and find out they're still in love, in which case we set them up with a marriage counselor. But when a marriage just is not able to last, we want our clients to have a chance at a happier life. We advise them to go through their attorney throughout, but we're adding a lot of value to the process. It's a very different way to move forward."
My Divorce Solution
MyDivorceSolution.com
1705 Langhorne-Newtown Road, Suite 6
Langhorne, Pa.
(215) 486-8347
42 New Orleans, Suite 1D
Hilton Head Island, S.C.
(843) 929-0399
Photograph by Amy McDermott