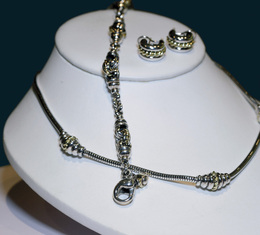 Celebrating Life's Moments
Fred H. Straub Jewelers' generations of experience makes milestones last a lifetime
There's much to be said for consistency and longevity. For three generations, beginning in 1894, Fred H. Straub Jewelers has been offering clients the finest in quality and personalized service.
The landmark street clock in front of the jeweler's current location has adorned Old York Road in Abington since 1958. Even so, nearly once a week someone will come into the store who remembers doing business at their grandparents' original location on Germantown Avenue in North Philadelphia, say current owners Fred Straub III and his brother, Bill. These longtime customers have relied on the Straub family to mark their own families' special occasions for just as many generations.
Fred Straub Jewelers has seen its customers through the phases of their lives from births to retirements and every memorable moment in between. For many couples, their lives together begin with an engagement. The jewelers at Fred Straub work with each customer, educating them on the grades of diamonds so they can make an informed selection. As graduates of the Gemological Institute of America in California, the staff can not only explain the terminology, but also show the effects that cut, color, carat and clarity have on a diamond in their viewing room, equipped with a microscope and lab-standard lighting.
Co-owner Fred Straub says the first step is to establish a budget to work within. "I am not seeking to take them beyond that comfort level," he assures.
He knows that customers have many choices available to them when purchasing a diamond, but says, "This moment means so much to the relationship, with everything an engagement ring symbolizes, I would hope that the customer wants to be personally involved." Fred also points out that by working with a jeweler, the customer can compare the selection in person.
Coming Together
Most men hope to surprise their girlfriends with a ring, and Fred says he enjoys helping them. Many already have an idea of the style they are looking for, with white gold and platinum being the most popular materials. According to Fred, "It all comes together when you pair a beautiful stone with a flattering setting to achieve the 'wow' factor." He feels that the personal relationship he has with customers is a quality lacking in the larger chain stores.
In addition to wedding bands, the store also carries a fine selection of gifts to commemorate the special day, including clocks, Waterford tabletop crystal and engraved picture frames. Personalized frames are also a popular gift choice when couples begin the next phase of life by welcoming a baby into their family. A birth record frame, for example, can record the baby's name, weight and birthday. Engraving is done on site and can be used to personalize baby cups and heirloom rattles as well.
Fred Straub Jewelers offers many ways to honor any special life occasion. It is an authorized Rolex dealer and carries a fine selection of men's and ladies' styles to celebrate success or mark a lifetime achievement. The store has a full line of traditional jewelry including diamond studs, tennis bracelets and pendants, which its jewelers will help customers choose for a memorable gift or personal indulgence.
Pearls are also a popular yet more casual choice. Freshwater pearls are moderately priced and come in a variety of colors and lengths that can be styled in many creative personal ways. "Why do you wear jewelry?" Fred asks "To express your personality." And so, he suggests a pearl necklace worn as either a lariat, multi-strand choker or twisted bracelet becomes an interesting and versatile piece. The jewelers also care for such fine jewelry, offering cleaning, repair and resizing.
The David Wysor collection of jewelry is another affordable option for women looking to express their personality with a signature look. This sterling silver line incorporates braided wire, 18-karat gold and semi-precious stones into bold jewelry featuring decorative hinging and distinctive clasps. The design complements a number of different styles, making it easy to put together a coordinated set to wear or give as a gift.
Sometimes life's special moments are best marked by a collection that can be added to with each event. Charm bracelets, for example, have long been a popular way to symbolize important moments. Fred Straub Jewelers also carries Reflections glass beads that can be individually chosen to personalize a bracelet. Hidalgo rings offer a high-style way to mix and match. These rings come in an astonishing array of colors, stones and designs. They are meant to be worn stacked together and can be used to commemorate important moments in life, celebrate favorite activities or even honor a favorite pet. Hidalgo is known for its line of equestrian and pet-themed designs. The store also carries the Meche line of pet-themed charms, which feature every American Kennel Club-recognized breed of dog and popular cats.
No matter which phase of life a customer is in, Fred Straub Jewelers has the perfect piece to mark its importance, with the personalized service and extensive knowledge that comes from not just a lifetime, but three generations of experience.
Fred H. Straub Jewelers
1375 Old York Road, Abington
215-887-1115
FredHStraub.com
Sharon A. Shaw is a freelance writer from Doylestown.