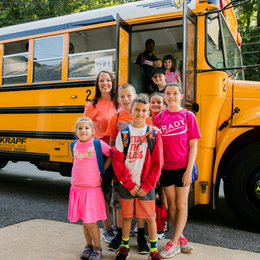 Ultimate Summer Adventure
At Malvern Day Camp, kids have an unforgettable summer filled with joy, friendship, and nonstop adventure.
Like a lot of kids his age, 5-year-old Charlie C. already has summer on his mind. He has a particularly good reason to be so excited: He'll be heading to Malvern Day Camp, known as "The Ultimate Summer Adventure™," for the second time.
"He's obsessed with it," says Ashley C., Charlie's mother. "He loves learning new things, and he learned a lot of them at camp last year. He's been talking about it since the first day of kindergarten, asking when he gets to go back."
Located on the sprawling 15-acre campus of The Malvern School in Thornbury Township, Malvern Day Camp provides an enriching experience to boys and girls from ages 5 to 14. Currently celebrating its 20th season, Malvern Day Camp offers a safe, secure, and highly supervised environment designed to immerse campers in nonstop fun of every sort.
One of the things Ashley likes most about Malvern Day Camp is that there is no such thing as "a typical day." One day campers might be splashing around in the onsite waterpark or scaling a rock wall, and the next they might be kayaking up and down a pristine creek or honing their athletic skills in sports such as soccer, volleyball, and flag football.
This level of variety enables children to stay constantly engaged. In some cases, the camp helps to ignite a child's interest in something new, according to Kristen M. Waterfield, the president and co-founder of Malvern Day Camp and The Malvern School.
Each of her three children started going to Malvern Day Camp at age 5. Her two sons, now 9, have used their time there to pursue their interests: for one, swimming; the other, athletics. Her daughter, Alivia, now 18, even participated in the camp's Counselor-in-Training (CIT) program. She now works as a full-time counselor while she prepares to earn her college degree in broadcasting.
"We want each camper to have a unique, amazing experience, and that's what we've been doing for 20 years," she says. "One camper might have an interest in the creative arts, while another might be drawn to our athletic program and the specific clinics we provide to focus on special interests. We see camp as an opportunity for every child to experience a lot of different things and discover what brings them the most joy."
Always Something New
Many of the camp's 11 weeks have a distinctive theme, such as science, cooking, or arts and crafts, as well as the ever-popular Iron Kid Week. In this annual tradition, campers get sorted into different teams. Each team then comes up with a name and a team song, and then participates in a variety of challenging games and obstacles, with prizes for the winners.
Whether it's a new game or event, the arrival of a special guest (the Phillie Phanatic, for example), or a new-and-improved part of the facility, campers have come to expect some surprises from one year to the next. Waterfield says being able to offer the "latest and greatest" is important, but she views the camp's ability to help children appreciate the natural world, develop their interests, and forge lasting friendships as even more valuable.
"I grew up in Hazelton, where I was lucky to enjoy an idyllic childhood and be outside all of the time," she adds. "When we started this camp, I used some of my own experiences to try to recreate that feeling by connecting children to these beautiful outdoor spaces. While we do have a computer lab and some indoor activities here, most of the kids' time is spent outdoors. If the kids are indoors, they're typically doing some sort of physical activity."
Malvern Day Camp offers options for kids of all ages: mini-camp for kids ages 5 to 6; junior camp, for ages 7 to 9; and senior camp, for ages 10 to 12. When campers "graduate" from senior camp, many come back as CITs, which helps to cultivate a team of future leaders rooted in the camp's close-knit culture.
Tracy Bechtel started her tenure at Malvern Day Camp at the age of 15, as a junior counselor. Now, approximately 20 years later, she serves the camp as executive director.
"It has been amazing for me," she says. "I love seeing the children grow from year to year, and even in the course of a summer. I'm smiling all summer long. For the campers and the counselors, there's always something new to look forward to. Every day is an adventure."
Malvern Day Camp seems to make a long-lasting impression on nearly everyone who steps onto its campus. This applies not only to campers and counselors, but also to campers' parents, who tend to see Malvern Day Camp as the "ultimate in convenience," Bechtel says. Getting kids to and from camp is just one example.
"Parents love the fact that it's so easy to send their children to one of the best day camps in the area, even if they don't live around the corner," she adds. "Camp runs from 9 a.m. to 4 p.m., but we realize summer is a hectic time for a lot of families. That's why we offer before care and after care, so parents can drop off and pick up their kids according to their schedules. Also, six of our Malvern School locations—Frazer, Lionville, King of Prussia, Downingtown, Newtown Square, and Malvern—serve as designated pick-up and drop-off points for door-to-door service."
In other words, parents can rest assured, knowing their kids are always in good hands. The fact that the camp is staffed by certified professionals and accredited by the American Camp Association provides added reassurance, according to Bechtel.
'An Unforgettable Time'
Ashley C. says her son Charlie is counting the days until another summer of swimming and outdoor adventures, such as playing the camp's most popular game, "Gaga," which is similar to dodge ball. He's also eager to reconnect with the many friends he made at last year's camp, including some of the counselors.
"I know he'll be constantly moving and learning," Ashley says. "I think he'll be going for a long time. One of the things I like most about the camp is that it seems like it works really hard to grow along with campers so they stay engaged as they get older."
She had considered a few other day camps when choosing an option for her son, but Malvern Day Camp made her decision easy. He was already enrolled in The Malvern School, so she knew it would offer an experience of the highest quality. His experience has been so fruitful that she expects her 3-year-old daughter, Lucy, to one day follow in her brother's footsteps.
"Charlie has loved every minute of his time there, so I can foresee her going to [Malvern Day] Camp one day, too," she says. "I know he's going to have a fun-filled, packed summer."
For 2019, Malvern Day Camp's 11-week season begins on June 10 and runs through August 23. Flexible scheduling means that families have multiple enrollment options, ranging from three to 11 weeks, at a rate of two, three, four, or five days per week.
"There are a lot of great camps out there," Waterfield adds. "If you're looking for your kid to become an expert in lacrosse, we're probably not the right camp for you. But if you're looking for your kid to have a well-rounded experience and an unforgettable time, then this is the camp for them."
Malvern Day Camp
20 Creek Road
Glen Mills, Pa.
(610) 558-3200
Photograph courtesy of Malvern Day Camp

Published (and copyrighted) in Suburban Life magazine, February 2019.
For more info on Suburban Life magazine, click here.
To subscribe to Suburban Life magazine, click here.
To advertise in Suburban Life magazine, click here.