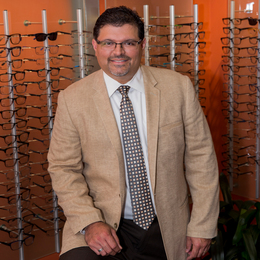 Looking Ahead
Now celebrating 10 years as owner of Bucks Eye Specialists in Yardley, Dr. Sanjay Kamat builds on his commitment to preserving, protecting, and improving patients' vision.
Once we hit adulthood, most of us feel as though the days speed by at a blinding pace. Ten years can pass by almost in a blink. Sanjay Kamat, D.O., knows the feeling. This year, Dr. Kamat is celebrating the 10-year anniversary of owning and operating Bucks Eye Specialists, his Yardley-based ophthalmology practice.
"I can't believe it's been 10 years," says Dr. Kamat. "This milestone has given me an opportunity to look back and contemplate these past 10 years, as well as the path forward. We've worked very hard to establish ourselves here, to help people of all ages see the world around them more clearly, and it's very humbling to see the way that we have been embraced by the community. In the spring, once the weather turns a bit nicer, we'll have a fun-filled open house to celebrate."
At Bucks Eye Specialists, Dr. Kamat treats just about every condition, disease, or disorder associated with the eye: cataracts, glaucoma, and macular degeneration; dry eye; ptosis (drooping of the upper eyelid, which can compromise vision); blepharitis (chronic inflammation of the eyelids); and diabetic retinopathy (damage to retinal blood vessels caused by diabetes).
"If it involves the eye, I've seen it and treated it," says Dr. Kamat, who received his board certification in ophthalmology through the American Osteopathic Colleges of Ophthalmology and Otolaryngology-Head and Neck Surgery (AOCOO-HNS).
Particular areas of specialty include surgery to correct refractive error, such as myopia (nearsightedness), hyperopia (farsightedness), astigmatism, and presbyopia (the inability to see things up close, due to the aging process). He also specializes in "combined procedures," whereby he removes a patient's cataracts while also treating a patient's glaucoma or adding implantable contact lenses, all in one trip to the operating room.
"It's amazing to consider some of the things I can do now," he says. "A decent cataract surgeon will be able to add on ancillary surgery to help people's vision, and that's a real benefit to patient care because you're able to save someone a second trip to the OR."
Close to Home
The 10-year mark in Yardley is of special significance to Dr. Kamat. After all, few people can say they operate a prosperous enterprise that adds value to a community so close to where they grew up.
Dr. Kamat grew up in Bucks County and graduated at the top of his class from Pennsbury High School. He left the Greater Philadelphia Area to attend medical school at Kansas City University of Medicine and Bioscience, and then "came home" for his ophthalmology residency at Philadelphia College of Osteopathic Medicine. He also worked at Albert Einstein Medical Center in Philadelphia, where he gained experience in cataract surgery and oculoplastic trauma.
In 2009, Dr. Kamat took over Bucks Eye Specialists, a practice established by his childhood ophthalmologist, Barry Kutner, M.D. Over the years, Dr. Kamat has taken deliberate steps to grow and fully modernize the practice: converting to electronic medical records; investing in pioneering technology such as Intense Pulsed Light, which is used to treat dry eye; and becoming certified in new, cutting-edge technologies to treat patients with impaired vision.
Dr. Kamat devotes almost 90 percent of his time to direct patient care. In addition, he is a clinical instructor at the Wills Eye Institute in Philadelphia, as well as the ophthalmologist for the Cancer Treatment Centers of America's Northeast Regional Center in Philadelphia. He also devotes his time to being on staff at numerous facilities in the tri-state area, as well as to providing vital care to patients at inner-city clinics.
In other words, Dr. Kamat he has earned his reputation as one of the top ophthalmologists in the Greater Philadelphia Area. In 2017, for example, he was invited to join the medical advisory board of Wills Eye Surgery Center in Warminster. Also, last March the AOCOO-HNS awarded Dr. Kamat with the Governors Achievement Certificate. The AOCOO-HNS Board of Governors bestowed the honor upon him for distinguishing himself through a high degree of accomplishment and meritorious service performed on behalf of the college and its board of examiners.
The honors keep coming. Next month Dr. Kamat will cross the Atlantic Ocean to take a grander, even more visible stage. He will serve as co-chairman of a two-day event to be held in Amsterdam, Netherlands, called the 2019 Global Ophthalmology Summit. There, he will join some of the world's most prominent research scientists, practitioners, and educators to focus on "exploring the latest advancements in vision science and ophthalmology."
Besides his work as summit co-chairman, he will make a formal presentation about one patient who was born with extreme nearsightedness and astigmatism. He will present data about this patient's case, which required "a staged procedure," including the placement of multifocal corrective lenses, to correct the patient's condition.
"I'm honored that they reached out to me and wanted me to be part of the summit," he adds. "I've also never been to Amsterdam before, so I hope to take an extra day or two to spend some time seeing a part of the world that has so much culture and history."
He considers the trip abroad a necessary aside, however brief. Once he returns home, he expects to get right back into the swing of things, treating patients in his Yardley office and in ORs throughout the Greater Philadelphia Area.
"We've been doing very well with premium lenses involving cataract surgery," he says. "In fact, a lot of these people we're treating are coming out of the surgery with 20/20 vision. The technology we're using can change someone's life in significant ways, and that technology is only going to continue to get better and better."
Whether it's adding new products and procedures, new technologies, or new staff—Dr. Kamat's secretary of 17 years recently retired, enabling him to add "some bubbly new energy," he says—he is laser focused on providing treatment capable of having a dramatic effect on his patients' eyesight. He has an open house to plan in his limited spare time, in celebration of the 10-year milestone.
"The first 10 years have come with their share of ups and downs, but I have really enjoyed my time here in Yardley," he says. "With everything that's been happening in the past year or so, I feel like we're starting the next 10 years on the right foot."
Bucks Eye Specialists
301 Oxford Valley Road, Suite 801-A
Yardley, Pa.
(215) 493-7330

Photograph by Jody Robinson

Published (and copyrighted) in Suburban Life magazine, February 2019.
For more info on Suburban Life magazine, click here.
To subscribe to Suburban Life magazine, click here.
To advertise in Suburban Life magazine, click here.