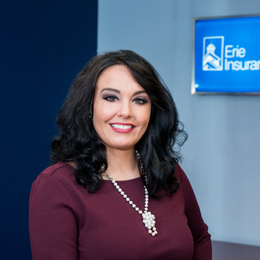 Embracing Change
Following a period of intense personal and professional transformation, Cindy Phillips leads a rewarding life as a family woman, community pillar, and owner of The Phillips Insurance Grou
They say that the only constant in life is change. Cindy Phillips has certainly had her share of change in recent memory—and she couldn't be more pleased.
Cindy celebrated several significant life changes in 2018. She's a parent for the first time—the mother of twins, to be precise. She's the owner of a thriving business in Bryn Mawr that she started with her husband, Talcott, or Tal. And she's a new resident of Newtown Square, after having moved here from New York City.
Cindy and Tal co-founded their Bryn Mawr-based business, The Phillips Insurance Group, to provide concierge-level service to local residents of the Main Line and throughout the state of Pennsylvania. The firm is an independent agent of Erie Insurance, a highly respected insurance company that for nearly a century has been providing clients with a wide range of automobile, home, life, and business insurance products.
"I spent 25 years working in the financial services industry in New York City, where I managed operational teams and served as a closer for national sales deals," Cindy says. "I enjoyed my corporate experience; it prepared me for the next phase of my life as an entrepreneur where I am responsible for my own success. Clearly, transitioning my career was the right decision, as it led to a series of life changes including moving to a community that I love and, most importantly, becoming a mom to two beautiful, happy babies. My biggest joy is watching their faces light up when they discover new things."
Tal's career spans more than 30 years. He started as a systems programmer for Unisys out of college before joining his father, a retired Erie Insurance executive, in their family agency in Kingston, Pa. After his father's untimely passing in 1991, Tal supported his mother who took over owning and operating the family agency before moving on to obtain his master's degree in emerging technology from a joint program offered by The Wharton School and the Moore School of Engineering at the University of Pennsylvania.
"Over the years I have helped thousands of families and businesses ranging from small retail to complex logistic firms secure proper insurance to protect their assets and mitigate their risk exposure," Tal says. "It is my joy to pass along the grooming I had from my father and the benefits of my experience to my wife. Along with her own experience, she is a natural at advising people in all insurance-related matters."
Cindy describes the relationship with Erie Insurance as "a perfect fit." The company, which has been doing business since 1925, has a reputation of providing excellent service to its clients. In fact, Erie Insurance has received the highest satisfaction with the auto insurance purchase experience, six years in a row.1
While the spouses work together, they each serve a different role within the agency. They both have their respective client relationships and leverage each other's strengths to cover their duties for managing the agency operations. Cindy handles the details needed to keep the office running daily, including marketing and finance, while Tal manages the agent staff and keeps apprised on insurance industry trends and legislation.
Cindy is an advocate for women in business, a gold sponsor for the Society of Professional Women, and a member of the Gerhard Society committee supporting Bryn Mawr Hospital.
"I feel supporting women in their career evolution is an important way to pay it forward for the career opportunities I had," she says. "When I started my career, women in business were not as supported as they are today. I also feel having a state-of-the-art community hospital is critically important. I am moved when I hear all the people that have generations of family members that were born and treated at Bryn Mawr Hospital. It motivates me to understand the importance of not only preserving the hospital but supporting its continual growth to remain in step with the advances of modern medicine for the care of people in our community and beyond."
Cindy and Tal are also members of the Main Line Chamber of Commerce, Bryn Mawr Business Association, and the Delaware County Chamber of Commerce, as well as various insurance industry associations. They are each seeking additional volunteer opportunities with local charitable organizations in 2019.
'A Balancing Act'
For Cindy, transitioning into two new roles—business owner and mother—at more or less the same time has helped her become more efficient with setting her priorities and managing her time.
"It's a balancing act," she says. "You have to make sure the house is clean, the laundry is done, there is food in the refrigerator and most importantly that the babies are fed and meeting their milestones, all while running an office, regularly meeting with clients and our Erie Insurance district sales manager to name a few of the ongoing responsibilities. While all of this is going on, I need to make sure I'm getting enough sleep, eating well, and staying healthy as my family and my business are relying on me to keep things on track.
"To do all of that in a 24-hour period," she continues, "I've had to perfect my time-management skills by scheduling my tasks as much as possible. I thought as a seasoned working professional that I had great time-management skills, but after becoming a mother and business owner, I learned these skills at a higher level than I ever knew existed."
She believes the changes she has undergone have given her deeper insight into the needs of her clients.
"Being a new mother, there are scenarios that arise that I didn't think about before," she says. "In a way, I think being a mother has made me a better insurance agent. I understand the need to protect my loved ones at a more personal level, whether it be while I am driving them in the car, caring for them at home, or making sure they're financially secure in the event my life ends."
She understands why some people may consider insurance "an inconvenient expense" and opt to spend as little as possible. Based on her experience, though, investing in the amount of coverage needed to properly protect against unforeseen circumstances far outweighs the risk associated with choosing minimal coverage just to save a few dollars.
"As you're moving through this world, any number of unforeseen things could happen," she says. "That's why you need the appropriate amount of coverage to protect you and your family. I tell my clients, 'Nobody ever complained that their insurance check was too large. You don't realize how much you need insurance until you need it.' It's our duty to advise clients on the insurance coverages they need based on reality. We never use fear-based tactics with the goal of signing clients. It makes for a better, long-term relationship to enable clients to make informed decisions about their insurance coverages, so that no matter what they decide, they know they can count on us for solid advice they can trust.
"Insurance is not something you can purchase then cross off your to-do list," she continues. "Your insurance needs change as your life changes. Some of the obvious times your insurance needs change is when you get married, buy a home, buy a car, have a child, start a business. Recently I have been asked to advise newly divorced people who said their former spouse handled their insurance matters. It is critical that everyone understand their insurance needs and coverages, especially if you're newly divorced and have primary custody of a child or children. This is where Tal and I come in. We are available with no obligation, to help people feel confident in their understanding of their specific insurance needs."
As she ponders how her life has changed over the past two years, Cindy says the phrase "absolute whirlwind" comes to mind. The demands on her schedule may be far greater, but she feels, in a word, blessed.
"I love that I have a full life that includes being a mother, a business owner, and an active member of my community to serve purposes beyond my own," she says. "With all the life changes that I experienced over the past couple of years, I have learned to embrace change no matter how scary. I can say that my life is fuller than it ever has been, and a whole new world of life experiences has been opened up to me. I am grateful."
The Phillips Insurance Group
Rosemont Business Campus
919 Conestoga Road, Building 2, Suite 208
Bryn Mawr, Pa.
(610) 229-9500
1 Erie Insurance received the highest numerical score in the J.D. Power 2013-2018 U.S. Insurance Shopping Studies. 2018 based on 15,689 total responses evaluating 20 providers and measures the experiences and perceptions of customers surveyed between April 2017 to January 2018. Your experiences may vary. Visit jdpower.com.
Photograph by Jody Robinson
Published (and copyrighted) in Suburban Life magazine, February 2019.
For more info on Suburban Life magazine, click
here
.
To subscribe to Suburban Life magazine, click
here
.
To advertise in Suburban Life magazine, click
here
.