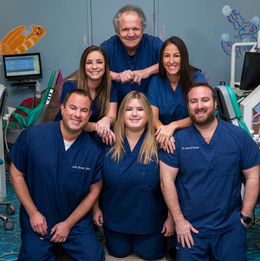 Doc Bresler's Cavity Busters Opens in Bucks County
The kids' dentist kids love to visit extends its reach with the opening of its new Doylestown office.
For 37 years, parents throughout the Greater Philadelphia area have been entrusting the health of their children's teeth to the pediatric dentists at Doc Bresler's Cavity Busters. Now, thanks to a recent merger, the Breslers are excited to be able to provide the same brand of comprehensive and compassionate children's dental care to residents of Doylestown.
On December 1, Doc Bresler's Cavity Busters merged with the practice of Theodore P. Croll, D.D.S., a trusted pediatric dental practitioner who has provided care in the Doylestown area for more than 40 years, and is affectionately known as "Dr. Ted" by his many patients and their parents. Now with eight fun and colorful locations, Doc Bresler's Cavity Busters has become not only one of the largest children's dental practices in Pennsylvania, but also one that's eager to change the way children view dentistry.
Drs. Josh, Jason, and Rachel Bresler and their staff are very excited to join Dr. Ted in this new venture, as they all feel this is truly the perfect union.
"We are creating a whole new generation of kids who look forward to coming to the dentist," says Josh Bresler, D.M.D. "We are proud that we have created an environment where everyone feels comfortable. For us, this is such an unbelievable feeling of satisfaction."
Like all of the Cavity Busters offices, the Doylestown location offers a clean, kid-friendly environment, skilled and professional doctors and care providers, digital X-rays, and other new technologies designed to improve the patient experience. Individualized dental care is first and foremost, although patients will likely remember other things that make each Cavity Busters office unique—namely, kid-friendly themed reception and treatment areas, movies, video games, fun prizes, and more.
"We pride ourselves on encouraging kids to have fun, and to have an atmosphere that isn't going to cause anxiety," adds Jason Bresler, D.M.D. "Instead of parents having a hard time getting their children to the dentist, our goal is to see parents have a hard time getting their children to leave our offices."
The Legacy Continues
Now run by Drs. Josh, Jason, and Rachel, Doc Bresler's Cavity Busters was started by their father, David A. Bresler, D.D.S., or "Doc Bresler," in 1982. Doc Bresler opened his first office in Roxborough and expanded to more locations as each of his children expressed interest in the field. Doc Bresler, who passed away in 2015, had been a long-time close friend and colleague of Dr. Ted; the two had the utmost respect for each other's dedication to improving the practice of pediatric dentistry.
"I admired David's tremendous business acumen, his support for benefits of children, his charity work, and so much more," explains Dr. Ted, who will continue his regular schedule for years to come, alongside the Cavity Busters team. "David never put business ahead of his patients, and his two sons and daughter have beautifully carried on their father's important legacy."
The Bresler siblings have always embraced everything they were taught by their father, and now continue his legacy. Even though the practice has grown substantially over the years, the practice remains a true family-run enterprise. Dr. Josh's wife, Tracey, who is a pediatric dentist and Dr. Jason's wife, Jill, who is a general dentist, both work in the practice. It should come as no surprise to hear that Doc Bresler's Cavity Busters was given a recent Multi-Generational Large Family Business of the Year Award.
"When we grew up, we watched our father go to work every day to play, instead of going to work," Dr. Jason remembers fondly. "It was gratifying for him to help children get healthier and out of pain, and we all wanted to follow in his footsteps."
Dr. Rachel knew from a young age that she wanted to work with children. It wasn't until high school, while working as an assistant in her father's office, that she discovered a desire for dentistry. She recalls one night at dinner mentioning that she was having "extreme sensitivity on the mesial of tooth No. 8." She says her father "had a glimmer in his eye" because she was using dental lingo, and she loved the idea of being able to speak the "language of dentistry" and share in his passion. She became a dentist in 2014, and a pediatric dentist in 2018.
"I love going to work, enjoying what I do, and all of us being able to feel like goofy kids all day long," she adds. "We're truly a family-owned practice, meaning all of our employees are an extension of us. My brothers and I are there every day, working to assure that our patients are getting the best quality of care possible."
Putting Patients First
Across its eight locations, the practice's 38 dentists and 250-member support staff provide the ultimate in experience, skill, empathy, and compassion to their young patients, from infants to teenagers. Dr. Josh explains that it is never too early to begin proper oral health habits. Citing statistics from the American Academy of Pediatric Dentistry, he suggests children should be seen by a dental professional shortly after the eruption of their first tooth, and no later than their first birthday.
Regardless of the patient's age, Doc Bresler's Cavity Busters offers a full range of dental services, from preventative to restorative care. For those with more specialized needs, the practice can provide safe and controlled treatment under general anesthesia at Red Lion Surgicenter, St. Christopher's Hospital for Children, Children's Hospital of Philadelphia (CHOP), and Mercy Suburban Community Hospital. Simply put, the team is well equipped to handle virtually any need as it relates to pediatric patients, in addition to being extremely comfortable treating children and adults with special needs.
"Our philosophy, which started with our father 37 years ago, was always to put the patient first," says Dr. Josh. "Our father always wanted children to think about their appointments and procedures as a fun experience, not a scary one. So, we work to educate the parents and our patients to try to do as much preventative work as possible, so they can avoid invasive procedures."
Among the many reasons Doc Bresler's Cavity Busters has become a premier pediatric practice in the Greater Philadelphia area, are its community involvement and philanthropic endeavors. For example, the practice offers a comprehensive educational program focused on the importance of healthy diet and proper home care, now available to daycare centers, schools, churches, and synagogues throughout Doylestown. In addition, the practice has partnered with Alex's Lemonade Stand Foundation for Childhood Cancer, to help raise money for research and otherwise help children whose lives have been touched by cancer. Lastly, every year Drs. Josh, Jason, and Rachel travel to Haiti for one week, in which they typically treat more than 1,000 patients who otherwise would have no access to dental care.
What would the original Doc Bresler think of the Doylestown expansion, and of his three children taking the practice to the next level? Dr. Rachel says her father "would be so proud of how well the three of us are working together to expand upon the caring legacy that he left us."
Dr. Josh says his father and Dr. Ted had once discussed a possible merger, to be executed at "the perfect moment down the road."
That moment, it turns out, has finally arrived.
Doc Bresler's Cavity Busters
708 N. Shady Retreat Road, Suite 2
Doylestown, Pa.
(215) 348-3745
Additional locations in Roxborough, Northeast Philadelphia, Lower Northeast Philadelphia, South Philadelphia, Dresher, Jenkintown, and Newtown Square. For more information, visit CavityBusters.com.
Photograph by Jody Robinson
Published (and copyrighted) in Suburban Life magazine, February 2019.
For more info on Suburban Life magazine, click
here
.
To subscribe to Suburban Life magazine, click
here
.
To advertise in Suburban Life magazine, click
here
.