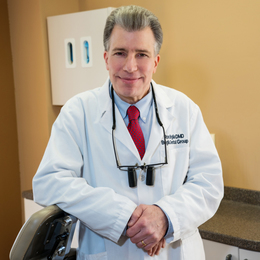 Lasting Impression
Dr. Ron Briglia has spent decades offering cosmetic, restorative, and general dentistry of the highest quality, in an environment designed to put patients at ease.
With each patient who steps through the door of his West Chester-based dental practice, Ron Briglia, D.M.D., has a simple goal: to provide A-plus dental care in the most relaxing and comfortable environment possible. It's an ambitious goal, yet a Google search of "Briglia Dental Group" will yield hundreds of glowing patient reviews, each extolling the practice's many virtues.
Patients rave about the office's spotless facilities, spa-like décor, and soothing lighting. They celebrate the thoroughness of the cosmetic, restorative, and general dentistry performed by Dr. Briglia and his team—everything from routine cleanings to full-mouth smile makeovers. And they praise Dr. Briglia's gentle touch, his ability to make even the most complex treatment virtually pain free.
"We do everything possible to make sure all patients have a positive experience, from the atmosphere to the quality of the dental work," says Dr. Briglia, who has been in practice for more than three decades. "Some of my patients still have crowns and dental work that we did for them over 25 to 30 years ago that are still sound. Quality dental care is an investment in your oral and systemic health."
Patients suggest Dr. Briglia excels at eliminating the fear of sitting in the dentist's chair. He offers oral and intravenous sedation similar to that of a short-procedure unit in a hospital, whereby patients are fully monitored throughout and wake with little to no memory of the appointment.
"Sedation dentistry is something that some patients will seek out," says Dr. Briglia, who earned his certification in oral and IV sedation in 2003. "They may have had horrible experiences at the dentist, either as a child or as an adult, or they may have a severe gag reflex or have trouble getting numb. Some people have significant [dental] problems and just can't fathom having all that dentistry done without the aid of sedation."
Similarly, Dr. Briglia provides pain-free numbing gel to ensure a patient's comfort. Useful even for routine cleanings, the strong topical agent he uses profoundly and quickly numbs the patient's gums, thereby making the real numbing a cinch. He also offers warm blankets, pillows, and sunglasses for the bright overhead lights, all of which can help to make the appointment more palatable for someone who may be apprehensive.
Dr. Briglia earned his dental degree from Kornberg School of Dentistry at Temple University in 1980, and he has undergone extensive continuing education in the years since. Patients who require more specialized care may benefit from Dr. Briglia's close relationships with some of the Greater Philadelphia Area's most respected specialists, such as oral and maxillofacial surgeons, endodontists, and periodontists.
Dr. Briglia believes all people deserve a healthy, beautiful smile. The practice offers senior and military discounts, as well as an oral health savings plan for those without insurance. At a cost of $279, a one-year membership includes two regular cleanings, two regular exams, and any necessary X-rays, and 10 percent off regular treatment, among other benefits. In addition, the practice offers complimentary sedation, cosmetic, and second-opinion consultations.
Briglia Dental Group's commitment to the community extends far beyond the office walls. Eight years ago, Dr. Briglia started a "Halloween Candy Buyback" in support of the Stockings for Soldiers Program. Every autumn, he welcomes patients and other community members to donate portions of their Halloween candy and, in turn, they are rewarded at a rate of $1 per pound (up to five pounds). He then brings the candy to the SFS Program in Wilmington, Del., where it is divvied up into thousands of stockings destined for soldiers in Iraq, Afghanistan, and other points around the globe.
"Over the past eight years, we've collected over 17,000 pounds of candy that has been shipped to soldiers during the December holidays," Dr. Briglia says. "Last year we collected 3,800 pounds of candy from patients, as well as Cub Scouts, Girl Scouts, grade schools, and middle schools and the general public. It's a nice service to soldiers who are away from their families during the holidays, and the simple act of sharing some of their candy teaches kids valuable lessons."
Whether he's giving back or improving a patient's smile, one thing is clear: Dr. Briglia has devoted his career to making an impact on the lives of others.
"We want to get to know our patients so we're treating friends, not strangers," he adds. "Some people come to us for a routine cleaning, some need a smile makeover, and some just need a second opinion. They come here because they want quality dental work that's done in an environment that's calm and comfortable, and that's the level of care we've been providing for more than 30 years now."
Briglia Dental Group
600 E. Marshall Street, Suite 201
West Chester, Pa.
(610) 692-4440
Photograph by Jody Robinson