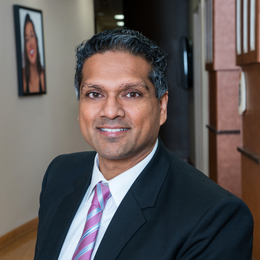 Where Patients Are Family
At Alpha Dental Excellence, the team led by Dr. Arpan Patel offers high-quality dental care in an environment unlike any other.
When new or longtime patients walk through the doors of Alpha Dental Excellence in Langhorne, they instantly feel at ease. It could be the serene décor, or the soothing trickle of the waterfall in the waiting room, or the attentive care that makes them feel as if they are part of an extended family. Likely, it's the combination of all of the above.
Alpha Dental does not look, act, or feel like a typical dental office. One needs to look no farther than the waiting room. Compared with dental offices that give patients nothing to do but kill the time by leafing through months-old, dog-eared magazines, Alpha Dental Excellence has a spa-like atmosphere, complete with the inviting waterfall and a concierge who tends to patients' needs, including hot or cold beverages.
This is a dental practice that truly pampers its patients.
Alpha Dental Excellence offers general dentistry, as well as a great deal more. While many practices offer X-rays, routine exams, filings and crowns, they often require patients to go to another practice for more complex procedures. Alpha Dental Excellence provides a full menu of offerings, including root canal therapy, oral extractions, and dental implants, as well as veneers, bridges, and periodontal treatments—plus, the convenience of sleep dentistry.
The practice leader, Arpan Patel, D.M.D., has been named a "top dentist" by a number of respected publications, including Suburban Life. But he's not the only reason the practice has been recognized as among the best in Bucks County. Alpha Dental Excellence has four highly skilled dentists, as well as 25 members of the support staff, many of whom have been with the practice for more than 20 years.
"The beauty of our practice is that we have a state-of-the-art facility large enough to offer all aspects of dentistry under one roof," explains Dr. Patel. "We always want to go above and beyond for our patients. Our team takes the time to get to know each patient and looks forward to developing lifelong relationships."
It might not come as a surprise, then, to hear the practice's motto: "Welcome to the Alpha Family."
Other ways in which Alpha Dental Excellence goes "above and beyond" for patients include 24-hour emergency service, screenings for oral cancer and sleep apnea, and unlimited exams and cleanings, as well as in-house insurance plans and individualized treatment plans, all provided in an atmosphere designed to put patients at ease.
At Alpha Dental Excellence, patients are always treated by the same dentist, which increases the comfort level and improves the continuity of care. For more complex cases, the highly trained dentists consult with one another to ensure the patient's desired outcome.
As part of the surroundings that do not look or feel like most other dental offices, a prominent sign reflects the practice's overarching goal: "To understand and satisfy the needs of all our patients by developing educated and appreciative patients."
Establishing Trust
The high level of compassion, education, and comfort at Alpha Dental started with Dr. Patel's father, Nalin, who practiced dental excellence for 38 years. Dr. Patel's father passed away in 2006, but he passed on many life lessons that are now reflected in his son's dental practice. At the same time, Dr. Patel continues to honor his father by sharing his wisdom with his two children, 12-year-old Riyan and 9-year-old Eshaan.
"My father taught me the value of giving back to the community, and I have proudly continued this legacy through the Patel Cares Foundation," says Dr. Patel. "We have led an oral cancer awareness movement, a Halloween candy buy-back, and several other local initiatives that give all of us a great deal of pride."
With 15 years of dental experience, including 13 of them managing Alpha Dental Excellence, Dr. Patel says there are three obstacles to getting patients into a dental chair: fear, time, and money, all of which are addressed with care at his dental practice. Dr. Patel says his team prides itself on educating each patient so they know "the intricacies of each procedure, which takes away some of the fear factor." In addition, he says his fellow doctors and staff members strive to connect with patients so they feel safe and comfortable.
"If you know, like, and have established a trust with people you are working with," he explains, "it improves the process a great deal."
Fear can also be associated with anticipated pain, but the availability of intravenous and oral sedation can help to alleviate a patient's anxiety. Other relaxing techniques designed to "take the edge off" include safety glasses, cozy blankets, lip balm, and cable television.
While lack of dental insurance and funds often stands in the way of prospective patients, Alpha Dental Excellence accepts almost all forms of dental insurance. It is also one of a select few certified Medicare providers in the area, according to Dr. Patel. In addition, the practice offers several payment options that can be arranged with the help on an insurance coordinator.
"We want to make it as easy as possible for patients to get healthy and stay that way," Dr. Patel explains. "We want to take the fear away. We want to give them a reason not to avoid their dental care. We really want to earn every patient's trust. All aspects of dentistry are performed here, in a state-of-the-art facility by compassionate, knowledgeable staff. You are treated as an individual, and your comfort and needs are everything to us at Alpha Dental."
Office Manager Monique Sloan says that new patients quickly come to know they are cared about and considered members of the growing Alpha Family—and it starts with Dr. Patel. Not only is he a great dentist, but she says he is a great listener, too.
"Dr. Patel listens to his patients and always focuses on what you are telling him," she says. "He is compassionate and caring about every aspect of his patients' care. At Alpha Dental, we want our patients to feel as if they always come first, because they do."
Alpha Dental Excellence
240 Middletown Blvd., Suite 100
Langhorne, Pa.
(215) 750-2222
Photograph by Jody Robinson

Published (and copyrighted) in Suburban Life magazine, March 2019.
For more info on Suburban Life magazine, click
here
.
To subscribe to Suburban Life magazine, click
here
.
To advertise in Suburban Life magazine, click
here
.