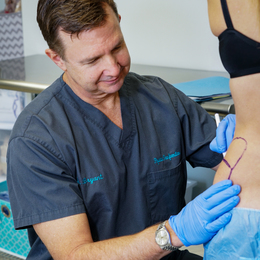 Sculpting Confidence
Dr. Earl Bryant of Physician Transformations helps men and women meet their body-contouring goals and boosts self-confidence.
Everyone has something that they would like to change about their body. Not long ago, people had few self-improvement options beyond diet and exercise, so they simply "lived with" their imperfections. That's no longer the case.
Recent technological advancements in aesthetic medicine—including minimally invasive or even noninvasive techniques—have enabled men and women of all ages to do something about the things they don't like when they look in the mirror. As a result of this commitment, people tend to not only look better but also benefit from boosts to their self-confidence and overall happiness. Changes in technology may have facilitated this shift, but the quality of the results often depends on the knowledge and skill of the practitioner who is performing these procedures.
Physician Transformations, a full-service medical aesthetics practice based in Newtown Square, takes this requirement seriously; even the practice's name underscores the importance of having a qualified doctor providing such delicate services. Earl M. Bryant, D.O., the founder of Physician Transformations, offers the best of both worlds. He is a cosmetic surgeon with extensive training in aesthetic medicine and a board-certified emergency physician.
"We're a boutique practice that is interested in getting to know our patients and helping them look their best, without looking artificial," says Dr. Bryant, who is an associate of organizations such as the American Academy of Cosmetic Surgery and the American Society of Liposuction Surgery, as well as a Fellow of the American College of Emergency Physicians. "We pride ourselves on connecting with our patients as individuals. We want them to see us as a concierge service of sorts."
Because of Dr. Bryant's considerable training, he says Physician Transformations is able to offer patients a level of experience, safety, and skill that other practices cannot match. He began the practice while serving as an emergency physician at one of the busiest trauma centers in Philadelphia. This experience enabled him to offer a more positive form of medicine, with a goal of offering patients "a greater general appreciation of life, wellbeing, and happiness."
Safer and More Effective
One of Physician Transformations' areas of specialty is full-body liposculpting, using the latest liposuction, laser, and ultrasound technologies to help patients meet their goals. With his advanced technologies and expertise, Dr. Bryant is able to target the trouble spots of excess fat—tummy bulges, love handles, saddlebags, and double chins, for example—that patients cannot shed no matter what changes they make in terms of diet and exercise. These stubborn spots often linger due to factors such as the patient's age, genetics, and medications he or she may be taking, and as a result become visible sources of frustration and embarrassment.
"Liposuction has gone through a significant transformation compared to when it appeared 40 or 45 years ago," says Dr. Bryant, who maintains his affiliation with Albert Einstein Medical Center, where he trains residents and works as a member of the clinical staff at least one day per week. "The procedure used to be much more invasive and traumatic, but over the decades it has evolved and become a safer and more effective method for removing stubborn pockets of fat from areas of the body."
For example, the fat can now be liquefied prior to its removal, thereby enabling the practitioner to use smaller instruments and create a more contoured appearance. Physician Transformations offers several varieties of liposuction, including SmartLipo, which uses a small laser to melt fat and tighten the surrounding skin, and VASER Shape (VASER is short for Vibration Amplification of Sound Energy at Resonance), which uses ultrasound.
Dr. Bryant says both of these techniques help to extract fat "safely and with better overall results." The instruments used for these procedures are incredibly small—about the same diameter as a piece of uncooked angel hair pasta—and the incision created to accommodate such instruments is about the size of a freckle. He performs these body-contouring services on an outpatient basis, using oral medication to relax the patient. In other words, the patient is numbed but awake, free of the risks associated with the general anesthesia required for more invasive procedures.
For patients who are looking for a completely noninvasive way to lose unwanted fat, Dr. Bryant offers CoolSculpting. This revolutionary body-contouring technique uses below-freezing temperatures to kill and eliminate fat cells in targeted areas, such as the abdomen, flanks, thighs, and arms, while leaving the skin and muscle intact. Dr. Bryant says most CoolSculpting patients can achieve their desired results in a few one-hour treatments.
"CoolSculpting is the most effective noninvasive fat-removal tool on the market right now," he adds. "With this procedure, an applicator is placed on the fat in the targeted area. The technology uses cold to freeze the fat, and over a short period of time, the fat cells are eliminated from the body. There's no downtime whatsoever. The procedure is designed to eliminate approximately 25 percent of the fat in the targeted area at one time."
Some of the most life-changing examples of the body-contouring procedures Dr. Bryant provides involve men who have a condition known as gynecomastia, or "man boobs." This condition, which gives men the appearance of having female breasts, tends to start affecting men who are in their 30s, but sometimes even younger. These men tend to be very self-conscious, in some cases wearing double and triple layers of shirts to disguise their chest and avoiding taking their shirts off in public or even in front of their spouses. Factors such as age-related changes in hormone levels and busy schedules make it difficult to shed fat in the chest, as well as in other problem areas, such as the abdomen. Dr. Bryant says body-contouring procedures can help to change all that.
Dalia, the office manager at Physician Transformations, suggests the winter months are ideal for patients to have their body-contouring needs addressed to their satisfaction. "We start to get really busy in February," she says. "Spring and summer aren't far off, and people don't want to wait until the last minute."
In addition to body contouring, Physician Transformations offers microneedling and PRP (plasma-rich platelet) therapy to address fine lines and wrinkles, laser hair removal, spider-vein treatments, and state-of-the-art skin treatments, including Botox, dermal fillers, and chemical peels. With any rejuvenation procedure, Dr. Bryant's goal is to make each patient look and feel their best.
Most recently, Dr. Bryant has added a men's health component to his practice. He offers men state-of-the-art treatments for erectile dysfunction, as well as testosterone replacement therapies.
"We take pride in the fact that we are hands on," Dr. Bryant adds. "When you are a patient, you are working with the people in our office intimately. Our staff develops relationships with the patients, and I do all the procedures myself. We are a small but busy and active practice, and we've stayed that way because we take care of each individual."
"Our goal is to help people look healthy and natural, and to help them get there safely and efficiently," says Dalia. "When other people start complimenting you on how great you look but they have no idea why you look as good as you do, we know we've done our job well."
Physician Transformations
17 Bishop Hollow Road, Suite C
Newtown Square, Pa.
(484) 420-4407
Photograph by Jody Robinson

Published (and copyrighted) in Suburban Life magazine, January 2020.