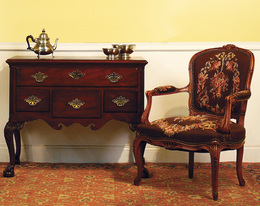 An Education in Craftsmanship
Stenella Antiques stands apart with pre-owned furniture of the finest quality
Stenella Antiques proves that quality and quantity are not mutually exclusive. Its 26,000-square-foot showroom in Perkasie has one of the East Coast's largest selections of discounted high-quality new, pre-owned and antique furniture from such renowned names as Baker, Henkel Harris, Karges, Kindel and Kittinger. Superior design, materials, craftsmanship and finish make these manufacturers' pieces stand apart from all others, according to Jim Stenella, owner of Stenella Antiques.
"So much of the furniture available today is disposable," says Stenella. "When people move, they put it on the curb. [But] quality always has value, and the second-hand market recognizes that," suggesting the combination of unrivaled design and craftsmanship make these pieces timeless investments that retain their value.
Stenella Antiques' collection ranges from fine heirloom antiques to pre-owned furniture exchanged while redecorating as well as new collections being liquidated by high-end retailers. The furniture is gently used, if at all, well-cared for and available at a fraction of the traditional retail price.
Stenella's inventory is mostly of formal traditional designs. At any time more than 2,000 items are displayed in the showroom's open rows, with some featured in room settings including living, dining and bedroom furniture as well as decorative pieces. Much of the stock can be viewed using the store's website, StenellaAntiques.com. After perusing the online catalog, customers can stop by to browse or call ahead to inquire about specific pieces, inspect them personally and arrange for home delivery.
The staff at Stenella Antiques is extremely knowledgeable about each piece and equally adept at explaining the qualities of its value. As Jim Stenella says, "In some cases, high-end furniture manufactured overseas may offer a better value than a low-end American piece."
In the end, Stenella Antiques' goal is to guide each customer toward the best item for his or her needs. Although all of its pieces have been detailed and are ready for use, Stenella Antiques also offers furniture refinishing, upholstery and specialization services. Customers may choose refinishing, sometimes even performed by the manufacturer, to ensure that a new purchase matches their existing decor. The upholstery service allows customers to select a chosen fabric, while specialization may include adding new hardware, shelves or lighting to update a piece.
"Trends come and go, but traditional styles are always in," says Jim Stenella. This idea is clearly reflected in the historical research used to develop each piece for Kittinger. This manufacturer utilizes volumes of furniture design going back before the 20th century for design inspiration. Historical reproduction pieces, such as those licensed by Kindel, are so popular that they may gain value over time. Baker Furniture also puts great importance on its design sensibilities emphasizing the qualities of scale, proportion and ornamental detail to create furniture with a sense of suitability.
Adding Character
Material selection is crucial to the quality and longevity of this furniture. These manufacturers insist on carefully chosen wood for internal structure. Decorative surface woods are selected for their uniform color, cut and grain. Kittinger, for example, maintains strict milling standards, insisting that the variation of surfaces on each piece be within a fraction of an inch. Joinery methods such as dovetail joints, double splines and the use of high-grade adhesives strengthen moving parts, namely drawers and doors. Like most manufactures of its caliber, Henkel Harris uses solid brass hardware, which is sand-cast to give it character.
Karges, a 125-year-old family-owned manufacturer, sands, fills and waxes the inside of each drawer so that it will not tear even the most delicate garments. According to Jim Stenella, "These products cost more because of the man-hours needed to provide the attention to detail and the value of the craftsmen employed." Or, as Baker Furniture puts it: "art vs. industry."
Such high-quality manufacturers handcraft their products using talented craftsmen. Traditional techniques and technology coexist, allowing woodworkers to focus on their art. At Karges, machine-prepared carvings are often hand-detailed by skilled artists to achieve crisp edges where the chisel marks are evident. Gilding, painting and inlaying are done by hand to assure accuracy, and a craftsman's signature can often be found on each piece to denote the personal pride taken in his work. Many times several generations of craftsmen have worked for the same company as "an inherited trade," says Jim Stenella. Kittinger, for example, boasts one family in which five generations of craftsmen have worked for the company.
The final attribute of fine-quality furniture is the finishing process, which can involve more than 20 steps, while lesser-quality furniture may involve only one spray-on application. Baker Furniture's craftsmen apply each coat of the process one at a time, creating layers that enhance the character of the wood, create uniform color and protect it from the environment. A correctly applied finish will develop a beautiful patina over time.
The well-designed furniture found at Stenella Antiques is made from high-quality materials and constructed with care and craftsmanship, meaning it will remain beautiful and durable for years to come. Although the names may be less familiar, the characteristics of their craft set these manufacturers apart from most of the better-known companies. In short, Stenella Antiques chooses quality over popularity, and takes the time to educate its customers on the value these masterpieces offer so each piece can be enjoyed for years to come.
Stenella Antiques
104 South Second Street, Perkasie
215-453-8490
StenellaAntiques.com
Hours: Tues. through Fri., 9 a.m. to 3 p.m.; Sat., by appointment
Sharon A. Shaw is a freelance writer from Doylestown.