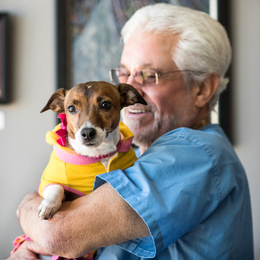 Ready for Anything
Whether a patient needs a routine cleaning, emergency dental care in the middle of the night, or a way to alleviate anxiety while sitting in the dentist's chair, Dr. Richard Bash offers a solution.
Maybe it happens the night before a first date, a big presentation, or an important job interview. It's past midnight, and nerves prevent you from sleeping. You hunt around the kitchen for a snack, craving something salty and sweet. Peanut brittle is the choice.
As you take a bite, the crunch you hear isn't from the snack.
The clock strikes 3 a.m., and you realize you've cracked off pieces of your two front teeth. Waiting until daylight to get to the dentist—provided you can get an appointment—simply isn't an option. You need help immediately. What do you do?
You call Dr. Richard Bash, D.D.S., at Bash Dental in Doylestown.
Dr. Bash prides himself on providing year-round emergency dental care regardless of the time of day. Before leaving the office after regular hours, the staff member who is on duty that night forwards the office line to their cell phone. If the on-call staff receives a call at 3 a.m., they then contact Dr. Bash (or his associate, Carlos Sanchez, D.M.D.), and they meet you at the office to address your dental needs.
"When I became a dentist 36 years ago, I wanted to find a niche," Dr. Bash says. "I was always a night person, and I felt like dentists should be available at all hours. Some dentists act like bankers; they leave the office at 5 p.m. and that's that. If a patient of theirs has a toothache after that, do they have to wait until the next day?"
Dr. Bash's decision to run an office that was able to serve patients at any time came many years ago after an experience with his son, during which he needed off-hours medical care. His struggle to find a doctor at a late hour led him to the realization that many patients needed dental care after so-called "normal" business hours.
"I felt like I should be like that old TV doctor, Marcus Welby, and be available at all hours," Dr. Bash says. "And I am. When you call us at 3 in the morning, you don't get a machine; you get me or a member of our staff."
Bash Dental provides a complete range of general and cosmetic dentistry, from fillings, cleanings, extractions, periodontics, and endodontics, to crowns, bridges, teeth whitening, composite resin bonding, and tooth and gum reshaping. The practice also offers an in-house insurance membership plan so individuals and families can get services at reduced rates.
In addition, patients who experience stress or anxiety during a visit will benefit from the presence of Winkle, a Jack Russell terrier who serves as the resident therapy dog.
"The patients love Winkle," Dr. Bash says. "If they're feeling anxious about the dental work I'm going to perform, they can, if they want, have Winkle sit on their lap and put their hand on her back. She really helps calm them."
Dr. Bash is a lifelong resident of Bucks County, a veteran who served in the U.S. Army during the Vietnam War, and something of a world traveler. He earned his dental degree from the Temple University School of Dentistry (now called the Kornberg School of Dentistry) and earned a B.S. in biological sciences from the school now known as Delaware Valley University. He is an active member of the American Dental Association and the Pennsylvania Dental Association.
Patients find Dr. Bash to be fun-loving, knowledgeable, and thorough in his approach. He takes the necessary time to explain the various aspects of treatment and puts concepts to patients in a way that is easy to understand.
"I chose dentistry to leave a trail of good instead of bad in the world," Dr. Bash says. "I knew I was good with my hands and wanted to help people. When you get a hug after helping someone—that's worth more than money. Helping people: It's the reason I decided to be a dentist."
Bash Dental
1456 Ferry Road, Suite 103
Doylestown, Pa.
(215) 789-4106
Instagram: @bashdental
Photograph by Jeff Anderson

Published (and copyrighted) in Suburban Life magazine, February 2019.
For more info on Suburban Life magazine, click
here
.
To subscribe to Suburban Life magazine, click
here
.
To advertise in Suburban Life magazine, click
here
.