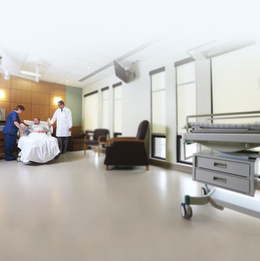 Are You Expecting?
What to expect at St. Mary Medical Center.
Before, during, and after your baby arrives into the world, St. Mary Medical Center in Langhorne is poised and ready to help you. We provide a full range of prenatal health services, maternity classes (including childbirth preparation programs and support groups), and a range of birthing options, including nurse-midwives.
But what St. Mary Medical Center's maternity services are really known for, and what sets us apart, is an environment that is truly supportive of babies AND their parents. Quite simply, our mission is this: We help grow families.
What is it that makes a family-supportive environment? Here are a few examples:
* Private labor and delivery suites. Instead of maternity unit rooms with only curtains separating beds, we provide private suites complete with a bathroom, where you labor, deliver, and recover. Mothers and babies (and dads or coaches) can relax, settle in, and get to know one another together during this momentous time.
* A nursery, for when you need it. There is a practice, endorsed by the World Health Organization and many other maternal health experts, called "rooming in," in which a mother stays with her newborn virtually all the time following delivery. This practice helps you and your baby get used to each other right away—and helps you recognize feeding cues and enjoy bonding time, with nurses and staff nearby to help.
But sometimes, you just need to rest. You may be dealing with aftereffects of delivery, an unexpected C-section, or any number of other circumstances. Your baby can be cared for by specially trained registered nurses, allowing you to get back to your best self as quickly as possible.
* Neonatal intensive care with advanced monitoring technology. For babies born prematurely or with conditions requiring monitoring and advanced treatment, our Level II Neonatal Intensive Care Unit (NICU) is staffed 24/7 by board-certified neonatologists (physicians with special training in high-risk newborn care). The NICU features the Angel Eye camera system, which allows parents, family, and friends to see and interact with their new little one while outside of the NICU. We also offer a private lactation room where you can pump breast milk, which is especially beneficial for babies in the NICU, and a family sleeping room so parents can remain close to their newborn.
* Breastfeeding education and support. If you decide to breastfeed your baby, the licensed and board-certified lactation consultants at St. Mary Medical Center are right there, from your very first feeding until you go home, to provide invaluable bedside learning and coaching. At St. Mary, they offer daily visits while you are at the hospital, and can help make arrangements to rent or buy a breast pump, if desired, before you go home. They also make follow-up calls to your home two days after you leave the hospital. A Lactation Line and weekly support group meetings are available if you ever have questions or need a listening ear.
* St. Mary Parenting Resource Center. The St. Mary Parenting Resource Center helps develop critical parenting skills that can help you give your child the best possible foundation for a productive and rewarding life. Trained and certified parenting educators help you navigate the vital issues of parenting today, from key infant milestones to managing toddler tantrums to the use of multimedia with children.
Learn more about St. Mary Maternity Care and why nine out of 10 new moms rate us in the top 5 percent for patient satisfaction. Visit us at StMaryHealthCare.org/Maternity or call (844) 7 ST MARY.
Photograph courtesy of St. Mary Medical Center

Published (and copyrighted) in Suburban Life magazine, February 2019.
For more info on Suburban Life magazine, click
here
.
To subscribe to Suburban Life magazine, click
here
.
To advertise in Suburban Life magazine, click
here
.