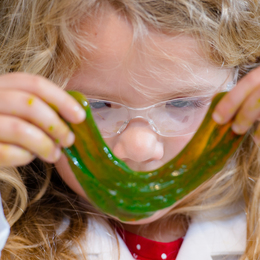 The Joy of Exploration
Science Explorers puts the fun in science with its difference-making afterschool programs, field trips, and summer camps.
Elementary school is a fascinating time for young children, as they get introduced to new worlds through reading, start to learn the fundamentals of math, and become more engaged in technology.
For many, however, science can be a tricky subject to grasp at that age, especially when the pressure of passing a test enters the equation. Jennifer Moorehead recalls being "very scared of science" when she was young, despite having a father who worked as a biologist.
"Although it was all around me because of my dad, the classic textbook science was dry to me," she says. "At school we grew a plant in the dark in fourth grade, and that's the only thing I can remember. It just wasn't an engaging or inquiry-based time for science."
It wasn't until years later, when Moorehead was working in marketing for a company that presented science assemblies, that she came to the realization that the subject is best learned in an experiential manner, with children becoming actively involved in experiments and fun projects. When her company closed, she was inspired to start her own business, and Science Explorers was born.
Beyond her wildest dreams, Science Explorers has thrived; in fact, it's celebrating its 20th birthday this year. The organization is dedicated to helping children between the ages of 4 and 11 experience the wonders of science through afterschool programs, summer camps, field trips, and assemblies.
"I realized I was a hands-on learner and science finally made sense to me; that's when it became a passion," Moorehead says. "I knew there must be other people like me out there—I'm bright, but sometimes I have problems concentrating or following directions. There are a bunch of kids out in the world like that, but this program allows them to get elbow deep in science.
"In my opinion," she continues, "sometimes in education we try to make all children learn a certain way, but not all kids are designed that way. Some kids have to work with it, see it and touch it, and then they remember."
Although Science Explorers is committed to teaching children important, lasting lessons, there are no tests and the name of the game is fun. To begin with, all students and teachers receive an amusing, clever nickname. For example, Moorehead is known as "Jupiter Jen." Some of her longtime staff members include "Turbo Tracy," "DNA Deb," and "Jurassic Julie."
Then there are the programs themselves, which include enjoyable activities such as launching a rocket, dissecting a shark or squid, building a robot, and making slime.
"Our motto is, 'If it's not fun, we're not doing it,'" Moorehead says. "We offer fun activities yet they're very academic. The kids also take home their projects so they can show their parents and share it with their families, and that reinforces the concept even more."
Many of Science Explorers' programs are popular with kids of all ages, but two in particular do an especially good job of piquing their interest: Slime Time and Rocket Camp.
"Slime Time is an introduction to the world of polymer chemistry in which we make different slime creations, and it has been off the charts," Moorehead says. "We have waiting lists upon waiting lists and we're running double classes, so it's pretty exciting.
"Rocket Camp is also great because children used to do that in Boy Scouts or in school, but now that's not happening as much," she continues. "These kids build the rockets all by themselves and then we launch them. They go 75 miles per hour and 350 feet in the air. It's really neat and then they get to take the rocket home, and they can buy their own launch pad and launch it again."
'Fresh and Exciting'
Science Explorers' afterschool programs run all year long. Each program lasts five weeks and covers a unique topic, and students can sign up for one or several, depending on their preference. The programs started out at a handful of locations but have since expanded to 300 schools in Pennsylvania, New Jersey, Delaware, New York, and Maryland. Those who do not have Science Explorers offered at their school are encouraged to reach out to the organization about the potential for further expansion.
Weeklong summer camps—either half-day or full-day—are held at 100 sites in Pennsylvania, New Jersey, and Delaware, including elementary schools, colleges, libraries, and departments of parks and recreation. Several locations, such as Germantown Friends School and Valley Forge Military Academy, also have the option of before and after care.
"We have tons of repeat visitors," Moorehead says. "Not only do we see the same kids, but we also rotate the topics to keep everything fresh and exciting."
It's important to Moorehead to bring hands-on learning to underserved communities as well, which is why she started a nonprofit in honor of her late husband, who was known as "Sparky." The S.P.A.R.K.S. Foundation—which stands for Science Projects Are Really Kids' Stuff—partners with local businesses to provide STEM (science, technology, engineering, and math) learning opportunities to children who might not get a chance to attend a Science Explorers afterschool program or camp.
The S.P.A.R.K.S. Foundation has impacted many kids and is always looking for companies that are willing to sponsor a program. Moorehead credits her corporate sponsors for their generosity, and she also praises her staff, which now includes her three children.
"My staff is amazing," she says. "People come to our company and they rarely leave. Everybody is here for the right reasons, and they want to make a difference. I could never do this all by myself; every person has an important job to make sure the kids are having fun."
While Moorehead is excited for what the future will bring for Science Explorers, hitting the 20-year milestone has given her a chance to reflect on how far it has come.
"It blows my mind, and I'm eternally grateful," she says. "It's the most rewarding job I could ever have imagined. We've seen kids who have gone through our program go on to pursue the sciences or become doctors. Through the S.P.A.R.K.S. Foundation, we've seen schools improve their test scores for science by 40 percent. It's just amazing the difference this program makes."
Science Explorers
(610) 816-5047
Photograph by David Naples Photography

Published (and copyrighted) in Suburban Life magazine, February 2019.
For more info on Suburban Life magazine, click
here
.
To subscribe to Suburban Life magazine, click
here
.
To advertise in Suburban Life magazine, click
here
.