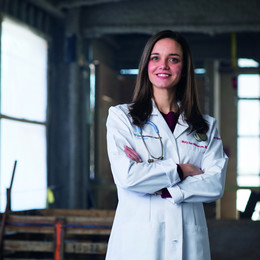 Matters of the Heart
With the opening of its new Center for Heart and Vascular Care, Doylestown Health builds on its commitment to excellence in heart health.
The cardiovascular system, with the heart at its center, is among the most vital, powerful, and even miraculous aspects of the human body. At the same time, it is also exceptionally vulnerable.
In fact, heart disease is the leading cause of death in the United States, according to the U.S. Centers for Disease Control and Prevention, accounting for one in every four deaths annually. That's 610,000 lost lives every year. Such staggering statistics speak to the importance of maintaining the health of the heart through preventive and, if needed, emergent care.
"Heart disease is the No. 1 killer for men and women," says MaryAnn Williamson, M.D., FACC, a board-certified cardiologist with Doylestown Health. "Men can begin to see problems as early as 55, even earlier if they have a genetic predisposition. Women generally see later onset, though later in life the risk for men and women starts to equalize."
In both sexes, the general symptoms of heart disease include chest pressure or discomfort in the central part of the chest. The pressure may then travel to areas such as the arm, neck, and jaw. An individual may first notice these symptoms during periods of physical exertion, though in the case of a heart attack, these symptoms may present when the patient is at rest.
Dr. Williamson has some advice for limiting one's risk. She stresses the importance of "knowing your numbers," meaning blood pressure, cholesterol level, risk of diabetes, and body mass index (BMI). She also recommends following a heart-healthy diet and, for healthy adults, getting a minimum of 150 minutes of moderate exercise per week.
"We need to invest in ourselves and live a healthy lifestyle," she adds. "Also, if we are aware of the risk factors that exist within ourselves and our families, we can take steps to lower the risk."
The Beat Goes On
When help is needed, residents of the Greater Philadelphia Area have a bounty of highly capable medical centers devoted to heart health. A leader in cardiovascular care for nearly two decades, Doylestown Health's highly experienced and fellowship-trained physicians and surgeons will soon realize new opportunities to expand their practices in a new facility commensurate with their capabilities when they open "a hospital within a hospital" on its flagship campus. The new state-of-the-art Cardiovascular and Critical Care Pavilion will be solely devoted to cardiovascular and critical care medicine.
Slated to open its doors in late fall of 2019, the Center for Heart and Vascular Care, located in the new Pavilion, will be seamlessly connected to Doylestown Hospital. Doylestown Health created every aspect of the new facility with heart health in mind—right down to the grand staircase and menu of the new café, which will offer a menu rich with heart-healthy foods.
The Pavilion will feature 100,000 square feet of state-of-the-art clinical and patient space. The Center for Heart and Vascular Care will occupy the second floor, featuring 30 new private patient rooms with designated zones for clinicians, patients, and families, and 20 private bays designed for maximum patient comfort during noninvasive procedures, while the third floor will house a 32-bed intensive care unit known as the Richard and Angela Clark Center for Critical Care Medicine.
The hospital aims to provide the pinnacle of care. An Endovascular Hybrid Operating Suite, for example, combines the latest technology with minimally invasive techniques to enhance patient safety, improve outcomes, and shorten patient stays.
"A cardiac catheterization could ideally be a one-day procedure," Dr. Williamson says. "In the past, such a procedure would involve an incision in the groin followed by a six-hour period of lying flat in a bed. Now, arteries can be accessed through the wrist—a much less invasive option. This also means recovery from the procedure will be less daunting."
The Center for Heart and Vascular Care is a central part of One Vision, which Dr. Williamson describes as a campaign to "take Doylestown Health to the next level of care." Recent accolades of Doylestown Health's cardiovascular services suggest this evolution is already underway. In 2018, for example, Doylestown Health was named one of the "50 Top Cardiovascular Hospitals" in the nation by IBM Watson Health, and was the only hospital in Pennsylvania and New Jersey to receive this distinction. It also improved its regional and state rankings (No. 7 and No. 13, respectively) in U.S. News & World Report's "Best Hospitals" list.
Once the Center is complete, the accolades are likely to keep coming.
"With this new facility, a patient can benefit from the most advanced technology and procedures, only minutes from home," Dr. Williamson says. "For nearly 100 years, we have been providing a high level of care and service, with 50 of those years dedicated to building a strong cardiovascular program. Now we are building the next transformational chapter in our history and are positioned to expand our reach even further, continuing to deliver the expert care for which we are known."
Photography courtesy of Peter Howard Photographer, Inc.