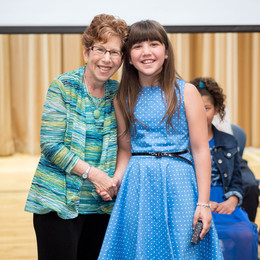 Turning Pages
Innovative tools inspire students with learning differences to nurture their love of reading.
"I do believe something very magical can happen when you read a book." Those words once fell from the lips of someone who knows a thing or two about the transformative power of a good story: J.K. Rowling, author of the beloved Harry Potter series.
To her point, there's a certain magic that happens between a reader and the book he holds in his hands. As the pages turn, the reader finds himself exposed to new ideas, transported to different worlds and points in history, and, in some cases, seeing the world differently, through another set of eyes.
"Reading exposes you to a tremendous amount of background, different cultures, and points of view, and it also helps you understand the structure of language," says Penny Moldofsky, the director of the Literary Institute at Woodlynde School of Strafford. "It's also a wonderful way for people to escape; it's entertainment."
While some people choose not to read, others shy away from the written word simply because they feel they do not have a choice. For children with dyslexia or other learning differences, the act of reading turns into a hardship.
Dyslexia affects the structures in the brain that control the ability to process the way language is heard, spoken, read, or spelled, according to The Dyslexia Resource in Atlanta. It's a wide-ranging problem that affects as many as one in five children in a classroom.
That's why Moldofsky is a proponent of something called the Great Reading Games, a seven-week national audiobook event dreamed up by a nonprofit organization called Learning Ally (LearningAlly.org). The event's purpose: to enlist educators in the effort to improve reading habits and comprehension skills among struggling readers. Moldofsky says the Great Reading Games is open to all students, kindergarten through grade 12, though the top scorers tend to be in fifth or sixth grade.
Last year, more than 200 Woodlynde students participated in the Great Reading Games, reading approximately 5.3 million pages—good enough for 27th out of more than 1,200 U.S. schools. As of early February, Woodlynde School estimated it was in 15th place in the 2019 national competition.
"My belief is that with anything new, you need to practice," Moldofsky says. "In general, I believe that you need to try something for two weeks to get the hang of it. With the Great Reading Games, we're able to hook the kids into doing something they wouldn't normally have tried. Students can have a link on their laptop and take the material home with them so it becomes an everyday experience. Basically, it's a motivational tool, especially in the smack of winter."
A tracking tool monitors students' audiobook reading progress, and the staff gets in on the action, too. To rally students on the first day of the Great Reading Games, Moldofsky typically dresses up in referee's garb. ("It's the only sport I coach," she says.) Educators recommend books and lead discussions. Also, the school's head of athletics, Scott Purdy, issues what's known as "The Purdy Challenge," in which he essentially dares students to read more minutes or more pages than he does. During one week in January, more than a dozen students bested him, according to Moldofsky.
She references one student, a fifth grader, who was "determined to read as many books as possible." She says the student would read every single day, in some cases with family members and even the family dog.
"To me, books are like candy," Moldofsky says. "I am usually reading several different things at any given time." One of her recent favorites: Unsheltered by Barbara Kingsolver.
One of the things she likes most about the Great Reading Games is that it underscores the notion that "there's not just one way" for non-readers to become readers. Whereas one student might naturally crack open a book and start reading, another student with a learning difference might need another approach to unlocking the power of the written word.
"Every day I get to see miracles happen," she says. "Students have to look at any type of way to get the learning and the pleasure you get out of reading. So many people say, 'I can do it the hard way,' but look for resources to help you, use them, and don't feel guilty about it. If it gets you to become a reader, it's not a crutch."
Making a Difference
While many schools throughout the Greater Philadelphia Area offer learning support services, a number of locally based schools specialize in educating children with dyslexia, dysgraphia, and other learning differences. The following schools offer an approach designed to help students understand their learning differences, learn how to become self-advocates, and gain the skills needed to succeed in college and afterward.
AIM Academy
Conshohocken
The Benchmark School
Media
The Camphill School
Glenmoore
Center School
Abington
Delaware Valley Friends School
Paoli
The Vanguard School
Malvern
Woodlynde School
Strafford
Photograph by Shira Yudkoff

Published (and copyrighted) in Suburban Life magazine, March 2019.
For more info on Suburban Life magazine, click
here
.
To subscribe to Suburban Life magazine, click
here
.
To advertise in Suburban Life magazine, click
here
.