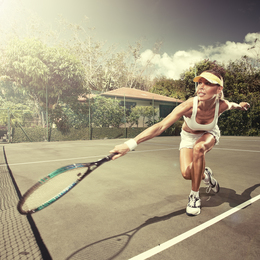 Return to Action
When orthopedic issues arise due to age, injury, or wear and tear, skilled specialists help patients get back on their feet.
Perhaps you've seen the AT&T commercial currently making the rounds on a TV screen near you. It begins with a patient in a hospital bed, asking a preoperative nurse about the aptitude of the surgeon who will be performing his looming procedure.
"He's OK," the nurse says.
"Just OK?" the patient asks.
Soon after, the surgeon in question strolls into the room and asks the patient if he's nervous. When the patient suggests yes, he's a little on edge, the surgeon responds, "Yeah, me, too," and then adds with an aw-shucks wave of the hand, "Don't worry about it. We'll figure it out."
The spot closes with the patient looking visibly, and understandably, alarmed.
The laughable absurdity of the premise aside, the commercial's primary message underscores an important point: Never settle for "OK" in matters of life and limb.
When an injury, wear and tear, or the simple passing of time causes an orthopedic issue that restricts an individual's level of activity or quality of life, where do you turn? The Greater Philadelphia Area has an abundance of skilled specialists and trusted institutions that can effectively treat a wide range of orthopedic problems associated with trauma, fracture, and disease. Often, these specialists can utilize minimally invasive techniques and muscle-sparing procedures that can result in diminished postoperative pain, a shortened hospital stay, and a quicker recovery.
* Bryn Mawr Hospital. With more than 125 years of history behind it, Bryn Mawr Hospital is an institution on the Main Line, in both the literal and figurative senses of the word. The hospital continues to reinvent its approach to patient care, as evidenced by the recent opening of a new eight-story Patient Pavilion—the result of a years-long, multimillion-dollar modernization project that has transformed the campus and enhanced every aspect of the patient experience. Long known for best-in-class orthopedic surgical care, the hospital has invested in a number of clinical advancements capable of adding greater predictability to patient outcomes. This includes larger ORs, some measuring as much as 700 square feet; preoperative imaging technology that enables better visualization of the area in which surgeons will be operating; robotics-assisted technology for greater precision in joint-replacement procedures; and an advanced airflow system to help lower the risk of postoperative infection. MainLineHealth.org
* Penn Medicine. With multiple locations throughout the region, the Penn Musculoskeletal Center incorporates the expertise of the full gamut of specialists—orthopedics, musculoskeletal radiology, pain medicine, physical medicine and rehabilitation, rheumatology, spine surgery, etc. Their shared goal: to help patients overcome injuries, pain, and other limitations so they can return to doing the things they love. Maybe it's a ballroom dancer who gets back on her feet courtesy of a double hip replacement; or a family man with a fondness for the outdoors whose successful knee replacement means he's able to spend more time camping with his family; or an athlete who recovers from the lingering effects of complex orthopedic trauma by way of specialized surgical care. With every patient, the Penn Musculoskeletal Center provides individualized treatment designed to help patients return to "life in motion" as quickly as possible. PennMedicine.org
* St. Luke's University Health Network. Long regarded as a leading healthcare provider throughout the Lehigh Valley, St. Luke's continues to expand its healthcare services (including orthopedic care) and widen its footprint in the Philadelphia suburbs. St. Luke's Bone & Joint Institute in Quakertown offers a wide range of services, including orthopedics, occupational medicine, physical therapy, pain medicine, and foot and ankle specialty care. In the near future, Bucks County residents are bound to notice a much greater presence in their backyard. As St. Luke's prepares to open a new 80-bed hospital in Quakertown, patients will benefit from a beautifully designed, state-of-the-art campus that has the facilities to match the exceptional quality of care St. Luke's has been providing at its existing Quakertown campus for many years. SLHN.org
* St. Mary Medical Center. In Langhorne, St. Mary Medical Center is known for excellence in orthopedic care, particularly total joint replacement, hand and upper extremity surgery, and spine and neck surgery, as well as trauma services, sports medicine, physical therapy, and pain medicine. Of particular note is the St. Mary Center for Joint Replacement, which offers comprehensive services for total hip, knee, and shoulder replacement. Prior to a patient's surgery, St. Mary can help to ensure surgical success by way of a home care visit and home assessment to assist in a patient's postsurgical recovery. The center has received a number of accolades, including the Gold Seal of Approval from The Joint Commission for hip and knee replacement, and its patient satisfaction scores rank among the highest in the nation. StMaryHealthCare.org/Ortho