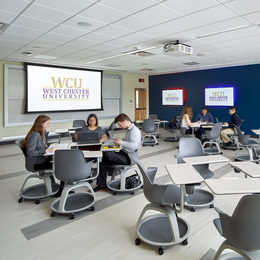 Down to Business
For working adults and full-time students alike, the online MBA program at West Chester University aims to revolutionize the world of business education.
Students have a number of reasons for wanting to obtain an MBA. Maybe they wish to earn a higher salary. Perhaps they believe it can increase their odds of receiving an important promotion. Or maybe they're looking to gain the vital business skills needed to start an enterprise of their own making.
Unfortunately, people often find reasons not to pursue this dream. It will take too much time, they believe, or cost too much money, or interfere with their existing commitments. That's not the case at West Chester University (WCU), where students of all ages, means, and backgrounds discover a solution designed to remove these obstacles: a fully online MBA program that has received local, national, and international acclaim.
"Our MBA program has been very successful," says Brian J. Halsey, J.D., LL.M, CISSP, graduate director for WCU's College of Business and Public Management and a professor of business law. "This has been recognized by U.S. News & World Report, which has ranked us in the top 100 for the last four or five years. For 2019, we were ranked at No. 58. That's a testament to the quality of the program."
WCU's MBA program began life as a hybrid, meaning it included online and on-campus classes. Although students could complete a fully online degree as far back as 2011, in 2016 the program moved from offering hybrid courses and transitioned to fully online as a way to meet nationwide demand from a growing population of adults looking to further their careers through education. The MBA program has been accredited by AACSB International (AACSB), a global nonprofit organization dedicated to recognizing meritorious business education programs around the world. Fewer than 5 percent of the world's 13,000 business programs have earned this accreditation.
"We definitely see ourselves as high value and high impact," says Evan A. Leach, Ph.D., dean of WCU's College of Business and Public Management. "In other words, students who go through our program are affected by it in terms of what they're able to do professionally, and how it changes their way of thinking about their fields. Our programs focus students' thinking in a way that is very productive."
Staying Flexible
Although each MBA class is meant to hone students' skills and challenge their thinking, Halsey describes the workload as "achievable."
"Thirty-six percent of our students are ages 30 to 50," he explains. "Almost all of our students are working adults. Some are traditional full-time students, but most have to achieve a work/life balance. These are people who have families, jobs, and are going to school at the same time. When we designed the program, we kept that in mind."
Flexibility in terms of scheduling classwork ranks among the program's greatest benefits. While students do have certain assignment deadlines to meet, students do not have to be at their computers at any set time of day. Such flexibility extends to the number of courses a student can take each year, too.
"A student can take time off, if needed, and rededicate themselves to their studies when they have time," Halsey says. "Students get married, have babies, have busy seasons at work, and we allow those students to pause their education for seven or 14 weeks when they need."
Each online class is seven weeks long, during which students can earn three graduate-level course credits. While most students take one course at a time, which sets them up to complete the full MBA program in just two years, Halsey says a full-time student can complete the program in as little as 10 months.
"There are 10 required courses in the MBA program, and every single course was picked to ensure that students have a broad-based MBA degree," Halsey adds. "Required courses focus on subjects including management, entrepreneurship, accounting, finance, economics, and law. We want to make sure that our students are prepared for any situation they may encounter."
'The Backbone of the Program'
No academic program can succeed without skilled instructors, of course. Most of the professors who teach WCU's online MBA courses are full-time faculty members who teach on campus at the university, according to Halsey. He describes them as "the backbone of the program."
"Most of our faculty are scholars with real-world experience," he says. "Many of our adjunct faculty members are executive-level businesspeople from around the area who work for—or who have worked for—major corporations and have many years of experience. I have students who come back years after completing the program to say how exceptionally happy they are with the things they've learned. They stop by because they want to give back or just to say how well the university has served them."
This speaks to one of the greatest strengths of WCU's online MBA program: an innate sense of community, including alumni who continue to add value to the program as guest speakers or panel participants. One such opportunity is a business idea competition sponsored by the Dr. Edwin Cottrell Entrepreneurial Leadership Center, through which alumni serve as either judges or mentors.
Halsey suggests students will have a tough time finding an MBA program that offers a comparable experience in terms of complexity, convenience, and overall value. Because WCU is a state university, tuition rates are, in his words, "exceptionally low," especially for a school with AACSB accreditation.
"Our program gives students technical skills, but what really sets our grads apart is their ability to work on a team, speak effectively, think critically, and solve problems," Leach says. "Technical skills coupled with strong social intelligence provide the best preparation. Whether a student is a 22-year-old who has just graduated, a mid-career professional, or a retiree seeking to expand their knowledge, we have educational opportunities for everyone."
The Graduate School
West Chester University
McKelvie Hall
102 W. Rosedale Ave
West Chester, Pa.
(610) 436-2943
mba@wcupa.edu
Photograph courtesy of West Chester University

Published (and copyrighted) in Suburban Life magazine, March 2019.
For more info on Suburban Life magazine, click
here
.
To subscribe to Suburban Life magazine, click
here
.
To advertise in Suburban Life magazine, click
here
.