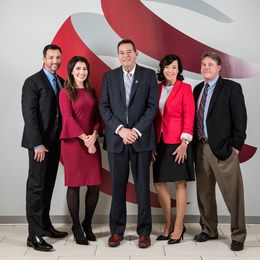 Welcome Home
Meridian Bank's home mortgage team offers a diversity of financing options designed to turn prospective homeowners' dreams into reality.
While moving into a new home may be a dream come true, the process of buying the home can be incredibly stressful. Jeffrey Messner, a residential loan consultant with Malvern-based Meridian Bank, says that's why Meridian created its home mortgage division: to simplify, streamline, and remove some of the stress from the home-buying process.
"Sometimes you hear stories at cocktail parties where people are talking about their nightmarish experience of getting a mortgage and purchasing a home," says Jeffrey Messner, who is based in Meridian's Blue Bell office. "I want to be part of the cocktail-party story where people say, 'We were in, out, and on our way quickly, and everything went according to plan.'"
Led by Senior Vice President, Residential Lending Thomas Campbell, Meridian's home mortgage team is headquartered in Blue Bell. Since its founding in 2010, the division has grown to offer a wide range of mortgage options, including federal and state programs, as well as conventional and reverse mortgages, designed to put prospective homeowners from all walk of life into the homes of their dreams. In addition, Meridian offers access to special government mortgage programs—Federal Housing Administration loans, Veterans Affairs loans, and U.S. Department of Agriculture loans, for example—that may offer options for clients who thought they would never be able to purchase a home.
Daniel A. Premo considers USDA loans, which are part of the USDA's Rural Developmental Guaranteed Housing Loan program, his specific area of expertise. He suggests USDA loans do not require a down payment, with the added benefits of reduced mortgage insurance premiums and below-market mortgage rates.
"In a lot of cases, the people I help through USDA loans are people who got into a bad situation because of life circumstances," says Premo, a loan officer in Meridian's office in Seaford, Del. "Maybe they didn't have a lot of reserves, and then they got in an accident or had a medical bill they had to pay, and they had to make a decision that hurt their credit. These are honest, hardworking people who I identify with; my dad started his accounting practice out of an office in a garage, and I followed a similar path."
With Premo's leadership, Meridian was the top USDA lender in Delaware from 2015 through 2018. USDA loans require "a lot of energy" on Premo's part, but he says they are worth the effort if they help clients achieve the goal of home ownership.
"My job is to listen to you and then go to bat for you," he says. "We'll see where we can fight on your behalf, where we represent you and the underwriter is the prosecution. The key to our success is our ability to dig through your past and get the real story, not just rely on a credit score. If someone is paying $800 in rent faithfully and their landlord is willing to vouch for them, in my mind they're going to pay their $800 mortgage, too."
For Premo, the service he provides doesn't stop at helping clients identify the best option to finance a home. He also enjoys educating his clients in ways that can help them become more fiscally sound in other areas of their life.
"I've always found it strange that in high school and college, people aren't taught about the practicality of finance along the lines of, 'This is how you manage your credit,'" he says. "I have the opportunity to do that with every client. Even if I fall off the face of the earth tomorrow, at least I know I've taught a few people something that can impact their financial footprint. What an amazing gift that is, and it's what keeps this fresh for me."
Although Premo finds client education rewarding, he says it's secondary to putting the keys to a new home in someone's hands—especially when that someone has been struggling to realize this dream for a long time.
"Recently one of the loan officers on my team told me he had a client who cried when she got to the last page of the agreement," he says. "Up until that point, getting a loan seemed impossible to her because she had been struggling for more than 10 years. It's almost surreal. We're helping people finish the race. We go to every settlement, and when we hand them the keys at the end, there's no better feeling."
Upfront and Personal
What do homeowners look for in a mortgage partner? Messner says most people seek the lowest possible payment and opportunities to save on closing costs, as well as a skilled guide to help them navigate what can be a complex process.
"Buying a home is probably the largest and most stressful investment for 80 to 90 percent of the population, so you have to let people know, 'Here's what you can expect,'" he says. "My job is to make sure our clients are hitting all the dates so we stay in compliance with the contract, and to make sure we have the right, competitively priced product for their needs. Before they sign an agreement, I want to make sure they know what may be the best loan option for them, and I'm preparing them for a smooth transition."
While Meridian offers "the whole gamut" of financing options, Messner says the majority of his business comes from conforming 30-year loans and 20-year fixed rate loans. Regardless of the client, he takes the time to explain all of the options that might apply to each individual's situation.
"Every client is unique, but the stakes are the same," he says. "We're dealing with dollars and cents, but there's also some psychology involved, in that you sometimes have to reassure people. I often finding myself reminding clients, 'You can afford this home, and if you have any questions, let me know.' It comes back to being friendly and treating people with respect, and letting them know upfront if an issue arises."
With Meridian Bank, clients benefit from the power of the collective. The company boasts a team of professionals who are committed to "sharing information and working toward the same goal," as Messner says.
"If there's an underwriting issue or a closing issue, I can walk down the hallway and talk to someone who can help to get the issue resolved," he adds. "Nobody is unapproachable here, and nobody is too high up for me to talk to—and that includes Mr. Campbell, the gentleman who's running the whole show."
Premo has had a similar experience in his seven years with the company.
"I can call Chris Annas, our CEO, and ask if I can sit down with him tomorrow, and he would say, 'Sure, Dan, I would love to have you'—and that was true even before I became a top producer here," he says. "The people here are my colleagues and friends, and they make me feel appreciated and affirmed in that what I'm doing matters. That kind of down-to-earth, personal feeling extends to our clients, too, because they're the reason each one of us is here."
Meridian Bank
(484) 235-0462
Photograph by Jeff Anderson