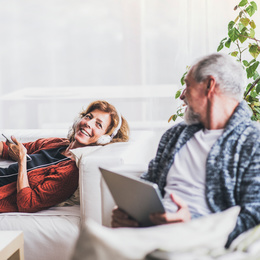 The Best Is Yet to Come
At Meadowood Senior Living, residents discover a vibrant, welcoming and ever-changing community, designed to nurture all aspects of their lifelong wellness
"The only constant in life is change," as the old saying goes. This maxim certainly applies to life at Meadowood Senior Living in Worcester, where residents come to explore new opportunities, meet new people, and become part of a vibrant, ever-changing community.
"One of the things I love to hear is when new residents move here from a home they lived in for 40 to 50 years, and they say, 'This feels like home,'" says Paul Nordeman, CEO of Meadowood. "We're always thinking about the next thing we can do for our residents to help them live the most fulfilling lives possible. Our mission is to provide the highest quality of life for all who come to the community, and that's going to mean something different for everybody."
With its mission front and center, Meadowood strives to maximize each resident's individual potential by nurturing the six dimensions of overall wellness—emotional, intellectual, physical, social, spiritual and vocational. In other words, the community aims to make each resident's experience unique, because each resident is unique.
"When someone new joins our community, the rhyme and rhythm of his or her life is whatever he or she wants it to be," says Beth Cwiklinski, MSW, MBA, vice president of residential health services. "Our residents help to run more than 60 life-enrichment activities, ranging from photography to book clubs to woodworking to volunteer services. And if they have an interest in something that hasn't yet come up, one of the things I appreciate most about our residents is that they take the initiative to create it on their own, and we're happy to support them however we can."
Meadowood's founders, Bill and Sylvia Strasburg, envisioned a community where the residents, the management staff and the board of directors would work closely together when making important decisions that shape the resident experience. Nordeman says that residents typically have "the strongest voice." As a result, the campus is in a state of forward progress. For example, residents' requests led to the recent addition of a second swimming pool, as well as pickleball and shuffleboard courts.
Always Growing
Meadowood is a true Life Plan Community, meaning that it provides the full continuum of care. In addition to the approximately 350 seniors that reside in a variety of independent living options, the community has a health center that includes 59 beds in skilled care and nearly 60 beds in personal care, including memory support. The skilled care unit also includes short-term rehabilitation and nursing care to serve individuals from outside the community, with rehabilitation services provided by MossRehab, part of the Einstein Healthcare Network.
While residents appreciate having access to a continuum of care options—as well as the park-like setting of the sprawling 130-acre campus and the breadth of wellness options— Cwiklinski suggests that Meadowood's greatest assets may be less tangible.
"No two days are ever the same, and I think that's true whether you work here or live here," she says. "Meadowood has a great sense of community, driven by the warmth and friendliness of the people—employees and residents alike. For most residents, it's an incredibly difficult decision to leave their home and move into a community like ours, but once they get settled in, Meadowood quickly becomes home for even the most reluctant residents. That's really powerful to me."
One of the most recent examples of Meadowood's continued evolution is Meadowood At Home, a membership program that enables healthy non-residents, ages 62 and older, to stay in their homes as they age. For a one-time membership fee and an ongoing monthly fee, each member receives a personalized plan that preserves the individual's independence while anticipating future care needs. In addition, members receive access to a full range of in-home and on-campus programs, including services designed to keep members active and engaged, such as exercise classes and wellness seminars.
Montgomery County resident Holliday Hammond is one of Meadowood At Home's first members. She worked as an assistant to the CEO for 15 years, so when she first heard about the program, she knew it would be of the highest quality. She considers the program "an insurance plan" of sorts.
"I didn't want my daughters to have to worry about me," says Hammond. "I had a long-term care insurance policy, but it was limited in scope. Meadowood At Home is reasonably priced for what you get, and if I have an issue, I have the comfort of knowing I can move into the health center if I need to. I know Meadowood will take care of me for the rest of my life."
Hammond maintains an active schedule, traveling to destinations both near and far. Once her schedule slows down, however, she intends to take full advantage of the program by attending classes and educational programs, as well as using the swimming pool.
"I saw the program take shape from the very beginning, and I immediately thought it would be a great option for me," she says. "I'm healthy and financially OK, and I also like being at home and having my own space. I think it's a good option for someone who doesn't want to or isn't ready to move into a retirement community."
Serving More Seniors
Perhaps the most visible change to the Meadowood campus is The Grove, a bold expansion project currently under construction. Due to open by year's end, The Grove will feature 52 new residences, each measuring 1,300 to 1,800 square feet, with amenities such as first-floor parking, a fireplace and a patio, as well as pristine views of a beautifully manicured courtyard. Early feedback has been "very favorable," according to Nordeman.
"We became 100 percent occupied with our independent living homes, so it was time to grow," he says. "With The Grove now going up, it will add another level of diversity to residents' living options. It's being built in such a way so that every home is a corner home, with windows on the sides and front, so there's an abundance of natural light, which people love. It's also 100 yards from the community center, so residents can take full advantage of all our services and dining programs."
The recent developments at Meadowood remind Nordeman of the conversations he used to have with the late Bill Strasburg, when Strasburg was a community resident.
"As a courtesy, I would share our future plans with Bill, and he would offer his perspective," Nordeman says. "He would say, 'It's not about the buildings; it's about serving more people.' With the expansion of The Grove and the introduction of Meadowood At Home, I'm inspired by our growth. And that's what excites me most: the opportunity to serve more people and share our mission with more seniors."
Meadowood Senior Living
3205 W. Skippack Pike
Worcester, Pennsylvania 19490
(610) 584-1000
Published (and copyrighted) in Suburban Life magazine, March 2019.
For more info on Suburban Life magazine, click
here
.
To subscribe to Suburban Life magazine, click
here
.
To advertise in Suburban Life magazine, click
here
.