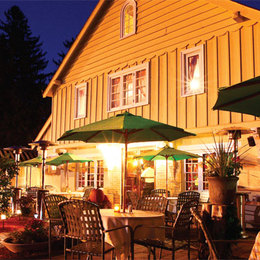 Restaurant Review: Erini
Wins you over from start to finish
Restaurants critics—all critics, for that matter—are skeptics by nature and job description. As such, we tend to go into new experiences (a restaurant, a movie, whatever it is we're assessing) looking for both the good and the bad that ultimately, cumulatively, come to define what's under consideration. And even when things start off well, the best practitioners of this critical trade tend to remain uncertain that it will continue.
That being said, Erini won me over, and rendered much of my skepticism moot. The food, from the primal comfort of a warm roll and the clever balsamic tang of a dish of olives, all the way through to desserts of balanced richness was appealing in a way that far too few restaurants manage. And though the service did experience a couple of hiccups, it was never anything but charming, enthusiastic and helpful.
Erini's menu is generally Mediterranean-influenced with a more or less Greek philosophy undergirding many of the specific dishes, though there are occasional forays to other parts of Europe. What unites this broad range of preparations is a focus on local ingredients and a goal of expressing their flavors and textures as clearly as possible.
As a result of this, even dishes in particular (and cooking methods in general) that are not necessarily quintessentially Eastern Mediterranean share a kind of simplicity that nods in the direction of the more straightforward, ingredient-focused cooking of that part of the world.
The fried calamari—a generous portion that will leave two people a lovely lunchtime appetizer for the next day—were tender and almost milky in texture on the inside, which made the crisp, shattering fried crust even more appealing. The occasional fried red onion or jalapeño lent the dish an unaccustomed snap of bright sweetness, which was lovely against the more savory notes of the squid itself. Dipped into the chili sauce on the side (infinitely more interesting than the marinara), it's one of the best in Bucks County, no question.
Even on the heavier (and not Mediterranean) side of things, this kitchen succeeded. The excellence of the French onion soup gratin rested on the perfectly savory-sweet stock that anchored it all. From the high notes of the caramelized onion slices throughout to the nutty notes of the blistered Gruyere crowning it, that stock provided a perfect palate against which every other component could express itself.
Spinach and baby arugula salad brought together two greens that are typically not used in the same dish. The combination— hearty and toothsome, with an occasional peppery lift—provided a lovely counterpoint to the emulsified honey vinaigrette, tomatoes, candied walnuts, and generous shavings of parmesan that rounded out our half portion, which, despite its label, was more than enough for two.
Entrees worked just as well—even the filet mignon, a cut for which I have no great affection. (It's too lean for me; fat, as the well-worn food saw goes, equals flavor. Give me a flank or a rib eye any day.) But the kitchen was out of flank steak that evening, and our waiter (who happened to be Nick Fifis, co-owner of the restaurant with his mother Dori and father Chris) strongly recommended the filet.
I was not disappointed: The gentle char brought to its otherwise mild mineral notes a depth and sense of satisfaction that I've come not to expect from the cut. A concentrated Portobello demi-glace provided the bass-notes that filet often lacks, and Gorgonzola mashed potatoes a sense of the funky. This, too, was offered in a half portion, which was plenty of food. I cannot remember the last time an order of filet mignon showed up on my bill for less than $18.
Then there are the crab cakes, which were unquestionably among the best I've had in years. Their success, as with so many great preparations, rested mostly on the quality of the ingredients: Colossal or jumbo-lump crab meat, roasted red peppers, Old Bay, and more: the standards, but in pitch-perfect proportion.
Desserts brought the meal to an end on a more traditionally American note. Chocolate cake was rich, subtle band possessed gentle berry undertones for a sense of complexity, but it was the carrot cake that stood out. All the classic components were in excellent proportion save one—the ginger—which stood out beautifully and brought the slice a sense of unexpectedly spicy exoticism. Set against the classic cream cheese icing, it was wonderful and addictive.
Critical skepticism is a prerequisite of this job, but sometimes, you're simply won over, and just have to give yourself up to good food. I was happy to do so at Erini.
Brian Freedman is a food and wine writer based in Philadelphia. (BrianFreedmanPhiladelphia.com)