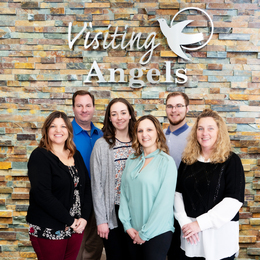 Heaven Sent
Through Visiting Angels of Doylestown, local seniors age gracefully and comfortably in their own homes, while loved ones receive much-needed peace of mind.
Advances in medicine, technology, and other modern conveniences have pushed the average life expectancy in the United States to its highest point in recorded history. People routinely live into their 80s, 90s, and even past the century mark, though many of these individuals require daily assistance to maintain their health, safety, and independence.
For nearly 20 years, families throughout Bucks County and eastern Montgomery County have been turning to Visiting Angels of Doylestown for help when it comes to caring for older family members. The company offers a full range of nonmedical home healthcare services—everything from personal hygiene, bathing, and grooming, to light housekeeping, doctors' visits, and companionship.
Seventeen years have passed since Steve and Jacqueline Mekanik started Visiting Angels of Doylestown. The husband-and-wife team has since grown their enterprise into a team of more than 100 qualified caregivers capable of serving more than 80 families throughout the area.
"Many people want to stay in their own home and age in place, and the services we provide are a safe, cost-effective way for them to do that," says Steve Mekanik, an accountant by trade. "We always wanted to have our own business, and we always liked helping seniors, so we saw this as a perfect fit. Jackie has always had a fondness for angels, so when we found an opportunity with a company named Visiting Angels, a partnership seemed like it was meant to be."
Restoring Balance
Visiting Angels of Doylestown is one of several hundred franchisees under the corporate parent, which is based in Bryn Mawr. Bonded and insured, the company also runs full criminal background checks and child-abuse checks on every employee. In addition, Visiting Angels continuously monitors its caregivers to ensure that recipients receive the best possible care.
The benefits of the services provided by Visiting Angels are invaluable. Seniors get to stay at home and maintain their independence, while family members receive the comfort of knowing their loved ones are receiving help from experienced professionals who truly care about seniors' wellbeing. Steve Mekanik adds that Visiting Angels accepts long-term-care insurance as well as private pay, with rates that he describes as "among the least expensive options out there."
"The service we provide can give a family a certain amount of peace of mind so they can go about their daily lives, while their loved ones are taken care of and safe in their home," says Jacqueline Mekanik, a registered nurse with a background in pediatric nursing. "Nothing is going to take the place of a family member, but we can provide coverage for a family so the time they spend with their mother or father is quality time."
Many adult children work full time and have families of their own, so they struggle with the challenge of caring for an aging parent. Factors such as long distances between family members can make the challenge that much more daunting, according to Denise Calafati, marketing manager for Visiting Angels of Doylestown.
"Taking care of an aging parent can be an overwhelming adventure," she says. "By bringing a professional caregiver into the mix, the adult children can return to being just a daughter or just a son, not the caregiver, so now they're actually sitting and spending time with Mom or Dad. Family dynamics can be a challenge, too, especially when there are multiple children and one child is doing the bulk of the caregiving work. A service like ours helps to restore that balance."
Visiting Angels strives to make a senior's ability to stay at home a positive experience for all involved. Most of the caregivers enlisted by the Mekaniks have worked with the company for several years and have a background in elder care. Through these caregivers, aging loved ones can maintain their dignity, as well as their independence, while going about their daily routines in familiar surroundings. By doing so, seniors will be spared from the emotional difficulty of having to leave their home.
'Whole and Home'
Besides helping clients with the activities of daily living, Visiting Angels can lend assistance in the event that unexpected problems arise. Through home assessments for would-be clients, for example, Visiting Angels may be able to eliminate potentially problematic "danger zones" in a home, such as throw rugs that may be trip hazards or unsteady stairs that could facilitate a fall.
"People trust us to be in their home, and they also look to us to be a resource," Calafati adds. "We're here to help people with whatever they might need. In some cases, they just need answers to questions. What do they do if they need a Hoyer Lift? How do they know if it's time for hospice care? What do they do with their parents' finances? If we can't handle the problem, we'll certainly help them find the solution. Our job is to keep the seniors we care for whole and home."
Visiting Angels understands that different individuals have different needs. For example, the company can provide care for seniors and families with specialized needs, such as Alzheimer's disease and related illnesses, multiple sclerosis, and Parkinson's disease. In addition, when needed, specially trained caregivers can provide hospice care, palliative care, and assistance to military veterans. In other words, the company tailors care based on the needs of recipients and their families, yet it's flexible enough to adjust care schedules as recipients' needs change.
"There are a lot of home healthcare companies out there, so it's important for people to make sure they are working with organizations that know what they're doing," says Jacqueline Mekanik. "If someone has an immediate need, we're always available. We also try to go the extra mile; it's not unusual for us to run out on nights or weekends to do an assessment. If what we're doing improves a senior's life and gives a family some reprieve, we're happy to do it."
Visiting Angels of Doylestown
3655 Route 202, Suite 116
Doylestown, Pa
(215) 345-9600
Photograph by Jody Robinson