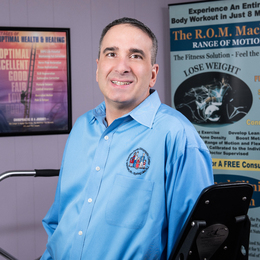 Healing the Addicted Brain
Dr. Gary Scardino uses revolutionary chiropractic techniques to help individuals struggling with addiction overcome their diseas
People traditionally seek out chiropractic care to treat pain in their back or neck. In some cases, they also use it to find relief from conditions such as allergies and headaches, which is further evidence of chiropractic care's ability to help the nervous system function more efficiently. This is the foundation for advanced treatment on those struggling with addiction, and Dr. Gary Scardino is one local chiropractor who is using it to change people's lives.
Dr. Gary Scardino's career in health and wellness spans more than 30 years. He is a chiropractor, designed clinical nutritionist, board-certified addiction recovery specialist, and auriculotherapist, as well as a certified John Maxwell Leadership and Success Coach. At Scardino Family Chiropractic Center in Newtown, he sees patients for a variety of services, from general chiropractic care to more difficult cases of chronic diseases such as fibromyalgia, nutrition/weight loss, smoking cessation, and addiction recovery. It is in the area of addiction recovery that Dr. Scardino believes he can make the most change in the community.
"Drugs manipulate the chemicals in our brains, and these substances often include junk foods, sugars, chocolate, alcohol, nicotine, or stimulants," he says, adding that lately he has seen many cases of people struggling with opioid addiction. "People initially go on these medications because they've been injured or had surgery. Drug companies knew they were making something more addictive than morphine, and now you have people becoming addicts and losing their house and kids."
Several years ago, Dr. Jay Holder, a chiropractor in Miami Beach, released findings from a study showing that chiropractic care played an important role in helping patients overcome addiction. Using Torque Release Chiropractic on a sample of patients in a recovery program over a 30-day period, 100 percent had a program completion rate.
"For the sample of patients under chiropractic care, they reported less depression, less anxiety, less stress, less drug hunger," Dr. Scardino says. "They were more likely to go to meetings, and when they finished the program they were more likely to stay clean."
Dr. Holder's studies showed that subluxations or misalignments in the spine could potentially interrupt a person's natural "feel good" brain chemicals—from serotonin and dopamine, to norepinephrine, gamma-aminobutyric acid, and endorphins—all of which work together to produce feelings of wellbeing.
"Those suffering from Reward Deficiency Syndrome are unable to produce an adequate feeling of wellbeing and, consequently, often self-medicate with substances that help raise the levels of 'feel good' chemicals in their system, if only temporarily," says Dr. Scardino. "My program is proven to restore the Brain Reward Cascade, while removing toxins and restoring proper brain chemistry."
There are several facets to the treatment approach, including adjustments, nutrition and counseling. Dr. Scardino uses the Torque Release Technique with the first FDA-submitted chiropractic tool called an integrator. This spring-loaded instrument mimics a chiropractor's hands and delivers the adjustment at a high rate of speed to a concentrated area of the spine, with the goal of resetting the nervous system. The next phase is auriculotherapy, which involves stimulating the auricle of the external ear using needleless acupuncture. This low-level electrical current on the ear stimulates four cranial nerves that release endorphins, enkephalins, and serotonin.
"When someone tries to quit their addiction, nothing tells the brain to start releasing those natural chemicals again, so the brain seeks it out from where it came from last time," says Dr. Scardino. "This therapy heals that area so the brain remembers on its own."
To round out treatment, Dr. Scardino offers a ROM exercise machine, which provides a full-body workout (equivalent to one hour and 20 minutes) in only eight minutes a day, to strengthen the muscular, skeletal, and cardiovascular systems. Nutrition response testing is another important component to restore organ function. In addition, Dr. Scardino has referral relationships with some of the leading therapists in Bucks County or can work with a patient's current counselor to enhance a patient's recovery.
Dr. Scardino's treatment is not limited to those who have used hard drugs.
"There are diseases with the same brain chemistry issues—anorexia, anxiety, stress," he adds. "We're seeing teenagers cutting themselves or with suicidal tendencies because of their stress levels."
The office is family-oriented, with patients of all ages. Also, Dr. Scardino treats a variety of symptoms, meaning patients can feel confident that the reason for their visit won't be revealed.
"It feels wonderful to help someone overcome these battles," he says. "I'm happy to help get their lives back on track."
Scardino Family Chiropractic Center
319 South State Street
Newtown, Pa.
(215) 860-7275
Photograph by Jeff Anderson

Published (and copyrighted) in Suburban Life magazine, March 2019.
For more info on Suburban Life magazine, click
here
.
To subscribe to Suburban Life magazine, click
here
.
To advertise in Suburban Life magazine, click
here
.