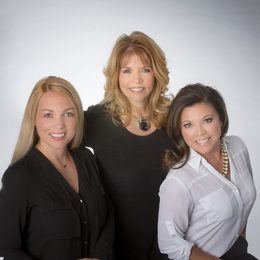 Great Estate
Through top-notch customer service and a commitment to excellence, Realtor Hazel Smith and her new Keller Williams team connect people to the homes of their dreams.
Realtor Hazel Smith and her colleagues Jenn Utterback and Katie Smith have always focused their careers on helping families first.
"We are responsible for protecting our clients' goals and have fiduciary responsibility to them," Hazel says. "We always have their best interests in mind. We guide and educate throughout the tedious and at times emotional process. We work with mortgage companies, appraisers, contractors, attorneys, home inspectors, stagers, and other professionals. Our clients' real estate transaction is our team effort, which we orchestrate from start to finish. Our expert advice and strong negotiating skill are here for our clients and their real estate goals."
Hazel beams with pride when she speaks about her new affiliation with Keller Williams Realty, recognized among Fast Company's 2019 list of most innovative firms.
"What's really wonderful about Keller Williams is that we're the No. 1 realty company, and the largest, in Bucks County," says Hazel, who has been a real estate professional for 15 years. "Keller Williams also has a very sizable national network of Realtors, so for people who are relocating, that is a big help. We have all the latest technology and we utilize Bright MLS—the newest and most efficient Multiple Listings Services available. With Bright MLS, we can offer our clients listings instantly as they post."
Hazel specializes in listing homes throughout Bucks County and Philadelphia. Selling the home is her priority, but she's also happy to help clients manage the emotional and financial stress that comes with it.
"For some people, it's time to downsize; for others, it's time to move up. Either way, we need to get the house in order," she says. "A buyer's first impression is online, and the second showing is when they walk through the door. When people are getting ready to put their house on the market, sellers need to declutter and figure out what they'll be bringing to their new home. Why pay a mover to move things you'll never use again, when you can donate those items to a women's shelter or a charity? It helps the seller and the charity when someone donates an item to give new life and new purpose to it."
Above all, Hazel recognizes that the process of selling a home is not easy for anyone, even the most emotionally strong people.
"A lot of times, people are going through a very emotional time when they're selling their house," she says. "There may have been a divorce, or maybe someone's parents have passed and the children have to sell the family home, or a person has to move for a job. There are always different circumstances. It can be very hard."
A house isn't just a house, after all. For many, it's a lifetime of memories. According to Hazel: "Just as a person wouldn't want to go through a divorce without proper representation, a person shouldn't undertake buying or selling a home without it."
"As a widower for four years, with two daughters in college when the process started, I was in desperate need of a knowledgeable, confident Realtor to guide me through a difficult and strenuous process in a difficult time in our life," says client Eric Shippion. "I found all that in Hazel, and gained a friend and someone I will refer for years to come."
"Hazel was instrumental in the selling of our first home and helped us get to our new beautiful new home in Upper Makefield," share Steve and Meredith Rothchild. "Hazel and her team are proactive, responsive, and extremely thoughtful."
In addition to having the invaluable backing of Keller Williams and its vast expertise, Hazel has a wonderful team in place to support her efforts. Her assistant, Donna, provides vital support to both Hazel and her clients.
Teammate and fellow Realtor Jenn Utterback shares glowing sentiments about Hazel, whom she describes as "willing to do anything to help her team or her clients." Like Hazel, Jenn is a Bucks County citizen through and through.
"Growing up in New Hope, working for years in Doylestown and now living in Yardley has really provided me a great understanding of the Bucks County area," Jenn says. "I love being able to help my clients through personal experience. … I feel confident I can help make the right decisions with my clients.
"I believe my background, as well as the constant education Keller Williams provides to its agents, means my clients are in the best hands," she continues. "Not only do I consider myself a local, but I also have a design background, so helping my clients envision their dream home or setting up for selling is my secret weapon."
Fellow Realtor Katie Smith is another valued team member who, like Jenn, places tremendous value on the pride she has in working with an experienced team.
"Working with Hazel is a pleasure," Katie says. "Her knowledge and expertise as a seasoned Realtor really helps when I'm looking for new ideas to share. We fill in for each other when the other can't be there, so our clients are never inconvenienced."
Born and raised in Philadelphia, Katie moved to Bucks County in 1996 and remains there to this day, with her husband and two sons. As a longtime resident of southeastern Pennsylvania, Katie is well versed in territories spanning Bucks, Montgomery, and Philadelphia counties. In the three years since she started her career as a professional Realtor, Katie has come to love connecting people with the homes they've always aspired to own.
"I enjoy selling dreams," she exclaims. "There is no better feeling than getting the best possible review from my clients. My success in real estate is all because of them."
Katie, a five-star Realtor, says she is always striving to find new and innovative ways to better serve her clients. As Katie likes to say, "Closing deals in heels."
Like Hazel, Katie is more than excited to have been welcomed into the Keller Williams family. Katie shares, "What is exciting about being at Keller Williams is that they offered me the opportunity to expand my professional relationships and to work alongside Hazel, who has been a mentor and friend for me in the real estate industry."
For Katie, the real estate industry has been a blessing, affording her the opportunity to meet new people and tackle new challenges. She emphasizes her gratitude for all the opportunities that her career has afforded her, and says serving her clients is among her greatest professional joys.
"Achieving the best possible customer service is getting to know my prospective buyers and sellers and getting to know their likes and dislikes," she explains. "I always try to make myself available to them so that their experience is as pleasant and easy as possible."
"I'm working with wonderful agents here," Hazel adds. "We help out with so many community events, including National Wear Red Day benefiting the American Heart Association. We are very involved in the community and outreach programs benefiting Doylestown Hospital, St. Mary Medical Center, veterans' associations, and food collection for local pantries."
In addition to supporting these organizations through her work with Keller Williams, Hazel works with Soroptimist International, an organization dedicated to uplifting women and girls across the globe.
"Realtors keep the community going," she continues. "We keep the economy going by supporting contractors, plumbers, and more. We're a great resource for helping out in the community."
Hazel Smith, a Keller Williams Realtor
(215) 696-2018
Hazel@ListWithHazel.com

Published (and copyrighted) in Suburban Life magazine, March 2019.
For more info on Suburban Life magazine, click
here
.
To subscribe to Suburban Life magazine, click
here
.
To advertise in Suburban Life magazine, click
here
.