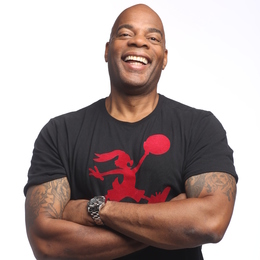 Quick Wit
Standup comic Alonzo Bodden talks NPR, motorcycles as meditation, and the perils of air travel.
"If I've offended you, I've done my job."
So says Alonzo Bodden, a standup comedian probably best known for being a panelist on the NPR news quiz Wait Wait … Don't Tell Me!, heard locally on 90.9 WHYY-FM. Although he says offending people isn't too difficult these days, his goal is to make people laugh.
"Comedy is getting really difficult; you're supposed to create a reality that is funnier than the one we live in, but that has become close to impossible," says Bodden, who will be taking the stage at Helium Comedy Club in Philadelphia from April 18 to 20. "Probably the greatest compliment I've received was when Playboy magazine did a thing on George Carlin, and they listed me as one of the spawn of Carlin. George would never apologize for a joke, and I am not going to either."
During an hour-long interview, Bodden shared his thoughts about everything from his love of motorcycles to Rodney Dangerfield's bathrobe.
Q&A
Is working on Wait Wait … Don't Tell Me! as much fun as it sounds?
Absolutely. What I love about it is the originality. I never know what the questions are, and I always have a good time. The fans of Wait Wait are very interesting people; it's like they grew up being nerds and now they've all come together. They take a while to accept you, but once they do, they're great fans. … I think my favorite moment was when I met a woman after the show, and she told me, "You sound fat on the radio."
It seems you're always on the road somewhere. Do you still like traveling?
I always say that I get paid to travel; I tell jokes for free. Airports and airlines beat you up. … That's the tough part. With every job there's something you like and something you don't like. The thing I've learned is that you spend money to be as comfortable as possible. I'm not saying I take private jets or fly first class every day, but when you're flying every week, you're not looking at basic economy. To the people who are reading this, you know that you're not allowed to bring water onto the plane, so stop holding the line—and maybe don't wear those knee-high lace-up boots.
What did you do before standup?
I was an airplane mechanic. If this comedy thing doesn't come out, I still have my toolbox. I did that for 10 years, and when I was training new mechanics, I found that I had more fun making them laugh than I did training them. So I decided I wanted to try comedy. McDonnell Douglas cooperated with my dream by laying me off. I started by doing open mikes in places where standup comedy never should be done: the backs of bookstores, rec rooms, trailer parks, and bowling alleys. … I was working as a doorman at the Laugh Factory [in L.A.], and it was my education in comedy; my professors were some of the greatest comics there are. I was seeing Dom Irrera, Damon Wayans, George Lopez, and then you would have the legends come in; Rodney Dangerfield would come in in his bathrobe. I learned by watching them.
You're also famous for being a gearhead, particularly motorcycles. How did you get into bikes?
When I was a kid, I fell in love with the feeling you get when you're moving. It's my meditation. I feel free, and I love the power. Jay Leno is a friend of mine, and he's a big bike guy—I've been on Jay Leno's Garage, which is a lot of fun. The great thing about motorcycle people is that you never have to explain why you have more than one. I have a BMW, which is German; an Indian motorcycle, which is made in the U.S.; a Triumph, from Britain; and a Honda, which is Japanese. I'm representing all countries. I used to have a Ducati, too.
How fast did you go on the Ducati?
We're not going to admit anything. The stunters—the young guys doing wheelies—they keep making the mistake of doing what they're doing and posting the videos on YouTube, and the police just track them down by their license plates.
After your appearances in Philly, any upcoming projects people should know about?
I'm going to be hosting a live version of Family Feud that's touring around the country in May and June. I don't know what to expect, but I know it's going to be fun. I'll keep doing a lot of club dates, and I'll probably be at Just for Laughs [comedy festival] in Montreal, where I was discovered 20 years ago. I love Canada. If global warming works out, maybe I'll consider moving there.
Photograph by Todd Rosenberg