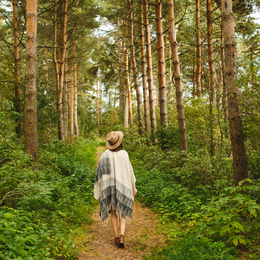 Mind, Body, Spirit
In the quest for optimal wellness, follow your own path.
In its purest state, the human body is a perfect machine. Even so, most people need some assistance in their quest to achieve optimal mental, physical, and emotional wellness, by way of medical intervention and deliberate attention to self-care such as meditation, movement, and time spent in the natural world.
We offer the following insights into activities and therapies that can provide a path to peace—in mind, body, and spirit—all in the name of helping you become a healthier, happier human being.
Branching Out
Can spending time among the trees provide a balm to heal a weary soul?
There's something powerful, transformative, and even magical about walking in the woods. The sights, sounds, smells, and sensations associated with forested areas—towering trees, flowering greenery, birdsong, leaves rustling in a gentle wind—can have restorative or even medicinal effects on the human body, according to a 2018 study published in the journal Environmental Research. In fact, the Japanese developed a word for this activity, as a balm for coping in a weary world: Shinrin-yoku, loosely translated as forest bathing.
Morris Arboretum of the University of Pennsylvania in Chestnut Hill has long recognized the importance of spending time outdoors. That's why essentially all of its educational programming tends to include at least some time outdoors, according to Bryan Thompson-Nowak, the arboretum's assistant director of continuing education.
"Some folks have seen some very obvious positive benefits of spending this unscheduled time outside—their mood, their ability to relax, their blood pressure," he says. "For some people who do our mindfulness meditation walks, mostly they say they want to de-stress and slow down for at least one part of their week. Coming here and being outside, being away from screens, it's a good way to unplug."
The arboretum's 92-acre grounds provide plenty of Instagram-worthy pics, but looking at the world through a screen may be missing the point. Simply taking the time to sit quietly in the shade of a tree can completely change one's outlook.
"Trees remind us that there are things bigger than us in the world," Thompson-Nowak adds. "Whatever it is in our nature, our mood shifts a little bit when we're in a forested area."
This may explain why more than 140,000 people per year visit the arboretum. Many visit quite often; Thompson-Nowak says member data suggest at least one member visited the grounds an astounding 127 times last year, while approximately 30 members visited 100 times or more a year—an average of twice or more per week.
Many visitors become introduced to Morris Arboretum simply because of its ties to the University of Pennsylvania. The arboretum hosts eight complimentary bus trips per year, shuttling Penn students from the campus in University City to Chestnut Hill and back.
"We're part of the university, so we want students to know we're a resource for them; we want to keep finding ways to get them to experience these different green spaces," he adds. "Students are at a stressful time in their life, going to an Ivy League school, and we think connecting them to these kinds of spaces can help them keep their mental health on track."
The Greater Philadelphia Area seems tailor made for reaping the benefits of forest bathing. Besides Morris Arboretum, local organizations such as the Schuylkill Center for Environmental Education in Philadelphia have hosted forest bathing sessions. Structured opportunities aside, the area has an abundance of forest preserves, arboreta, and other green spaces in which one can simply step beneath the canopy and just breathe.
Spirit Animals
Yoga enthusiasts and animal lovers converge for a joyful experience known simply as goat yoga.
To most people, goat yoga—put simply, the act of practicing yoga while kids, or baby goats, amble about—sounds like the kind of peculiar activity that might urge someone to excitedly text a friend: "OMG, we have to do this!" Many people do sign up for the experience for the sheer novelty, according to Japheth Brubaker, but he says most of them come out of it with much more than they expected.
"It's not just about the novelty of the goats," says Brubaker, co-owner of Water and Rock Studio, which has locations in Chestnut Hill and Burlington, Vt. "We do goat yoga sessions on a beautiful farm in Quakertown, where they have a horizon-to-horizon view in a beautiful, natural environment. Studies have proven that being in nature can prevent disease and help people recover faster from disease. ... Yoga is a way to bring all those things together, to engage people's senses even more so they can fully appreciate the experience."
The ancient practice of yoga has manifold benefits, such as increasing flexibility, improving muscle tone and strength, and reducing stress. The presence of animals such as lambs and goats add a completely different aspect, according to Kristin Sutch, a volunteer with Horse & Goat Yoga in Maple Glen.
"It's amazing the effect that animals have on people," she says. "People come not knowing what to expect. You'll see wives dragging along their husbands, and you can see the husbands are not totally happy to be there. Then the goats start jumping around, and the laughter is contagious. By the end of the session, the guys are having a great time, too. … In the summertime, we make this beautiful sunflower field and do yoga right in the middle of it, with dragonflies flying around. It's an atmosphere of pure bliss and joy."
Besides yoga sessions, Horse & Goat Yoga offers bottle-feeding and "snuggle time" with goats, all of which have been rescued and are available for adoption, according to Sutch. In addition to hosting participants at the farm in Maple Glen, Horse & Goat Yoga hits the road to replicate the experience at nearby wineries and breweries.
Many participants hail from cities or more populated areas, and are looking to reconnect with the natural world; some drive from more than three hours away, Brubaker says. People can expect to do basic yoga poses such as child's pose, downward dog, and warrior, while the goats bleat, bop around, and, yes, climb.
"We've done yoga involving cats, dogs, even alpacas, but there's just something about goats," he says. "They're very inquisitive, and they're just the right size. They also like to jump up on things and like to explore. Goats are natural climbers, and a human being in different yoga postures replicates a rock. They might explore by putting a hoof up on someone or even jump up on someone's back."
Each hour-long session costs $25, Brubaker adds. While the experience appeals to well-practiced yogis, he suggests participants don't need to know anything about yoga to reap the benefits. And for those who are weary of any activity that uses animals for the sake of humans' entertainment, Brubaker offers some reassurance.
"We put the goats above all else, and second is the experience of the people involved," he says. "We encourage everyone to try it at least once. Just make sure to research carefully where you choose to go, because you want to make sure wherever you're going treats their goats ethically and humanely."
Back to Nature
Basking in nature's serenity can enliven the body and calm a chaotic mind.
Connor Moriarty followed an admittedly "convoluted" path to his calling.
What started as a course of undergraduate studies at West Chester University in marine biology morphed into a focus on philosophy of religion and art—particularly metalsmithing, with a focus in precious metals. He changed course once more following a personal tragedy, and went on to earn a graduate degree in international peace and conflict resolution from Arcadia University in Glenside.
His goal: to serve as a mediator in conflict zones. Instead, he found himself drawn to work with adjudicated youth serving court-ordered anger management.
Inspired to help these young people, Moriarty volunteered to be the first candidate in a dual-degree program at Arcadia. He earned a dual master's degree in international peace and conflict resolution and counseling psychology, with a certification in trauma and recovery. This, he says, "totally shifted everything."
He then went on to work in clinics he describes as "intense." The one he says felt most like his professional home was a rape crisis center in the Lehigh Valley. It wasn't long before the intensity began to take a toll.
"The mental health system as a whole is broken," he says. "After a few years of struggling, I knew things weren't sustainable. I was burning out."
As a lifelong outdoorsman, Moriarty took to nature in search of peace. He was kayaking on Lake Nockamixon in Bucks County when inspiration struck.
"I wondered: Why can't I do this with clients?" he says. "I began conducting background research to see if … this type of activity was used as therapeutic intervention. I found a ton of high-quality research that draws between the outdoors and a decrease in anxiety and depression, and an increase in empathy and creative problem solving."
Fueled by a new passion to combine his love of nature with his drive to help others, Moriarty founded Reset Outdoors in 2017, with co-founder Josh McSparin.
"Really complex PTSD is notoriously treatment resistant," says Moriarty, who also serves as the organization's director. "Because people are triggered so easily, and so quickly, they can feel just completely overwhelmed. … The outdoors provides this incredible opportunity for people to not have to talk if they don't want to, to kick their bodies into gear and gently and indirectly pull their awareness out of hyper-drive so they can feel more relaxed and comfortable."
Presently, Reset Outdoors has a dual focus: counseling services provided by the team working out of an office in Bethlehem; and team services featuring activities for any type of organization that is interested in developing a more sustainable and "person-centered" work culture through nature- and strength-based programming.
"We want to draw attention to the fact that intense emotions and bodies can shift in a positive way; it's really very empowering," he says. "[Internally] our focus has always been on fostering a healthy workplace. This is largely driven out of the sheer heartbreaking desperation of working in various clinics in various capacities."
All company meetings, for example, feature built-in time for hiking or paddling. Moriarty makes sure his team can "get into nature" at least once a week.
"We want to help our team members become more aware of all the good they and their teammates can bring to the table, and how to use nature as a tool to relax minds and relax bodies," he says. "Outdoors, we are at our most creative, most empathetic, and, therefore, most productive."
Jump for Joy
Dancing With the Stars pro Louis van Amstel extols the mental, physical, and emotional benefits of getting fit.
Dance professional Louis van Amstel loves to groove his way across the nation, using his high-energy workout to inspire everyone he meets.
The three-time world dance champ and 10-season pro on Dancing With the Stars teaches his LaBlast master classes to thousands of appreciative students. On recent stops to AFC Fitness locations in Jenkintown and Feasterville, he motivated students of all ages and fitness levels, while teaching the Jive, Tango, Samba, Disco, Paso Doble, Merengue, Cha-Cha, Viennese Waltz, and more.
Behind a range of music styles, the 46-year-old van Amstel dispenses sage advice for taking the first step, or the next step, in pursuing one's health and wellness through dance. He offers the following tips regarding dance, fitness, and overall health.
Dance and fitness … give the entire body what it needs. I'm talking about the physical self; your bones are actively working and growing, and your muscles are suppler. Also, your metabolism will be more active the more you work out.
Aside from physical health, exercise … is also about the mental self, your mind, and your intellect. You're learning new things. And then, of course, the most important part is the emotional self. If you do that later in life, your actual age will just be a number, because you will feel years younger. You might actually be 70 years old, but you feel like a 50-year-old because you are active. … When you learn a skill, it triggers the parts of the brain that keeps it active. If you are sedentary, parts of the brain are pretty much inactive, and Alzheimer's and dementia love to feed off of people who are inactive. We hate to be inactive for that very reason.
If someone hasn't worked out in a year or more … it will take time to get it back. When you've always been active, if you take a few weeks off and come back, it takes one or two days and you're back in, especially if you are in your 50s or older. Even though you might have to take more time to let your body adjust to your new workout regimen, if you are patient and build it over a longer period of time, you can work out with everything that you have.
An example of your personal mission on Dancing With the Stars … was when I had a celebrity who was very sedentary, had low self-esteem, or was very apprehensive. I knew I was not going to push this person. Instead, I would choose music that I know is enticing, as well as material and patterns during the dances that are accessible.
When new students rave about LaBlast … it makes me very happy and excited to hear that they have more energy after taking my classes. That's what we want with LaBlast, and dancing in general.
For slow learners or those with physical limitations ... people will feel inspired and just feel that they have to join in. Somehow the gut feeling says, "I need to join." That's our job as instructors, not to push people or talk them into it. Go and do your thing in a way that people cannot sit still, [and] they will have to join in. That's what dance and LaBlast are all about.
Published (and copyrighted) in Suburban Life magazine, April 2019.