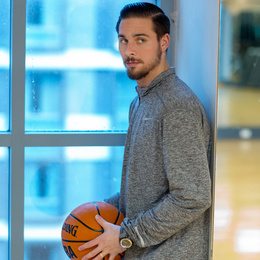 On Point
T.J. McConnell, the 76ers' standout point guard, goes on the offensive.
Last summer was one to remember for T.J. McConnell.
McConnell, a standout point guard for the Philadelphia 76ers, used the off-season to take care of some important business far from the hardwood courts of the National Basketball Association: a 12-day trip to Italy with Valerie, the woman he married in September 2017, for a delayed honeymoon.
"I'd consider it a once-in-a-lifetime trip, truly," he says. "It was the first time I've been to Italy and just the second time to Europe." He made his first trip to Europe earlier in the year, when the Sixers went to London for a game against the Boston Celtics.
If there was one thing that could have made last summer any better, it's this: if it had been just a little shorter, as a result of going deep into the NBA playoffs.
McConnell, a Pittsburgh native, was one of the brightest stars in the Sixers' 2018 playoff run. Although many fans and even some pundits had the Sixers pegged for a championship, the team went home for the summer after meeting the Celtics in the Conference Semifinals.
McConnell, now 27, is gearing for another extended playoff run this year, though he knows better than to make any predictions.
When he's not playing a game, practicing, or at the gym, McConnell is at his Washington Square home with Valerie and Zona, their boxer-beagle mix. We caught up with him to talk about the team's playoff hopes, his epic trip to Italy, and how he deals with the underdog label that has followed him throughout his career.
Q&A
People in Philadelphia are still talking about last year's playoff run. I imagine you have high expectations for this year.
Last year, we finally had the players for Coach Brown to implement his system—a healthy Joel [Embiid], a healthy Ben [Simmons]. We had a few injuries to other players here and there, but otherwise we were fairly healthy, for the most part. The chemistry we had as a team, you're not going to find too many other places. I like the guys we have here. That camaraderie helped us out tremendously, of course, but we're all just putting our heads to the ground.
Do you have a specific goal in mind for this year's playoff run?
No goals. I just try to play my hardest and not have any regrets. We'll see what happens after that. As my college coach told me, and this is so true in any sport, "With team success, individual success will follow." We pretty much have the same core as we did last year, with some new pieces coming in, and won 50-some games last year. If we're at the beginning of the season, I think hitting that for a goal is on everyone's mind.
Do you still get nervous before games?
I get the butterflies, an anxiousness to get out there and play. If that hasn't gone away by now, I don't ever see that stopping.
How do you spend your time away from the hard court?
Honestly, if I'm not on the court or at the gym, I'm with my wife; we spend a lot of time together. We have a dog, so we're just starting a family. I just like being with her, seeing the people we care about. Our dog has pretty much changed our lives for the better; we're obsessed with her, and we do everything with her. We try to find places that are dog friendly, but we don't but we don't go out that much. Usually we're in our apartment, cooking dinner and hanging out.
You were in Italy over the summer. Did the trip live up to your expectations?
It was amazing. My favorite was Positano, which was incredible. It had some of the best views I've ever seen, some great spots for dinner, and the seafood was out of this world. I'm also a wine guy, and I really enjoy wine, so I did my first wine tasting there. I even had some sent over from Italy. Barolo is one of my favorites; [teammate] JJ Redick introduced me to that. I would drink any type of wine before I met JJ, but he introduced me to the good stuff. He and Jerryd Bayless [a former Sixer, now with the Minnesota Timberwolves]—those two guys are responsible for introducing me to the good stuff.
Throughout your career, you've been characterized as an underdog. Does that get old?
I honestly think hearing I'm the underdog will always motivate me. Does it get old, sure? But I think I'll be the underdog my whole career.
Published (and copyrighted) in Suburban Life magazine, April 2019.
For more info on Suburban Life magazine, click
here
.
To subscribe to Suburban Life magazine, click
here
.
To advertise in Suburban Life magazine, click
here
.