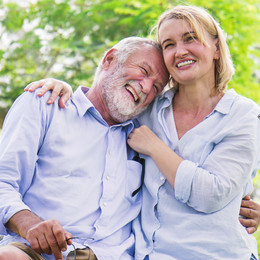 Fighting for Independence
Experts say a secure and fulfilling financial future requires planning, pluck, and the desire to never stop growing
Nancy Kocher has quite a few years to go before she's ready to retire. Still, she has already started to make small but essential adjustments to her lifestyle. Her goal: to live healthily and happily in the present, and to maintain her mobility and independence well into her retirement years.
As director of environmental services for Meadowood Senior Living in Worcester, Kocher carves out blocks of time on her schedule for regular exercise, often alongside the community's senior members. This, she believes, helps to not only tone her body, but also sharpen her mind and invigorate her spirit.
"Whether you live here or work here, being in this kind of community provides a lot of enrichment," says Kocher, who started her exercise habits while working for another retirement community. "There are things I thought I could never do, and now I'm doing them, partly because I am inspired by seeing what the residents are doing."
Her point: The seeds of a healthy, independent, and worry-free (or as worry-free as possible) future must be planted well in advance of retirement day.
Invested in Life
By the time 2019 reaches its end, approximately 34 million U.S. baby boomers are expected to have retired, according to the Insured Retirement Institute. But data suggest the figure would be far higher if all baby boomers planned adequately for the next chapter of their lives. By 2030, one in five U.S. residents will be of retirement age—65 or older—though as much as 45 percent of this population will not have enough saved to fund their retirement.
Jennifer Dempsey Fox, CFP, president of Bryn Mawr Trust Wealth Management in Bryn Mawr, suggests fear of the unknown may prevent some people from taking the initiative to plan for their retirement, among other financial goals.
"A lot of people expect that they have to have all the answers, and it's probably that fear or expectation that keeps them from going through the process," she says. "When someone says, 'What are your financial goals?', the answers can change and do change over time. Ultimately, asking those kinds of questions helps to put together a better plan, and health and wellness and finances are all very much part of the conversation."
The simple act of discussing retirement and other financial goals, she adds, can make a seemingly herculean task more surmountable.
"A lot of folks are really stressed about the future, but being able to break out those goals and develop a plan can take away a lot of that stress," Fox says. "Over my career, I've witnessed a lot of clients I've worked with gain a sense of control [from financial planning]. They gain the knowledge of how to stay on track and solve the what-keeps-me-up-at-night factors: 'Am I going to be OK, and what does OK mean?'"
A qualified financial advisor can also "make sense of the noise," according to Bill Van Sant, CFP, senior vice president and managing director of Girard, a wealth-management division of Souderton-based Univest.
"The CNBCs of the world provide great access and visibility of what's going on in the financial world, but in times of volatility it can also cause a lot of anxiety and confusion," he says. "In the fourth quarter of last year, during all that volatility, we didn't get a ton of incoming calls [from existing clients]. I attribute that to clients being a little more used to volatility, knowing that the volatility is baked in and the world is not going to end."
Aside from funding retirement, Van Sant says he often helps clients with another vital service: helping them to envision what their retirement will look like.
"I ask them to paint me a picture," he says. "I ask them, 'If you're retired today, what do you see yourself doing? Are you listening to the opening day of the Phillies? Are you traveling the country?' I've seen a trend where some folks are getting bored and either going back to work, or starting to physically decline. Some people will say, 'When I retire, I'm going to sleep for a week?' Then what? I find that the people who do better in retirement are the ones who have a better plan going into it regarding how they intend to spend their time."
Putting a financial plan in place early on can also provide safeguards to avoid a financial catastrophe in the event of a medical emergency that results in exorbitant bills or some other unexpected expense. Fox suggests a plan also helps most people "weather the storm" of volatility similar to the end of 2018, which was marked by dramatic swings in the stock market.
"Anecdotally, I do believe the folks who are paying attention and making efforts to plan for the future do end up being more financially secure and more independent," she says. "Financial stress has an impact on health and wellbeing, so helping to reduce financial stress can help to improve health and wellbeing overall. Working with an advisor and having a plan in place is one of the ways to alleviate that stress and help with someone's overall outlook."
'Passion for Living'
Independence in retirement extends far beyond the financial realm. Those who retain the drive to continue growing and learning tend to thrive in retirement, according to Daniel Kaye, director of community engagement for Presby's Inspired Life at Rydal Park in Rydal.
"When I first started working here, I found that the residents were ready to be involved in living," says Kaye. "They questioned all kinds of new things, so it was pretty evident I had a group of folks to work with that would jump to be part of things. … They get excited about new things; they're like us but older—that's the only difference."
Kaye suggests Rydal Park residents have an appetite for utilizing technology as a tool to further their independence. This may include learning a new app or setting up an iPad or Kindle with help from a local high school student, or embracing ridesharing services from the likes of Lyft and Uber.
"There's a lot of transportation we offer, but residents using Uber or Lyft is a good thing," Kaye adds. "There are a lot of places they want to go, and ridesharing means they don't have to adhere to our schedule. If they want to go to dinner off campus, they go. The only thing that slows them down is just getting used to it. … It's definitely a great way for residents to get out and be part of the world in a different way."
Sarah Jolles, executive director of sales and marketing for Presby's Inspired Life, recalls seeing one resident dressed to the nines—in a tuxedo, to be precise—standing out front of the community and waiting for a ridesharing provider to arrive. His destination: the Union League of Philadelphia, a stone's throw from City Hall.
"Working in this industry has enhanced my perspective on aging," Jolles says. "When I started working in this field, I looked to the residents, and it was not long before I made friends. I became consumed with their passion for living. … They engage more with the world, they seize every day, and they continue to want to grow every day.
"When they come to a community like this, they are not changing who they are; they are only changing their address."
Published (and copyrighted) in Suburban Life magazine, April 2019.
For more info on Suburban Life magazine, click
here
.
To subscribe to Suburban Life magazine, click
here
.
To advertise in Suburban Life magazine, click
here
.