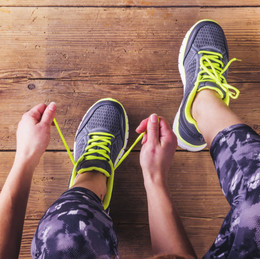 Unburdened
For anyone struggling to overcome obesity and its accompanying health risks, options abound.
Juliana Sebastian was on the pre-med track at the University of Alabama at Birmingham, playing for the university's golf team and intent on pursuing a career in medicine. Fit and athletic, Sebastian saw how one's diet affected everything from mental clarity to on-field performance, thereby sparking an interest in nutrition.
In her last semester of undergrad, she arrived at a crossroads.
"I was looking at medical school," she says, "I just knew it was not right for me,"
An online ad for a company looking for health coaches in Birmingham changed everything for Sebastian. It led her to the doorstep of Profile by Sanford, a company that provides personalized weight-loss plans and allied services to clients looking to embrace a healthier lifestyle. She has since relocated to the Philadelphia suburbs, where Profile by Sanford is expanding its footprint. After opening its first area location in Horsham this month, the company intends to open two more—in Blue Bell and North Wales—in quick succession, with the goal of having 10 area locations in total.
Such rapid growth speaks to the growing demand for programs and providers that aim to help people follow a leaner, cleaner, and healthier lifestyle. More than 93 million Americans, nearly 40 percent of the U.S. population, are affected by obesity, according to the U.S. Centers for Disease Control and Prevention. And while excess weight is an immense burden to those who bear it, it can also take a collective toll by way of the cost of treating obesity-related conditions, such as heart disease, stroke, and diabetes.
Taking Action
Obesity stems from a number of factors, including physical activity, sleep, and stress, as well as medications, alcohol intake, and tobacco use. Genetic predisposition may be the central governing factor, according to Aparna Chandrasekaran, M.D., an obesity-medicine specialist and founder of Jersey Medical Weight Loss Center in Somerset, N.J.
"We see a lot of patients in their 20s who have seen what their parents have gone through," says Dr. Chandrasekaran. "They want to be ahead of the curve, so they take action."
Genetics aside, Sebastian believes a big part of the problem stems back to education about healthy choices and healthy habits, or lack thereof.
"When we're little, growing up, we're taught to always finish our plates," she says. "Most of us are never taught to watch our portions or that we're supposed to eat to fuel our bodies, not simply to enjoy the taste."
Also, as people grow older and enter the work force, some spend as many as six to 10 hours a day sitting down, staring at a computer screen. As life's responsibilities add up, many people choose to prioritize work and family at the expense of their own wellbeing. As a result, unwanted pounds accumulate and risky behaviors become ingrained.
"Getting healthy requires a lifestyle change," says Alexandra Ott, CRNP, who owns Medi-Weightloss in Berwyn with her husband, Andrew. "A lot of times people gain weight because of habits, and they have to break those habits."
Some people err by trying to make an immediate, 180-degree course correction, but Ott says this may not be the best path forward. She recommends setting small, realistic goals—losing five to 10 pounds, for example, and exercising three days a week consistently. She also endorses food journaling and advance meal preparation to help make better food choices.
"Food journaling helps you realize, 'Oh my God, I can't believe I ate that much,'" she says. "Meal prep is a huge part of someone's success, and that's especially true today when everyone has so many commitments. Even if you get home late from work, when you do get home you can be prepared to make a good dinner, made with healthy ingredients."
Accountability, Ott adds, is essential, either through support groups or one-on-one interactions with someone who understands what they are going through.
"For some people, weight is always going to be an issue; it's never going to be a quick fix," she says. "I find the patients of ours who are most successful are those who come back six to eight weeks after [reaching their weight-loss goal] to weigh in; they know they need that accountability, and they like having someone to talk to."
For some patients, a prolonged struggle with obesity may require more significant intervention, such as bariatric surgery. To qualify as a candidate, bariatric surgery programs may require a patient to meet certain criteria, such as being more than 100 pounds heavier than the patient's ideal body weight, a body mass index above 40, and the inability to achieve and maintain a healthy body weight even with the help of medically supervision. For those who do qualify, however, bariatric surgery may be an effective method for spurring weight loss and opening a pathway toward better long-term health.
Dr. Chandrasekaran says there's no "magic coin" when it comes to losing weight. She's seen patients who have tried every avenue on their own—exercise, trimming calories, eliminating junk food—but the pounds refuse to melt away. She advises steering clear of over-the-counter weight-loss medication and online fad diets, in favor of getting the help of a qualified professional who can provide guidance on losing weight in a healthy fashion.
"We do a comprehensive workup so they have a good idea of where they stand, and we can also look at behavioral issues that might be making them gain weight," she says. "This is something no one should be ashamed of. They're putting in the effort to control their weight, and it's very gratifying when they reach their goals."
For some people, a goal might include simply losing five to 10 pounds. For others, it could involve lowering their elevated sugar or cholesterol numbers. For others still, the goal might be to wean themselves off obesity-related medications.
No matter the goal, and no matter which path an individual takes to achieve a healthier weight, Sebastian suggests it's important to find joy in the process.
"You might lose 100 pounds by exercising two hours a day with no days off, but if you didn't enjoy it, you're probably not going to keep up with it," she says. "But if you're doing something fun—dancing or hiking or whatever you like to do—and you're not starving your body, you're going to be happier because you're healthier, and that's really the goal."
Next Steps
From health and nutrition coaching to bariatric surgery, the Greater Philadelphia Area offers an abundance of resources designed to help individuals who struggle with their weight to not only achieve a healthier lifestyle but also maintain it.
Somerset, N.J.
Berwyn
Multiple area locations
Horsham, with more locations coming soon
Langhorne
Published (and copyrighted) in Suburban Life magazine, April 2019.
For more info on Suburban Life magazine, click
here
.
To subscribe to Suburban Life magazine, click
here
.
To advertise in Suburban Life magazine, click
here
.