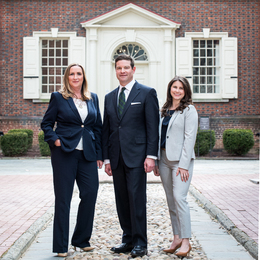 Lasting Impression
Led by Daniel S Levin, the team of professionals at 1776 Capital Management Group strives to leave an indelible mark on the Greater Philadelphia Area and beyond.
Good fortune is a rarity—so rare that one is considered lucky if it smiles upon them just once in a lifetime. Should it arrive twice or more, as it has for Dan Levin, CIMA®, CPWA®, a man should consider himself incredibly blessed.
Levin is the co-founder and executive vice president of 1776 Capital Management Group of Janney Montgomery Scott LLC, a full-service financial services firm with offices in Blue Bell and Yardley. He traces much of his good fortune to 1992, the year he met Michael Blatz, when both began their careers at Smith Barney in Philadelphia.
Ten years after becoming friends and colleagues, they formed their own wealth management group. In 2009, they founded 1776 Capital Management Group and transitioned their practice to Janney Montgomery Scott, a regional broker dealer that has roots in Philadelphia dating back to 1832. Their shared goal: to assist high-level clients with retirement goals; create investment plans for educating children and/or grandchildren; and establish benevolent legacies, with each plan custom-tailored to the client's specific needs and goals.
Business was good, and the two men appeared well on their way. Then, two years later Blatz, a 45-year-old married father of three, died of a heart attack.
"Mike's death changed everything," Levin says. "I realized life could end at any time, no matter how big a personality or how special someone is. It was a wakeup call. I had three kids, just like Mike, so I got all my medical exams, checkups, and insurances done. I had to start making sure everything would be OK, no matter what happened to me."
As part of this soul searching, Levin realized he had to consider the long-term future of 1776 Capital Management Group, too. While he would continue in his role as the primary point person for investment management, he knew he needed to fill the void left by Blatz's death. At the same time, he knew that identifying the right person—someone who could offer expert financial guidance as well as a sincere degree of care and understanding for each client—would not be so easy.
Last April, Levin succeeded by bringing on Allison J. Nichols, CFP®, who had previously worked as a paraplanner within Janney's Philadelphia office.
"Allison had a great reputation at the home office at Janney," Levin says. "She came from a background of financial planning, so she takes all the calls advising our clients on liabilities, potential cash-flow needs, and estate planning techniques and strategies. Everyone likes Allison, but the most important thing about getting her here is, at the end of the day, we knew we were adding a highly qualified and talented person to work with our clients."
A graduate of Ursinus College, Nichols enjoys assisting clients in aligning their budgeting, spending, and investing activities so they can work toward their retirement goals. Prior to joining the 1776 Capital Management Group team, Nichols worked closely with a number of financial planners in the Janney family, including Levin. She says she "always admired his practice and investment philosophy," so when the opportunity arose to join 1776 Capital Management Group, she saw it as "a great fit."
She found her calling as a high school senior, when she watched her parents struggle through the epic economic downturn of 2008, which would later become known as the Great Recession. "I saw how it impacted them and their retirement savings," she recalls. "I quickly learned the value of saving and investing, and saw an opportunity to help educate others."
Planning for the Best
The professionals of 1776 Capital Management Group use specialized planning tools such as Janney's Retirement Income Evaluator, which helps clients visualize their income throughout retirement. It is designed to address the four most important questions for those investors approaching retirement:
* "What sources of income will I rely upon in retirement?"
* "Will my income and assets last throughout my lifetime?"
* "What expenses can I expect?"
* "What is a sustainable level of spending?"
"When I do plans for clients, they're interactive," Nichols says. "I go page by page, explaining each step. When I get to the results screen, I often hear the clients gasp and say something like, 'I can retire if I want to. That's a relief.'"
Levin, who has been helping clients to safeguard their financial futures for 27 years, says the firm's hands-on approach is rooted in behavioral finance, which uses psychology-based theories to help people understand why they make certain financial decisions. "It's about having tough conversations but also letting them know that if their portfolio takes a hit, they have a good financial plan so they'll still be OK," he adds.
Levin specializes in creating tax-efficient investment strategies, and providing advanced expertise in the life cycle of wealth. He is a graduate of the University of Richmond, and later earned the Certified Investment Management Analyst designation through the Wharton School at the University of Pennsylvania. After his time at Wharton, he went on to become a Certified Private Wealth Advisor through the University of Chicago's Booth School of Business. He also is a member of Janney's CEO Roundtable and serves on the firm's Financial Advisor Advisory Council.
Levin and Nichols are joined in the practice by Kathy Dougherty, the group's private client associate. For more than 30 years, Dougherty has been using her expertise to resolve client inquiries, handle client communications, and manage account documentation and disbursements. "Kathy gives clients personal attention and attends to every last detail," says Nichols.
More than Dollars and Cents
Much has changed since Levin and Blatz founded 1776 Capital Management Group, yet the team's mission remains unchanged: to help clients remain on solid financial footing no matter what storms blow through. Even so, the team's focus extends far beyond the world of finance.
Philanthropy, for example, has become part of 1776 Capital Management Group's DNA. For example, the firm supports A Woman's Place in Doylestown, which provides temporary housing and other vital services to abused women and their children, and the Michener Art Museum, also in Doylestown.
Levin has served as president of Fox Chase Cancer Center Board of Associates since 2017, and has been a board member since 2013. Since its founding in 1965, the board has raised approximately $25 million for cancer research. Levin says he is thankful for the "amazing" opportunity to help fund cancer research and further technology designed to save and extend the lives of those who have been touched by cancer.
Nichols, for her part, recently founded the Fox Chase Cancer Center's Young Professionals Chapter of the Board of Associates. The chapter aims to build relationships with other advocates, ages 21 to 40, through participation in educational, networking, and philanthropic activities. She also volunteers with the Boys and Girls Clubs of America and MANNA, which provides meals to critically ill neighbors throughout the Greater Philadelphia Area.
The team also strives to nurture the next generation of financial professionals. Through a summer internship program, the team enlists a select number of college students who are home for summer break so they can learn the business of finance, assist with special projects, and make vital connections for the future.
For these reasons and more, Levin feels as if he has truly been blessed. Through the team he and Blatz founded many years ago, he has the opportunity to help clients plan, manage, and achieve their financial dreams; he plays a role in preserving the community's interests in health, wellness, and the arts; and he has the chance to influence the lives of students who may be considering a career in finance.
1776 Capital Management Group of Janney Montgomery Scott
Daniel S Levin, CIMA®, CPWA®
Executive Vice President / Financial Advisor
Allison J. Nichols, CFP®
Financial Advisor
1767 Sentry Parkway West, Suite 110
Blue Bell, Pa.
(215) 619-3923
1010 Stony Hill Road, Suite 300
Yardley, Pa.
(800) 875-8407
Janney Montgomery Scott LLC. Member: NYSE, FINRA, SIPC
Photograph by Jeff Anderson
Published (and copyrighted) in Suburban Life magazine, April 2019.